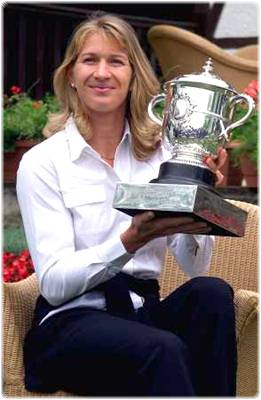 Name: Stefanie Maria Graf

Date of Birth: 14th of June 1969

Place of Birth: Mannheim

Residence: Heidelberg Deutschland
Boca Raton Florida/USA

Height: 1, 76 m

Weight: 64 kg

Parents: Heidi and Peter Graf

Brother: Michael (born 1971), married, two kids

Hobbies: Art, Photography, Music, Literature

Dogs: Max, Dino, Dusty, Joschi

Pertsonal Information :

since 1984 Ambassador of the World Wildlife Fund (WWF)
1998 Establishment of her Foundation "Children for Tomorrow"

since 1999 Ambassador of the first WORLD-Exhibition in Germany "EXPO2000"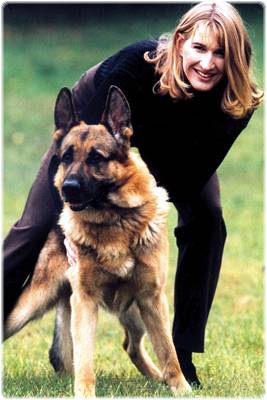 TENNIS

Began playing Tennis: 1973

Turned Professional: 18.10.1982

First professional Tournament: 1982 Porsche Grand Prix at Filderstadt

Plays: right handed, one handed backhand

Former Clubs: HTC Heidelberg
R-W Berlin
BASF Ludwigshafen

Favorite tournament: Wimbledon

Favorite surface: Grass courts

Racket: Wilson Pro Staff 7.1

Strings: TOA, stringed with natural gut 29 kg

Coach from 1992-99: Heinz GŁnthardt

Former Coaches: Pavel Slozil (1986-1991)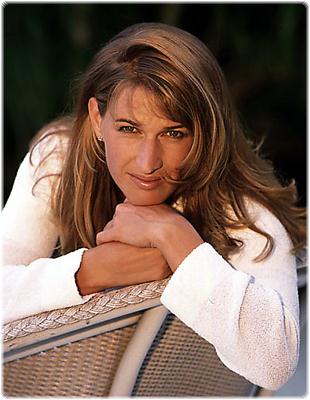 RECORDS

1982:
Steffi was the second youngest player ever ranked in the WTA Tour ranking 124th.

1985:
First time under the top ten of the WTA Tour ranking.

17.08.1987:
Steffi became #1 in the tennis world. She kept thisplace for 186 weeks until October 3, 1991. This fabulous recordcould not been surpassed by any other player, man orwoman, to this date.

1988:
In this year Steffi not only won the Grand Slam, shewas also the champion of the Olympic Games. Therefore, hertremendous success was called the "Golden Slam".

1987-1990 /1993-1996:
For 8 years, Steffi finished the season as number one.

1987-1997:
Steffi maintained the number title for 377weeks in total, longer than any other player in the world.

Steffi becamethe highest-earning female athlete of all times.

During hercareer she gained 22 Grand Slams, divided in seven titlesat Wimbledon, five titles at the US Open and six at theFrench Open as well as four wins at the Australian Open.She is the only player who could win all four Grand Slamtournaments in the 1990. 107 titles, including theOlympic Gold medal, are an impressive number. OnlyMartina Navratilova (167) and Chris Evert (157) are infront of Steffi in the overall ranking.

Titles / Awards

1986 COREL WTA TOUR Most Improved Player

1987-1990 / 1993-1996 COREL WTA TOUR Player of the year

COREL WTA TOUR Most Exciting Player 1998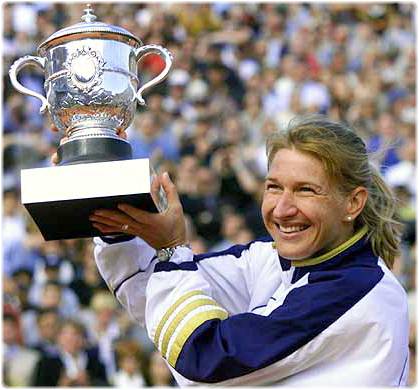 The 22 GrandSlam Titles:

YEAR LOCATION OPPONENT RESULT

1987 Paris M. Navratilova 6:4, 4:6, 8:6

1988 Melbourne C. Evert 6:1, 7:6
Paris N. Zwereva 6:0, 6:0
Wimbledon M. Navratilova 5:7, 6:2, 6:1
US Open G. Sabatini 6:3, 3:6, 6:1

1989 Melbourne H. Sukova 6:4, 6:4
Wimbledon M. Navratilova 6:2, 6:7, 6:1
US Open M. Navratilova 3:6, 7:5, 6:1

1990 Melbourne M.J. Fernandez 6:3, 6:4

1991 Wimbledon G. Sabatini 6:4, 3:6, 8:6

1992 Wimbledon M. Seles 6:2, 6:1

1993 Paris M.J. Fernandez 4:6, 6:2, 6:4
Wimbledon J. Novotna 7:6, 1:6, 6:4
US Open H. Sukova 6:3, 6:3

1994 Melbourne A. Sanchez-Vicario 6:0, 6:2

1995 Paris A. Sanchez-Vicario 7:5, 4:6, 6:0
Wimbledon A. Sanchez-Vicario 4:6, 6:1, 7:5
US Open M. Seles 7:6, 0:6, 6:3

1996 Paris A. Sanchez-Vicario 6:3, 6:7, 10:8
Wimbledon A. Sanchez-Vicario 6:3, 7:5
US Open M. Seles 7:5, 6:4

1999 Paris M. Hingis 4:6, 7:5, 6:2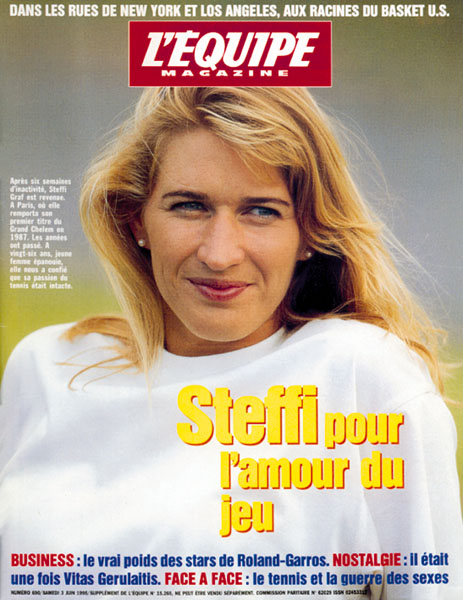 Interview with Steffi Graf

The new Steffi relaxed but with plenty to prove

BY LINDA PEARCE

SHE arrived in a black stretch Lauren dress showing off taut biceps, black slides on the end of those famous legs, silver jewellery, bare face, wary smile. Slighter than you may think, Steffi Graf's physical presence is far less imposing than her career record.

This is apparently the new Steffi. More relaxed, less intense. Laughing more and crying quite often, usually at the overwhelming receptions from crowds who once had found it difficult to warm to a player who dismantled opponents so clinically.

These days, though, nothing can be taken for granted.

Not Graf's fitness, with the past two years spent troubled by knee surgery that cost her eight months. There have been muscle strains, a wrist operation, and most recently the stomach pains that forced her out in the final of an exhibition in Hong Kong.

Not her longevity, for the end is in sight. And not title after title, despite a sparkling year's end that pushed her back into the top 10.

In June, the great Graf dropped off the computer for the first time since 1983. Martina Hingis, ranked No2, has already pensioned off Graf once, describing her as "old" and claiming her time had passed.

Premature words, perhaps, but there are signs the winner of 21 grand slam and 106 career titles is looking to life after tennis. Her two-year-old private company is consuming more of the boss's time and, when not training at her Florida home in December, Graf was often out publicising a charity called Children for the Future.

Her desire to promote the cause made her more visible than usual. And although her boyfriend of seven years, German racing car driver Michael Bartels - who attends a handful of tournaments a year but prefers a seat in the crowd to the very public friends' box - is still in the background, Graf plans to step out publicly with her idol, John McEnroe, in the mixed doubles at Wimbledon this year.

So, for now, the focus remains on tennis and this month's priority is a fifth Australian Open title. Searching for match practice, Graf modified her usual preparation by warming up at the Sydney International, where she lost to Lindsay Davenport in the semis. This will be her first appearance at Melbourne Park since her heat-exhausted third-round loss to Amanda Coetzer last year, a match she now says she should never have played.

For all her achievements and immense wealth, anonymity is impossible. Early in this interview, conducted in a discreet corner of a Sydney hotel, a middle-aged Queensland man stopped by. "I've admired you." Steffi: "Thank you." "I must say that I'd just like to shake your hand for my daughter's sake." Steffi, laughing: "Sure."

Graf. Gracious. Polite. One of the great champions, in her career twilight. Back in Melbourne, perhaps for the last time.

You must be very encouraged by your finish to last year?

"Obviously with having the wrist surgery after the Open I didn't expect too much, and I was just trying to have a few matches so it wouldn't be such a long break until the start of the year now, and it turned out that I did so well."

Did you surprise yourself?

"Yeah, because I did have a few weeks off with my wrist surgery, and I didn't expect to be back so quickly and then so well. But from one match to the other I gained more confidence and I enjoyed it a lot. I have to say the people were really behind me and it was a great atmosphere at the tournaments."

How far are you from where you once were?

"It's very difficult to pinpoint where exactly I am, especially with the last two years the way they've been. With as many starts and breaks that I've had and injuries that came around, it's so difficult to really say where I am right now. I just hope to have a couple of months of continuous tournament play and to train, hopefully."

But whatever the level, you're happy with it?

"Yeah, no question. Looking back, in the beginning of the year when I had so may struggles with the knee operation and the muscle strains that I've had, I'm just really happy that I was able to play again and then to play the way that I did."

What has kept you going through, for various reasons, a difficult few years?

"When I started to have my knee surgery I obviously knew, and I was told, the operation was going to be so severe that probably I would not be able to play [again], so I think it was more difficult going towards that decision, until it was finally made. I was having a lot of pain walking, doing anything, and I think that was probably much more difficult at the time than once I finally had the operation. I knew that maybe I couldn't be playing again, but I just wanted to get in physical shape. The tennis wasn't really very much on my mind, so it wasn't like I was thinking about it all the time. So once I finally got to rehab I realised that maybe I do have a chance and I found out how much I still like the game. It wasn't like a 'must' any more for me."

Is that why you seem to be enjoying it much more now?

"I think I am much more relaxed going into the tournaments. I still take it seriously, but once I go out there I think I've got more relaxed and I think it shows. Maybe at the start during the summer season last year - not so much because I'd just started again and I didn't really know if everything's going to work or not and there were a lot of questions, and that's when I was a little tense - but once I was past March-April-May where I had all the muscle strains which was a difficult time, from then on I got very excited about playing. Actually a little bit nervous many times, which I'm usually not, but I'm going to have to get used to that."

What did you miss most when you were away?

"Just being on the court and striving to achieve the best."

Are you appreciating the game more, knowing that the end is near?

"I appreciate very much being injury-free. Being able to go out there and feel physically fine and go for everything that I want to. Yeah, I do appreciate that very much."

The crowds seem to be appreciating you, too?

"It's just amazing, last year. I still didn't expect it as much when I played my first tournament in Hanover, and then I got to the [United] States to play Indian Wells and it was the same kind of reaction from the crowd, everyone was saying how happy they are I got on the court, and everybody stood up and gave me a standing ovation. It was very touching, very emotional. Even now when I played in Madison Square Garden or Philadelphia the people are behind me, even if I play Americans or Lindsay. That's unbelievable. I enjoy it so much and appreciate it, and it gives me a lot of incentive to go out there. It's very rewarding."

Are people warming to you now because you seem vulnerable at last?

"I think it takes people to get to know you and the recognition comes over time. It's a combination of a lot of things. They've heard about the struggles and the injuries and everything, the difficulties."

I believe you've taken Jennifer Capriati under your wing a little. How and why?

"Giving here or there some advice, but I believe that everybody needs to find their way, and it sounds strange but with Jennifer we have some kind of ... yeah, connection, and I think she has so much talent and I like her as a person so I'm trying here and there to be there, kind of."

For a long time you were one of the hardest hitters on the tour. How does your level of power compare with players like the Williams sisters?

"You'd better ask my opponents. It's definitely a different generation and if you look at Venus and Serena they are physically just so much stronger, and they are all starting to use different racquets now, the bigger ones, which help give more power. Definitely at times they hit harder than me."

How motivating are the comments by some of the younger players. You know, "Steffi's finished, we're the greatest"?

"It's been an issue for the past year or so, but it doesn't come to my mind at all. Honestly, you hear some of the comments, and maybe they have been made or maybe not, but I do get along with most of them very well. It's nothing where I could say I'm hurt by it. I know where I'm coming from and what I've achieved, so I think I'm very stable in that so it doesn't bother me. Most of them are very nice."

In that case, how motivating is Margaret Court's record of 24 grand-slam titles? Is that pushing you on?

"No, I've never been one for the records."

So what does motivate you? What goals are left?

"They're not goals, even though I repeatedly say, 'Yes, I would like to do the best during the grand slam, because they mean the most to me, they always have done'. But there can be very different moments that I appreciate so much. Just looking back at the end of last year there were so many matches. I played three weeks in a row, so many three-setters, winning against Lindsay, winning against Monica [Seles], and there were special moments, like when I was down already and still came back to win it, even though I was totally tired, these moments I appreciate a lot. Even the crowd's behind me and there's a special atmosphere, those moments have to be worthwhile."

Are you expecting less from yourself now and could that, therefore, make things a little easier?

"It is difficult for me always to let go, and I am still eager, but I'm taking things maybe a little lighter at times. I expect not as much probably as I used to, and I think that makes it easier, yes."

Is your latest charity work finally leading you to think about life after tennis?

"I think I started when I opened my own company about two years ago, that's the direction I wanted to go. I had a lot of different thoughts and ideas and always to transform, but I'm trying certain things that I feel my heart is really going for and that was one of the things that I initiated a few months ago. The company also do my own sponsorships and marketing, licensing. I have a couple of juniors under contract and also work together with the World Worldlife Fund."

So what's the priority?

"It's so difficult to find time besides the tennis. With having the control of the company, which is in Germany, I already give a lot of time towards that, which can be difficult. I'm giving the time that I can but I know at some point I'll have more time and I'll probably enjoy it, getting my mind away from tennis and into other things."

So what are your memories of your last Australian Open, and that terribly hot Sunday when you lost to Coetzer?

"Yeah, it was crazy for me to try and be out there. But I didn't really know that you shouldn't be out on the court with antibiotics in the heat. I didn't know and I should have never even tried, but I guess that's my character, I always try. But maybe I wasn't really informed very well about the possibilities of what could happen out there."

You've always said Wimbledon's your favourite slam, so what does the Australian mean to you?

"Melbourne is one of my favourite cities - honestly. Even though probably [Sydney] has the nicer beaches, better sights and everything, somehow I've gotten to know Melbourne pretty well and usually I've come there three weeks before, which I always like very much. I talk to friends and always say it's the nicest country in the world, so that kind of speaks for it."

Is it nice to be coming in as the 10th seed and not the favourite for once? Are you happier to have a lower profile in that sense?

"I've always liked to be that! Once I go into a tournament I don't think so much about the seedings or the match-ups too much. I've been taught very early on that if you want to win a tournament you've got to beat anybody, and hopefully I play well and enjoy it."

And physically you're fine?

"I've been actually able to train really well in the States, work a lot on my conditioning and hopefully I'll be ready to show it, if not now then at some other point."

Will this be your last visit to Australia, do you think?

"I don't know ... I don't even bother thinking about it very much. Right now, to me, I just started again so I don't want to think about retirement yet."

You said once that by the age of 30, you would no longer be playing tennis. You're almost 30. What do you say now?

"I have a couple more months! Yeah, well, when you're younger you see things differently. I almost had two years off from tennis, so let's add those two years."