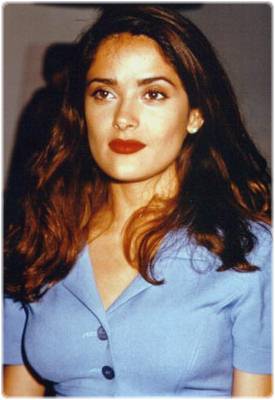 Name: Salma Hayek
Birth Name: Salma Hayek Jiminez
Height: 5'7
Sex: F
Nationality: Mexican
Date: September 2 1966
Birth Place: Coatzacoalcos Veracruz Mexico
Occupation: actress
Education: Catholic school in Texas
National University of Mexico (dropped out)
Stella Adler Conservatory Los Angeles California
Relationship: Edward Norton (actor; a couple since October 1999) Edward Atterton (actor; met during filming of The Hunchback; dated 1997; broke up in 1999) Richard Crenna Jr (actor; met 1991 in an acting class)
Father: Sami Hayek Dominguez (Lebanese; businessman)
Mother: Diana Hayek (Mexican; opera singer and talent scout)
Brother: Sami Hayek (younger)
Claim to fame: as Carolina in Desperado (1995)


FAN MAIL:
C/O William Morris Agency
1325 Avenue of the Americas
New York NY 10019-4701
USA

Susan Culley And Associates
132a S Lasky Drive
Beverly Hills Ca 90212-1704
USA


JR Ward
Rt 1 Box 652
Washington Ok 73093
USA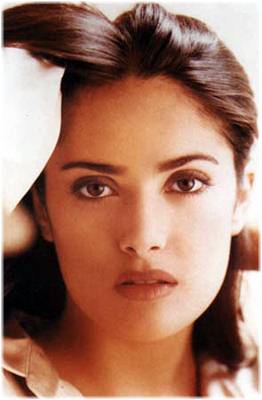 S alma Hayek's fans may be surprised when they see their heroine's latest role. She plays a nice sweet girl who wants a family. Up to now her image could be summed up as hot and sexy. It's an image she seems to have worked hard to develop, not only with racy parts in Desperado, From Dusk Till Dawn and Fled, but in an endless string of sexy photos and interviews. It's hard to open a movie magazine and not see Hayek's deep brown eyes and flat tummy, bellybutton and all. Her fan Web site on the Internet (www.salma.com) has piles of luscious pictures that change weekly. In Fools Rush In, her new comedy with Matthew Perry of Friends opening Friday, Hayek plays Isabel Fuentes, a fun but introspective homebody more interested in hanging out with her family and friends at home than in wild times.
Ask Hayek about her wild image and she is all innocence. She didn't do those roles to be sexy. "Are you kidding me?" she bursts out in mixed indignation and laughter. "You get what you can. It's not like you get all these offers and get to pick." And all those flirty comments we read in interviews? Like the one where she hinted about the physical attributes of the man who could win her heart? Who me? "I was excited because I'm in these publications and I would find all these new words to my vocabulary that I've never heard before, and some of them I still don't understand," she says. "Bombshell? Is he saying something bad? What does that mean? That I bombed in the film? Nobody can tell me where this bombshell adjective comes from."
Hayek, who is surprisingly tiny, a petite 5-feet-2-inches, says all this with great good humor and a self-mocking attitude. It takes only two minutes around her to know she's smart like a fox. She knows exactly what she's doing. So what's the smartest thing she's done since she came to Hollywood? That gets a big, secret grin. "I've done some smart things, but I've never been a smart (aleck) about it. Is that how you say that? So I'm going to keep my mouth shut about the smart things I've done. But I've done some really good ones." That doesn't mean she's phony. You believe she means what she says. Hayek just comes across flirty by nature. It's not her fault if she knows the results. Like when she pats the couch beside her and says, "Sit here." Or reaches out repeatedly to touch an arm or hand or knee when she talks. Little wonder still flushed interviewers rush back to their terminals and write her up as a love goddess.
Hayek insists family is what is really important to her. (The interview, at the Ritz Carlton, was delayed just a few minutes while Hayek huddled with a favorite aunt who lives in Houston.) Family values is the one reason Hayek really wanted the role of Isabel Fuentes in Fools Rush In. Isabel is a Mexican-American who lives with her large family in Las Vegas. One evening she meets Alex (Perry), a transplanted New York yuppie, and does something very unusual for her: She spends the night with him. Weeks later, she learns she is pregnant and finds Alex to let him know that she intends to have the child. That begins an off-and-on cross cultural romance that focuses on family relationships and lifestyle. Hayek found the role three years ago, and kept after it until, finally, the producers wanted her.
"I was attracted to Isabel's humanity," she says. "It's very rare to run into a character so human in a romantic comedy." "She's Catholic, she's very close to her family, she's a very nice girl, but she does have that one-night stand." Hayek, who speaks English well but with a strong accent, considers herself very different from most Hollywood Hispanic actors because she is from Mexico, not the United States. She was born in 1968 in Coatzacoalos, in the state of Veracruz. Her father was of Lebanese descent, her mother was of Spanish ancestry. "I went to Louisiana for two years when I was 13 and 14 to study with the nuns," she says. "I learned some English, but I hung around the Mexicans and then went back to Mexico and I didn't practice." Later she lived with her aunt in southwest Houston.
"I was 16. I got out of high school way too early and my mom didn't want me to go to college yet because she was afraid of college boys. So she sent me here with my aunt for a couple of months until my birthday. I was here for four months." She began her acting career in her late teens, doing minor stage work, then gaining recognition in several telenovelas, or soap operas. She came to the United States in the early '90s, determined to make herself a Hollywood star. She thought she would have a head start because she spoke English. "When I went to acting school, it was so depressing. Nobody could understand a word I said. I couldn't get around, that's how bad it was. I had to dedicate two years of absolute devotion to learn English." As her saved money ran out, she was tempted to go back to Mexico, but resisted. "That was selling out, giving up on your dream," she says. "I'm terribly prideful. I wasn't going to let them know that I made a mistake, that I wasted two years of my life coming back saying, 'You were right, I shouldn't have gone.'"
Eventually she landed a few small roles, and then the female lead in Rebel Highway (Roadracers), a cable film by Robert Rodriguez. Rodriguez, who had made a splash with El Mariachi, was doing this movie as a sort of warm-up for Desperado, to show he could handle a Hollywood film. He later used Hayek in Four Rooms and gave her the female lead in Desperado. In that film, she agreed reluctantly, to do a nude love scene. She was so nervous that the scene had to be edited into very short segments. Next, Rodriguez cast her in a cameo as a stripper who turns into a vampire in From Dusk Till Dawn. And she plans to work with Rodriguez again. "I will be his slave," she says, "because he believed in me when no one did. I will tell you one good thing that I'm proud about myself, and that is gratitude to the people who have been good to me." She waves her finger and whispers, "So you be nice to me."
In recent years, there has been an effort to tap into the important Hispanic market here in the United States and to create Latin stars, but the formula has been elusive. "I think one of the reasons is they get actors born here (instead of Mexico). A lot of these actors who claim to be Latino speak terrible Spanish, or none at all. I come from that market and they know who I am, and we speak the same language. They've seen me grow, so they relate to me in a more personal way. The American films I'm in are always No. 1 when they come to Mexico. We are right at the crossing point where they will learn how to capture the Hispanic audiences," Hayek says, "I'm doing this film and trying to promote it with the Hispanic audience and I have seen a lack of knowledge even on which are the Hispanic publications or shows in some of the cities." She readily admits that she feels "incredibly" uncomfortable with representing Latin culture in movies. "It's a big pressure," she says. "I didn't mean to do that." Her voice grows very quiet. "I'm a little bit more selfish than that."
Although there are some stereotypes in Fools Rush In, both Mexican and Anglo, the film is respectful of Mexican culture and religion. Hayek, who is Catholic, was pleased with that. She hopes her American audience will find some aspects of that culture appealing. "I am extremely grateful to this country, and I have learned many, many things here." She says with great seriousness. "This movie gives me the opportunity to give something back to this country. To show something about where I come from, and about who I am, about my roots, that this country could use. And that is family values. Family unity. Family support. Of all the bad things we have, that is one good thing, family values. I just hope in some ways it's inspiring for the young American couples that are beginning a family. Because we are very affectionate. We are not afraid to touch, we are not afraid to show or say how much we love a member of the family."

(Houston Chronicle Interview)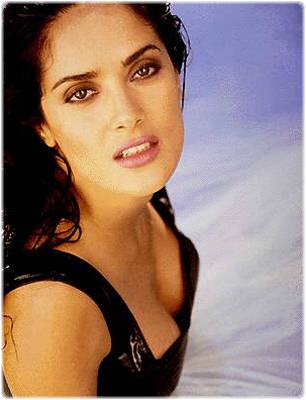 Mexican actress Salma Hayek used to torment the nuns in Catholic School; now she tortures men in the movies.

GQ: Why did you leave a successful career in Mexico four years ago to come to Hollywood?
Salma: I didn't want to do soaps all my life. It's very sad-the best Mexican actors, brilliant people, they live in little tiny houses and have no money ever. So I gambled, came here and started all over again.
GQ: Who gave you your first break in America?
Salma: Allison Anders. I auditioned for the lead in MI VIDA LOCA for four months. At the end, she came up to me and said, "I'm going to give it to the other girl, but I really like you. I can give you some small parts so you can get your SAG (Screen Actors Guild) card." I said OK. The poster came out, and I was very big, and the other girls were really small. No one saw the movie, but they saw the poster.

GQ: What do you miss most about Mexico?
Salma: My family, the food, the sense of friendship and unity. I love the simplicity of the people. Here you always have to make an appointment with your friends to do something. Everything there is more spontaneous.

GQ: You convinced your parents to send you to a Louisiana boarding school at the age of 12, but you got thrown out.
Salma: I was a good Catholic girl. I loved singing in mass. But at the same time, I had this addiction for practical jokes, and the nuns were my main target.

GQ: What was the meanest prank you pulled?
Salma: One time during study hour, I asked to go to the bathroom and I sneaked into the dorms and set all their alarm clocks three hours earlier.

GQ: Were your parents strict?
Salma: They wouldn't let me wear a bikini. I would anyways.

GQ: And all the boys would follow you.
Salma: And all the boys' fathers.

GQ: You seemed to enjoy the scene in DESPERADO where you yank the bullet out of Antonio Banderas's shoulder. Do you like torturing men?
Salma: Not a lot...a little bit. I think men like to be teased, and that's one kind of torture.

GQ: As Queen of the Vampires in FROM DUSK TILL DAWN, you eat Quentin Tarentino and decide to make George Clooney your slave. If you had George as a slave for a day, what would you make him do?
Salma: Rub my feet, to start with. Then make him go to all the places where I have a hard time getting my friends to go with me. And I'd make him cook for me and dress me.

GQ: You also had a tango with an eleven-and-a-half foot python. I take it you have no fear of snakes.
Salma: Fear? I had a phobia. I tried meditation, dream work, reading about the snake, what they meant in Egypt, for the Aztecs, the Toltecs, the Mayas. Then I started going to this pet shop. I would talk to this little snake, "Panchito, what a beautiful little tongue you have." I got kicked out because it would be a party every time I walked in. Then I met this producer, a Mexican-American. He told me, "You really want to get rid of your fear? Lay down. Take your shoes off." Then he went tap, tap, tap on my chakra points-I thought it was ridiculous-and then I started crying and crying. To my suprise the next time I saw a snake, I grabbed it and danced with it.

GQ: What's the origin of your name?
Salma: My father's parents are Lebanese. My mother's are Spanish.

GQ: What's the biggest misconception Americans have of Mexicans?
Salma: Mexicans or Mexican-Americans? Which are we talking about? I think Americans get confused. To them it's all brown people. People have a hard time believing I'm Mexican. I'm short, I'm brown, I have an accent-how come you're surprised?

GQ: How does a man earn your trust?
Salma: They have to show at all time that they care. I just made this movie called BREAKING UP with Russel Crowe that's about that, relationships in the '90's. Fear of commitment, abandonment.

GQ: What's wrong with relationships in the 90's?
Salma: We want to analyze absolutely everything the other person's doing, and we want to understand why he's doing it, right? You try to control everything, and it's terrible. You want to be so healthy that you're not.

GQ: And falling in love is always the unhealthiest thing you can do anyway.
Salma: Exactly. So stop analyzing.

GQ: How long has it been since you were in a relationship?
Salma: You ask me all the wrong questions. Four years.

GQ: What are you looking for in a man?
Salma: I'm a sucker for talent. I think it's the sexiest thing in the world. I'd like them to have a sense of adventure and fun. Loy- alty, obviously. And some sense of humor. But I don't like the really funny ones. You always have to laugh at the jokes. It makes me nervous.

GQ: Who is the sexiest man alive?
Salma: Marlon Brando.

GQ: What's your favorite thing to do when no one else is around?
Salma: I like to smoke cigars.

GQ: Favorite part of a man's body?
Salma: The hipbone. I can die.

GQ: You mean the pelvis?
Salma: No, higher. "Pelvis" is going to sound like I'm saying the dick. Just say around the hipbone area and the neck...and the mouth...and the hands. Ask me somthing else quick or I'll keep going.

GQ: If your house were burning down, what would you save first?
Salma: Me.

GQ: What else?
Salma: I can't think of anything else. I'm a very detached person. That's why guys are afraid of me. Somebody told me I'm the biggest nightmare any man could have because it always looked and sounded like I could just walk away anytime...and I probably could.

GQ: What don't you have that you still want?
Salma: A man and a house and a baby...and a baby-sitter.


"Sinful Salma"
by James Ryan
from GQ Volume 66 Number 3 March 1996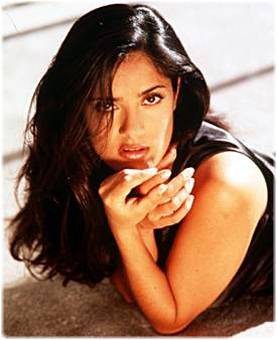 Biography

Name: Salma Hayek Jimenez (Her fathers' parents are Lebanese and mothers' are Spanish.)
Occupation: Actress
Date of birth: September 2, 1968
Place of birth: Coatzacoalcos, Veracruz, Mexico.
Sign: Sun in Virgo, Moon in Capricorn.
Education: College dropout.
Family: Father: Sami Hayek Dominguez, businessman (Lebanese); ran for mayor of Coatzacoalcos, Mexico, in 1997. Mother: Diana Hayek, opera singer and talent scout (Mexican). Brother: Sami Hayek.
Relations: Companion: Edward Atterton (actor). Former fiancÚ: Richard Crenna, Jr. (actor).
First performance: Aladino y la Lampara Maravillosa. A theatrical production in 1988.
First US production: The movie, Mi Vida Loca (a.k.a. My Crazy Life), in 1993.
Her break through: Robert Rodriguez' movie Desperado in 1995. That film was Salma's first big budget US movie.
Quote: "I aim for a lifetime full of movies. I want to work for a long, long time...and if I am very lucky and blessed, maybe somewhere along the line there will be one movie in there that becomes a classic." --Interview, 1997 Significant.
Awards: 1989: TV Novela Award (Mexican equivalent of the Emmy), Best Actress, Teresa. 1989: TV Novela Award, Best Newcomer, Nuevo Amancer.


A bona fide celebrity goddess in her native Mexico, Hayek emigrated in 1991 to Los Angeles, where she willingly plunged to the bottom of the heap in order to take a shot at conquering Hollywood. Intensive lessons, both in English and acting, paid handsome dividends in 1995, when the diminutive dynamo lit a fire under Antonio Banderas in wunderkind director Robert Rodriguez's balletic bullet ballad Desperado. Continuing to collect hunky co-stars, Hayek struck sparks with a Baldwin brother in both Fair Game and Fled, and made an undead love slave out of George Clooney in From Dusk 'Til Dawn. Salma Hayek Internet shrines cropped up like weeds, and in 1997 the sultry spitfire landed her first lead role in the States, playing opposite Friends fave Matthew Perry in the cross-cultural romantic comedy Fools Rush In.

The daughter of a Lebanese-descended father and a Spanish-descended mother, Hayek was born and raised in Coatzacoalcos, Mexico. Determined to see that her grandchild develop into a ravishing beauty, her grandmother frequently shaved young Salma's head and clipped her eyebrows, in the belief that such treatments would add body and sheen to her granddaughter's thick dark locks. Equally determined to see that she became well-educated, Hayek's staunchly Catholic parents shipped her off to a boarding school in Louisiana when she was 12. While the beguiling youngster proved both attentively studious and properly religious, she also displayed a bent for mischief that she chiefly directed against the long-suffering nuns who ran the school: among other infamies, she once slipped into the faculty dormitory and set all of the alarm clocks back three hours. The end result of such she-nun-igans was that Hayek ended up suspended and carted back home after just two years. It only took her two more years to finish high school, and her mother, fearful of the effects "college boys" might have on her impressionable young daughter, sent Hayek to Houston, where she lived with an aunt until her 17th birthday.

Returning to Mexico once more, Hayek relocated to Mexico City to attend college, where she commenced international relations studies. Though she had harbored acting ambitions since childhood, Hayek had for years been reluctant to seriously pursue such a chancy vocation for fear of alienating her parents. Ultimately, she decided the path of the dutiful daughter and stable career girl was one she could not bear to walk and frankly confronted her parents about her aspiration. As she later told one interviewer, "One day I took my dad to lunch. I asked him if he believed in destiny and he said, 'Yes.' And I said, 'Well, I believe it's my destiny to become an actress.'" In spite of voluble objections from her family and the derision and disbelief of her friends, Hayek quit college and determinedly embarked on an acting career. She first found work in plays at neighborhood theaters, including one assignment as the heroine of Aladdin and His Marvelous Lamp. Several months of tireless stage work led to jobs making television commercials, which in turn yielded a casting in Nuevo Amanecer, a popular daytime TV serial. With no more experience than that to her credit, Hayek got herself cast as the title character of a second serial, Teresa, the phenomenal popularity of which almost immediately made its fetching young star the most fanatically revered actress in Mexico.

Not content to settle for the comparatively meager rewards of superstardom, Mexican-style, Hayek set her confident sights on Hollywood, and moved north in 1991. What followed thereafter was a taxing period of adjustment, beginning with an 18-month hiatus from acting that was primarily occupied with English lessons. Also during that period, Hayek studied acting under famed dramatician Stella Adler, and taught herself to drive a car: two days of stick-shift driving convinced her to switch to automatic, and she slowly acquainted herself with the tangled maze of L.A.'s freeways by continually requesting directions from her more streetwise friends via her trusty cellular phone. Hayek's first big break came in 1993, when she spent four months auditioning for a headlining role in Allison Anders's girlz-'n'-the-hood drama Mi Vida Loca. Anders eventually cast another actress in the desired-for lead assignment, but Hayek's tenacity so impressed the director that she gave her a smaller part in the film for the express purpose of enabling the promising young actress to qualify for membership in the Screen Actors Guild.

Other small roles followed, mostly on television, but it was an appearance on a Spanish-language cable-access talk show that led to Hayek's big breakthrough. While in the process of planning a sequel to his wildly successful debut film, El Mariachi, Mexican-American director Robert Rodriguez happened to tune in to Hayek's talk show appearance during a fit of late-night channel surfing. Mesmerized by the lovely and engaging actress, Rodriguez wasted no time tracking her down, and soon secured her interest in tackling the female lead in his soon-to-be-produced big-studio debut, Desperado. Rodriguez's financial backers initially resisted his choice of Hayek, but the director won them over by showcasing her in his made-for-cable installment of Showtime's Rebel Highway series, Roadracers. A solid commercial success, Desperado also garnered Hayek rave reviews for her show-stopping, saliva-inducing performance. Despite the fact she was disappointingly underrepresented in her next two outings, in the limp thrillers Fair Game and Fled, Hayek's performances nevertheless provided much-needed zip for both projects, and 1997 found her nicely romantically matched in both Fools Rush In and TNT's adaptation of The Hunchback of Notre Dame, in which she portrayed Esmerelda to Mandy Patinkin's Quasimodo.

Hayek once declared that she would only marry when she found a man "who has more cojones than I do." While she's been keeping house with British actor Edward Atterton, whom she met while making Hunchback, since 1997, the issue of the quantity of his "cojones" remains in doubt, as the two have yet to wed. While her romantic future may be up in the air, Hayek's film agenda should remain fixed for quite some time. She'll follow her turn in the disco redux 54 with an appearance alongside Ben Affleck, Matt Damon, Chris Rock, Linda Fiorentino, and Alan Rickman in Kevin Smith's Dogma. After that, she'll go to work on The Velocity of Gary, a romantic comedy which will team her with Ethan Hawke and Vincent D'Onofrio; take a bow with Will Smith and Kevin Kline in The Wild Wild West; make a cameo in pal Rodriguez's latest effort, the Kevin Williamson-scripted werewolf flick The Faculty; and take on the much-coveted portrayal of painter Frida Kahlo in the biopic Frida.


(Source : Salma Hayek : The Beauty from Mexico)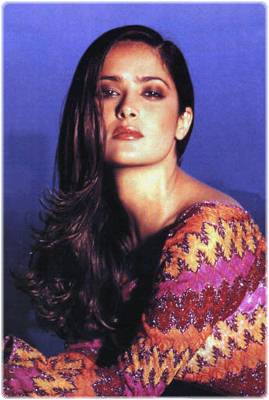 [In the first segment Salma was talking about how she sneaked tequila from Mexico to the cooks and chefs (not sure where, think it's the private school she attended in the U.S.) when she was 13. And how she then got the best food. She also explained how and why she drinks tequila and how she began smoking cigars. November 2 is the Mexican holiday Day of the Dead. It is in honor of deceased loved ones. She had a grandfather that drank tequila, and a grandfather that smoked cigars. So in honor of her grandfathers, she would drink tequila and smoke cigars on the Day of the Dead. Also, Salma was noticeably fumbling on the pronounciation of words. She attributed this to the studio temperature. The following is the second segment. It is not 100% accurate, but it is my attempt at transcribing.]

[The second segment starts off with a caller, Brian, from Burlington, VT.]

Brian: How are you doing, Jon?
Jon: A little pensive, but thank you. Ahh... how you doing? You have a question for Salma?

Brian: Yes I do. Hi Salma.

Salma: Hi Brian.

Brian: How are you? I have just a quick queston, how difficult was it for you to do the strip scene in From Dusk Till Dawn and working with Quentin Tarantino?

Salma: Oh well, working with Quentin Tarantino was very... was not diffulct at all. He's a lot of fun and he's a good friend too, himself.

Jon: Talkative chap.

Salma: Talkative chap, yes.

Jon: Likes to throw the stories around.

Salma: Yep, he has some good stories. I like to listen to him.

Jon: Yeah?

Salma: I do.

Jon: Now in that strip scene, I remember... Brian, tell me if you remember this. You pour whiskey down your leg...

Brian: Exactly...

Jon: ... into his mouth.

Brian: Exactly...

Salma: Yes.

Jon: Now I just wanna ask this quickly, who wrote that scene?

Salma: Quentin.

Jon: Quentin wrote that? Well, how interesting!

Salma: George Clooney often complains about this. You know, how he's like, you know, the hero of the movie. But in this particluar one, Quentin gets the girl to do all this.

Jon: Yeah, it's good to be the writer.

Salma: Yes.

Jon: Brian did you enjoy that movie, Dusk Till Dawn?

Brian: Yes, I did. It's always the day of the dead for me too.

Jon: Sorry?

Brian: It's always the day of the dead for me.

Jon: Fan of tequila. Am I right sir?

Brian: Exactly.

Jon: Well, you gotta keep warm in Burlington, VT. Thanks for calling Brian.

Brian: Yeah, and I just wanna say, Jon, you're doing a great job with this. And you always do a great job with your shows, an uh...

Jon: Brian, I appreciate that very much.

Brian: I hope you get your own show again soon, man.

Jon: Thank you, Brian.

Salma: Yes, we vote for that.

Jon: That's wonderful. So uh yeah, you're on the set, you got George Clooney, the hunk of the moment. You're breaking through in all these hot roles. Are these guys, are they hitting on you now? Is it a whole, like, do the famous guys start calling you? Like you get the calls from, you know, Costner calls, I wanna have dinner with you.

Salma: No, I get some calls from some famous [she stumbles on her words] see it's very cold in here!

Jon: It's cold. It's very cold in here. I'm having trouble speaking, as well.

Salma: I get some calls from guys, but not the guys I've worked with. I've been really lucky I established really good relationships, working relationships.

Jon: Right...

Salma: And some really good friendships with the people that I've worked with.

Jon: You know what I think the problem here is, Salma?

Salma: What?

Jon: I think you're a little intimidated by my beauty.

Salma: Yeah.

Jon: I think it's rare that ou're this close to this, uh. .. the kind of ethnic...

Salma: Jon, I have to confess, it's really true, and you know what did it?

Jon: No, it's not!!

Salma: Let me tell you. No, I'm gonna be very honest. I'm gonna tell you. You know what did it for me? Your socks.

Jon: Here's what she's saying, folks. Here's the big goof. Big loser boy's wearing white socks and a suit. How bout that for loser boy? I pick out the whole outfit and I forget the fact that I'm wearing...

Salma: That's what it is. See, I saw those socks and I just went... In fact I'm gonna have my shoes kiss your shoes.

Jon: Well, you know as soon as I get outta here, I go right to the gym. I don't even change my clothes.

Salma: Well that's interesting.

Jon: So I stay in the white socks. How bout your love life? You know, I'm hearing that you've been engaged four different times to, I'm assuming, four different fellas.

Salma: You know what? [pointing] I have a great story about the stripping... [salma is obviously avoiding the question]

Jon: There's no pointing on this show! There's no need to point, young lady!

Salma: I have a great story about the dance that I just suddenly remembered.

Jon: What dance?

Salma: The dance I did in From Dusk Till Dawn.

Jon: Oh, lets hear it.

Salma: Okay, maybe some people are gonna be mad at me. But this is really not...

Jon: Nah, we're all friends here.

Salma: I'm not saying anything wrong.

Jon: We're friends.

Salma: I just finished a movie called Fools Rush In.

Jon: Fools Rush In, with Matthew Perry.

Salma: With Matthew Perry.

Jon: ... from the cast of Friends.

Salma: And a bunch of us went to a stripper place in Vegas.

Jon: Now, what's a bunch? Is that 3? Is that 10?

Salma: That's the director, the producer, that's 10, 15, okay?

Jon: At a strip joint?

Salma: Yes, in Vegas.

Jon: Vegas strip joint?

Salma: Yes.

Jon: You're at the epicenter of stripdom.

Salma: Yes, we went. And, you know, topless, you know.

Jon: Topless? Yes, I know.

Salma: And all the boys, you know, they're like, 'let's go see these girls.' And, you know, all these handsome people, and guys, you know, walk in. And then the girls, you know. I sit down and they all come over and talk to me. 'Oh, you're the girl from From Dusk Till Dawn. We get a lot of requests. A lot of people want us to do the dance and do the whiskey thing.'

Jon: You're kidding!

Salma: So Quentin has really come up with, um...

Jon: So you have set off a dance craze. You're sort of the Chubby Checker of the strip world. You've set off, like, a dance craze, like the twist, in the strip world. Was that hard to go to a strip joint? Cause even I get uncomfortable in those.

Salma: Yes, I was embarrased. It was kind of strange. It was fun. It was a joke. We were with a bunch of people...

Jon: Right, you're goofing around with some friends. Obviously you're relaxed with them, you've been around them for a long time.

Salma: Yes, with some friends.

Jon: You've been engaged four times.

Salma: Oh, god! I thought, you know... [laughter]

Jon: I'm stunned by that!

Salma: I came up with a good one to get you off that track! I get it away and you go back to it!

Jon: My girlfriend, now we've been together for, you know, a year, a year and half, we still haven't done...

Salma: That's great.

Jon: What's the average length of time in your relationship, before you get engaged? What's the fastest you ever got engaged? What's the longest you ever got engaged?

Salma: The longest? After a year and a half.

Jon: So sometimes, like a guy will be out with you for a week, and go, 'You must marry me.'

Salma: Oh, they always do that! But you know that's not for real, until you see the ring.

Jon: Is that true? Anybody can come up with a ring, for god's sake.

Salma: No it's not even the ring.

Jon: What's the most romantic way you've ever been proposed to? Anybody get down on their knees? Anybody do the sky-writing? Do it at a ballgame?

Salma: I really have not had anybody be really romantic about it, except for once...

Jon: Basically they just walk by, 'Hey, marry me!'

Salma: No, one time we broke up. And then on Valentine's Day, you know, he said we should get back together and we should get married.

Jon: That's very nice. Now, you say to them at the time, 'I would be delighted to marry you.' And then...

Salma: It's just so romantic, Jon. It's so flattering that somebody...

Jon: Yeah.

Salma: And you know, you're with these people for some reason so at the time, I would think it was such a fantastic idea, and I would say, 'yes!'

Jon: Now, are you the one usually who breaks it up? Like, you wake up the next day and go, 'D'oh!'

Salma: Well, not the next day. No, not the next day. But, you know, as you're getting closer, it's becoming more real.

Jon: Right.

Salma: And I was very young too, you know. The first time I was 18.

Jon: Oh, 18. Sure, that's tough.

Salma: So, I was smart. Once it starts becoming real, you realize that probably, this is...

Jon: It's not right.

Salma: No, not right.

Jon: You're someone who gets what you want a lot. Am I correct? Have you ever set your sights in something and not gotten it?

Salma: Yes.

Jon: You have?

Salma: Yes, I have.

Jon: In love, or career, or?

Salma: In love.

Jon: Yeah?

Salma: Mostly...

Jon: Somebody broke your heart?

Salma: Career, too. Yes. A couple of times...

Jon: Well, when we come back, we will...

Salma: A dozen of times.

Jon: A dozen times, wow! When we come back, we'll be cheered up by more phone calls and more talk with Salma Hayek.

Salma: Yes, yes. Let's change the subject!

Jon: We're changing the subject fast. From white sock boy to you. Come back soon.

(www.toppics4u.com)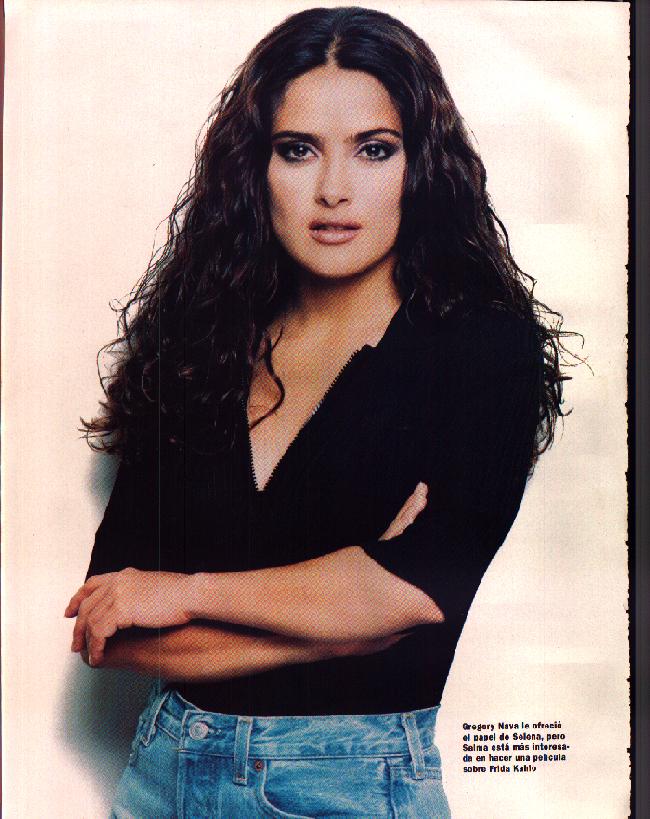 Salma Mousse

Some People Just Know How to Wear Dairy

from Los Angeles Magazine Vol. 41 No. 8 August 1996


Salma Hayek was introduced to American audiences last year simmering opposite Antonio Banderas in Robert Rodriguez' Desperado. The Mexican actress, who turned down the role of Selena, is currently appearing in Fled, with Stephen Baldwin and Laurence Fishburne. She was interviewed over coffee--and dessert--by Thomas Mournian.

What was your initial reaction when you heard that Los Angeles Magazine wanted to cover you in whipped cream?

I was very excited. I thought I was going to be naked, so I asked the photographer if I could wear a cake for a hat.

Was this the first time you'd been slathered in whipped cream?

No, but it's the first time I got pictures.

What's your second-favorite way to use whipped cream?

I really like it on hot chocolate.

What's your favorite American food?

Thanksgiving dinner.

Favorite Mexican dish?

Chiles en hogada. It's like a chile relleno but with no cheese. Instead of a poblano chile, you use bell peppers. They can be stuffed with things like beef, nuts, apples, olives, raisins--just about anything--and then dipped in egg batter, fried and doused with tomato sauce.

Do you have a favorite eating scene in a film?

Yes. It's from that old kids' movie, Willy Wonka and the Chocolate Factory. I love the scene where the dirt-poor kid gets a bar of chocolate for his birthday and he shares it with his mother and grandparents, who are all really hungry. After eating the chocolate, they are all very happy.

Have you got the L.A. obsession for working out?

No! That's the one part of American culture I hate. The concept of going into a room full of people who are sweating and inhaling their sweat while I'm painfully driving myself into exhaustion . . . I don't understand it. I walk on the beach or ride a bicycle or jump around my house, but I will not participate in that collective hysteria.


How long have you been in L.A.?

About five years.

What was the toughest adjustment?

Driving! What a nightmare! I didn't drive in Mexico. I was so brave in the beginning, saying, "I'm going to be a self-sufficient woman now." First I bought a stick shift--that lasted two days. Then I got an automatic--but I didn't ever know where I was going, so I got a car phone. My bill on that phone was so outrageous! And I was afraid to go anywhere because I was totally paranoid about cops--my friends had told me about Beverly Hills cops. I was always so lost . . . I would get on the phone and drive my friends crazy. I would stay on the line the whole time because I'd get so lost--and always at the wrong places. I'd be on the phone, crying for hours in East L.A., crying for hours in South-Central. I was so afraid to open my window and ask, "How do you get to Beverly Hills?" One time, I was going to Santa Monica, and I drove for hours. They told me to get on the freeway, and of course, I stayed on the freeway. I called my friend and said, "I see a sign on the hill that says MONTEREY . . ." I had to stop the car and ask someone, "How do I get to Burbank from San Francisco?"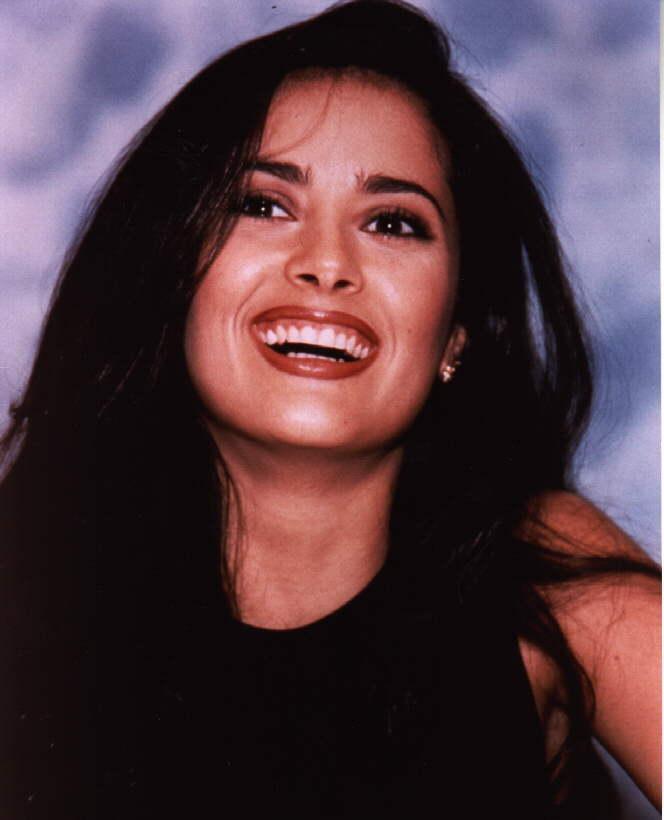 Salma Hayek: Driven By Instinct
by Rod Dovletian
from Axcess Magazine Vol IV No 1 February/March 1996
As Carolina, the tempestuous love interest opposite Antonio Banderas in last year's Desperado, and now as From Dusk Till Dawn's wet nightmare Satanico Pandemonium, Salma Hayek is proof positive that there's still room in today's Hollywood for an actress who's smart, sexy and driven to succeed. Born in Coastzacoalcos, Mexico, Salma studied International Relations in Mexico City before deciding on an acting career. "I always wanted to be an actress ever since I was a little girl, but later I tried to convince myself that's not what I wanted. That I wanted to settle down with a stable career. That's what everybody else was doing, and it's what my parents expected of me. So, I tried to put that part of me away. but, I couldn't fool myself."
At first, Salma's new career was derided by both her friends and family. "When I finally decided to leave school and pursue acting, my parents didn't take it very lightly," Salma says uneasily, as if she were about to get grounded for being out past curfew. "My friends thought that it was the tackiest thing they'd ever heard of. Acting was really beneath them. They couldn't believe that I would want to become an actress." She smiles, adding, "Not now, of course."
With her breakthrough performance in Desperado, the doors of Hollywood's major studios opened up to Salma , but she remains committed to doing quality work instead of merely chasing the big paycheck. "After Desperado, I had the chance to do bigger, studio films," she admits. "But I didn't find any scripts that intrigued me more than my next film, Breaking Up. There's only two characters in the whole film: Russell Crowe (Virtuosity) and myself in a comedy about love. . .and sadness. It's funny and sad at the same time. Just like life."
I ask if she has a formula for selecting new projects. "I don't have a formula. I have instincts," she states matter-of-factly. "When I was in Mexico, I had a good, stable acting career going. I had a very comfortable life. But I also had my instincts telling me to move on, to get out of here. Even though I had to start from the ground floor all over again in L.A., it was the right thing for me."
Ironically, a subsequent return to Mexico might just lead Salma to this year's Oscars. "I went back to Mexico last year to do Midaq Alley, a film that has now been selected to represent Mexico at the Academy Awards this year. That was another example of doing something I believed in that paid off in the final result. I follow my instincts. They've never betrayed me."
Except in one department: "My instincts are a little off when it comes to love," Salma confesses. "I've gotten my heart broken a couple of times, so I'm a little leery of love. Either I pick guys that are wrong for me, or the right guy at the wrong time. Maybe I'm cursed!" She shrieks, throwing her hands in the air.
Sorcery aside, Salma admits that real success, in both her personal and professional life, comes from within. "It's got a lot to do with listening, to yourself and to who you are," she confides, "instead of just what you want. That applies to both love and career, because sometimes people want something for the wrong reasons. Out of ego, out of competition, out of revenge. That's not who you really are. You've got to know how to trust yourself."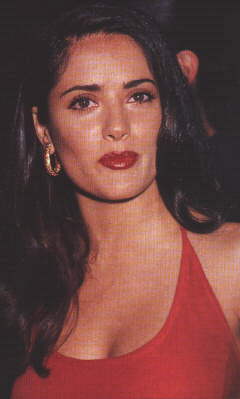 Interview by E! Online

Okay, the really important question, right off the bat: What the heck was it like working with all those live spiders?
I don't like them! They have hairy feet, and they're very light, so it feels creepy when they're walking around on your skin. And, of course, they jump.

And how was working with Will?
Oh, Will is the most loving creature on earth. He's always in a good mood. He's always singing. He's so talented. He's so giving. He's so professional. I absolutely love him, and I just hope we get to do some more work together.

He's got a scene in which he wears a dress. Did you give him any hints about how to carry it off?
Oh, I hate to tell you, but he didn't need any hints. In fact, I was getting ready to ask him for some hints myself.

I hear that although Will really wanted you to be in this movie, you still had to audition. Isn't that unusual for a star of your stature?
Well, this is the thing. I go through this every time I get a movie. They call. My agent says, "You shouldn't read, you shouldn't read. You're too big for that now." I say, "I'll read." And then I go and read, and I get the movie.

But Barry Sonnenfeld had you audition three times. What was up with that?
Barry wanted to make sure that I could speak fast enough. I said, "Okay, I can speak faster." This happened over the space of six months. Meanwhile, I'm doing another film. It's not like I'm sitting home waiting, you know. I'm doing Dogma. I forgot about it. I said, "This guy hates me." And then they called.

So, being cast hasn't gotten easier, even though Hispanic actors are having really a big boom year?
That's not really true.

It's not?
No. The statistics show that this year the percentage of Hispanic actors hired dropped considerably. So, you shouldn't believe everything the press tells you.

What about Jennifer Lopez?
She's on the rise, but Jennifer Lopez is from New York.

She's Puerto Rican.
No, she's not. Her grandparents, her parents, yes. But her Spanish is very bad. She's a very good actress, and a very hardworking woman from New York. Now it's convenient, because when she has to be Latin, she's Latin. But Out of Sight was not about a Puerto Rican, you know; it was about a cop from New York.

Ah...Is there any truth to the rumor that there's a rift between you and Jennifer?
A riff?

No, a rift--a divide, like a fight.
Oh, no. I'm glad you clarified that. It's just that I have a lot of Latin friends, and I could give you a list of actors--brilliant actors--[who haven't gotten many jobs]. The girl who was the lead in Like Water for Chocolate. She's been here for seven years. She's a helluva actress, but she's having a really hard time.

PenÚlope Cruz is from Spain, and she's been working a lot lately.
Oh, I love PenÚlope Cruz. I've been a fan of hers for years. She's doing really well. But it's like three or four who are doing really good, and then there are so many talented, hardworking people who don't get a break. Don't get me wrong. It's a great time because we're on our way. We're getting a lot more attention. But it's a lie that people are saying it's happening today.

You were a huge, huge star in Mexico. What made you want to move here?
I was motivated to leave, because the soap I was on became so big so fast. I worked with a woman there, a producer who said to me, "You know what? Being a star has nothing to do with being a good actress. It's very simple. It's a chemistry you either have with the camera, or you don't." And she said to me, "You have it." She was a very good influence. So, I came here to study and improve myself. I was really worried about becoming a good actress, but that's what gave me the courage--I knew that she was right.

That was a pretty bold move, considering you still often have to prove yourself to people here.
I've always been given, like, five minutes in a film, but I make sure those are five minutes you'll never forget about that film. In From Dusk Till Dawn, all I do is dance with a snake, but that has earned me an audience. And although Hollywood has not been really receptive to just say "welcome" and open the doors, the audiences have been supportive.

Okay, enough about hard work. What do you like to do for fun when you're in L.A.?
I love being at home. That's my favorite. I love to go to the movies, and I like to go to the beach sometimes. And I love going to restaurants. I really like Matsuhisa. It's this Japanese restaurant. And I like the Ivy, and I really like Versailles, which is a Cuban restaurant. It's really good. And for, like, $6, you can stuff yourself until you die.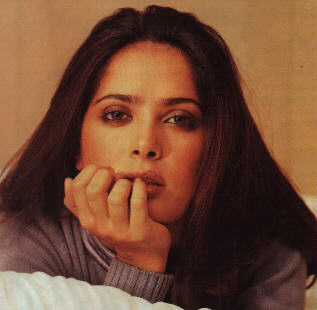 Salma Hayek

Interviewer: Lesley O'Toole

Magazine: Empire Magazine

Hollywood publicists are famous for inventing newsworthy anecdotes to accrue column inches for their would-be-star clients. Yet Mexican-born beauty Salma Hayek's discovery by Robert Rodriguez--and subsequent casting in Desperado--sounds so implausible, no publicist would every have presumed to pull it off.

"I went to see El Mariachi," explains Hayek, her brown eyes growing even bigger. "I thought it was so great, new and brilliant. I was driving home thinking how much I'd love to meet Robert Rodriguez, because he's a genius and he's part Mexican. So I went home, went to bed, and was woken by the phone. It was Elizabeth, Robert's wife, saying, 'My husband would like to meet you...'"

Rodriguez, it turns out, had been at home indulging in a spot of channel-surfing. He had stumbled upon Hayek being interviewed on a Spanish language cable station. She finishes the tale...

"He turned to his wife and said, 'Look at this girl. She'd be great for Desperado. Will you find her?' We had a meeting and the rest is history. It's like a Hollywood dream come true.

Talking to Empire at a swank LA hotel, Hayek displays all the star attributes that make this tale less of a surprise than she might think; she's gorgeous, talented, bright, funny and charming. Already a legend in her home country, thanks to a role in its hugely popular daytime soap Teresa, she has also starred in El Callejon De Los Milagros (The Alley Of The Miracles), Mexico's most successful film ever and its entry in the 1996 Academy Awards' Best Foreign Film category. Today, she remains unintimidated by the hordes of media types who have already designated her 1996's Big Thing.

They could be right if Hayek's achievements in 1995 are anything to go by. After adding Desperado to a CV that already lists a part in Allison Anders' acclaimed Mi Vida Loca (1993), Hayek considered Rodriguez's offer of a cameo in Four Rooms as a showgirl who gets friendly with a pole. However, sticking to her original stipulation of "no nudity, no snakes," her first reaction was to refuse.

"I said to Robert, 'I've never danced and you want me to wear a bikini?' He said it was a favour and , 'You have to be in every movie I make. You're my good luck charm.'"

Hayek took the part, showing Elizabeth Berkley a thing or two about sex appeal in the process. When Rodriguez showed her scene to his mate, Quentin Tarantino, he was so impressed he immediately wrote Hayek a sizeable part in From Dusk Till Dawn, his and Rodriguez's upcoming vampire movie, starring Harvey Keitel, Juliette Lewis and ER's George Clooney. But as luck would have it, when--on Rodriguez's suggestion--Hayek's part was revised, it now required her to handle a snake. Again she refused, so Rodriguez threatened her with (never confirmed) rumours that Madonna was after the role too. Hayek stoically spent two months with therapists and overcame her phobia.

This determination surfaced yet again last year when Joel Silver went after Hayek for the part of William Baldwin's girlfriend in the much-maligned Fair Game. But the actress was unhappy with her scene, and this time stood her ground, demanding she be allowed to rewrite it. While bigger stars might have been laughed out of the room, Hayek strode out a few weeks later to meet Baldwin with a new script in hand...

"Billy was freaking out, saying, 'Excuse me, I need to see the director'," she laughs, "But he loved the scene--we got a standing ovation from the crew and became good friends."

It's in Rodriguez's Desperado, however, where Hayek's starry colours truly shine. The director gave her only one word of direction in reference to her character, Carolina.

"He told me: 'bookstore'. That was it. Carolina owns a bookstore in a town where no one reads. She is a realist but has a fantasy world. Theses books are her friends and lovers. She travels and meets people through her reading. She's a dreamer, and when she sees the Mariachi walking down the street, she knows he's her destiny and is coming to save her."

Hayek wasn't afraid to get her perfectly manicured nails chipped, either, choosing to perform all her own stunts.

"You know how macho boys get when they're all together?" she smiles. "Well, the set of Desperado was like that. They were all trying to put me down, saying, 'Bring on the stuntwoman, Salma can't do that.' But I did everything. The scene where Antonio and I jump across two buildings was great. They put cables on us and it really was like flying. I didn't want to stop. I kept saying, 'Can we do it one more time?' I had a blast..."