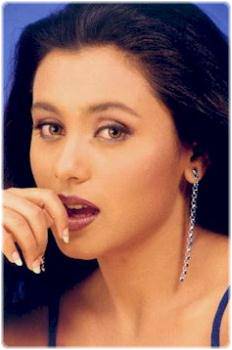 Name
Rani Mukherjee

D.O.B.
March 21, 1978

Place
Bengal, India

Occupation
Actress, Model

Family
Cousin of Kajol

Address
405, Shanti Building, B Wing, 4th Floor,Kalyan Complex, Versova Mumbai 400 061, (India)



AWARDS

Year-1998

Category Filmfare award for Best Supporting Actress - Kuch Kuch Hota Hai





Biography

(Source : www.apunkachoice.com)

Member of the same illustrious film family from which Kajol draws her lineage Rani Mukherjee may still be at a distance from the citadel that houses her cousin. But there is no doubt about the light-eyed Bengali girl's mass appeal. Moreover, she is putting all her efforts and working hard to reach there.

Precocious yet innocently oblivious of it, it is the actress's unassuming self which draw friends and well-wishers to her.

Producers made a beeline for Rani's door (she was riding high on the success of Ghulam and Kuch Kuch Hota Hai) and just as she was gradually shifting positions towards the top in the popularity charts, she started getting the jolts. Good nature did not really help Rani in gaining stronghold and consolidating her position in Mumbai.

Films like Baadal cast a shadow on her prospects. The film left theatres in India without a whimper. Hope was alive in the form of Hadh Kar Di Aapne, which was in the pipeline. Rani had faith in Govinda and David Dhawan's saleability at the box office. Unfortunately, the film failed to raise a laugh and the cash boxes did not ring.

Rani tried to remain unfazed. She was looking towards the future and Hey Ram. As an actress, Rani was proud to be associated with an actor-director of Kamal Haasan's caliber and was thrilled to have Hey Ram in her lap. Even Hey Ram did not propel her career to the extent she had expected. There wasn't any critical appreciation of her performance in the film. Infact, Rani's fans became aloof when they saw their favorite actress locked in a passionate kiss in the film.

The actress does not regret though. ''I wanted to work with Mr. Kamal Haasan. The rest did not matter'' she said in an interview some time ago.

Rani still is excited about the projects that are lined up as her next films. A series of unsuccessful runs have not dampened the giggly self. She continues to be sprightly.
Rating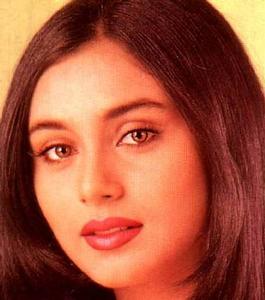 She's the Bengali siren who had the country following her to Khandala. Bindaas and bold, she's as cool about her on-screen smooch with Kamal Hassan as she is about her various link-ups off- screen. Rani loves meandering nine to the dozen. We supply the opportunity. Hey Rani, Kya Bolti Tu?

Fragrance: Natural body odour
Gift: Diamond ring my dad gave me.

Holiday: Sikkim

Drawback: My sensitivity

Comic: Archie and Donald Duck

Perfume: Polo Sport

Outfit: Anything comfortable

Beauty: I soak myself with moisturizer

Idol: Hitler (I'd love to meet him).

Hobby: Dancing

Food: Fish made by my mom

Song: My Heart will go on from Titanic

Film: Titanic

Birthday: March 21

Craziest fan: My mom

Weight: More than it should be

(Source : www.indya.com)


Rani Mukherjee, born on 21 March 1978, with Aries Sign, in India. She is a cousing to Kajol.
Her movies include Bichhoo, Chalo Isqh Ladayen, Hadh Kar Di Aapne, Har Dil Jo Pyar Karenga, Hello Brother, Josh, Mulaqat, Pyar Deewana Hota Hai, Yeh Rasta Hai Kyar Ka, Ghulam, Kuch Kuch Hota Hai, Mehendi, Raja Ki Aayegi Baaraat.....

Address : Rani Mukherjee
B/405, Shakti Apartments
Kalyani Complex
Yari Road, Versova
Mumbai 400 061
INDIA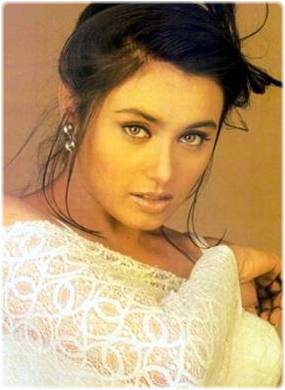 Interview
(Source : www.bollywood1.com)


Lets start with Hey! Ram. How did you view Gandhi before you started working on the film?
As an integral part of our history. I dont think India would have got its independence without people like him and Jawaharlal Nehru. My impression of him is based on the history lessons I took in school. They projected him as a soft-spoken, peace-loving man who preached ahimsa and believed that it was the best way to freedom. He was a very different kind of a leader.

Did playing Aparna Ram require much homework?
(Smiles) None at all because Kamalji had done all the homework himself. Anything you wanted to know about the film, the character, the period you only had to ask Kamalji. He knew everything. There was no need to meet people, talk to them or even research the look.


You look very different in the film from the glamorous star Rani.
(Frowns) You think so? I think Aparna Ram is me. Hey! Ram is perhaps the only film in which Ive acted so far which projects me the way I really look. I guess, it could be because this time Ive not used any artificial paints, no false eyelashes and Im always in a sari worn in the Bengali style with a big bindi on my forehead. In fact, the way Aparna talks, the way she communicates with her husband is a lot like me.

Well, youve knocked off those not-needed kilos. No one must be complaining now?
(Beaming happily) They are not.

Youve done a great job of reciting Jibonananda Dasss poem in the film.
(Delighted) You think so? I was so scared when Kamalji called me and said he wanted to record the poem in my own voice. I have no complaints about my voice but people generally dont want me to do any recitation or singing. In fact, I kept asking Kamalji if he was sure he wanted me to recite the poem. He insisted he did. He likes the husky quality of my voice.

Was it difficult?
It wasnt difficult, no. But it was different. Im a Bengali, I speak the language, Ive read Bengali poetry before but Ive never recited it. I was really terrified initially but Kamalji pepped me up. And the fact that he was so sure I could do it right gave me a lot of confidence.

What were the thoughts racing through your mind at the time of recording?
(Laughs) There was only one thought, whether Kamalji would okay the take.

And what were your thoughts when you were doing those erotic scenes with Kamal Haasan?
Nothing special. There were the same number of people behind and around the camera as for any other scene. I was just doing my job. And I had to get it right otherwise the scene wouldnt jell. The eroticism was only for the screen. Even while we were doing those scenes Kamalji was more my director giving instructions than my co-star wooing me romantically.

Well, even remaining so detached from your co-actor youve managed to make the screen sizzle. People are talking a lot about these scenes.
Yeah? What are they saying?



That theyre very aesthetically shot.
(Sceptically) Really? People have been telling me, Rani, what is this? What is the matter with you? No more of this! Im only worried about how my family and close friends react to my movies, and frankly, they were quite shocked.

Even though Badal is pure fantasy and you dont have anything more to do than sing, dance and look pretty?
I knew Badal was Bobbys film and I didnt have a great role in it. But it was being made by my mentor, Salim. The man who gave me my first break. So I didnt have much of a say in the role. As for it being pure fantasy, well, arent most of our movies make believe? Even a Hey! Ram relies a lot on imagination because its a period film and most of us associated with the film didnt live in those times. So we really dont know if a person like Aparna Ram existed. Shes as much a part of fantasy as the Badal girl.

But arent films like Badal a discredit to Rani, the actress?
Hey, Ive just entered show business as I told you. I have barely half-a-dozen films to my credit. I cant expect to get tailor-made roles in every film. Why doesnt anyone understand that? (Throws her hands up in exasperation)

Maybe because a year ago you were the hottest new face in movie town and after Kajol tied the knot everyone was expecting you to step into the void she had left behind.
But even Kajol didnt start out with big banners and the best of roles. Every actress has experimented with different kinds of roles before they got roles written specially for them. Thats precisely what I am doing too.

But for someone whos proven herself in the histrionics department is it really necessary to do a film like Hello Brother or Badal?
I dont know where Hello Brother went wrong. Some people loved the humour, others didnt. When a film doesnt work youre given so many reasons for it going wrong. What can I say? (Shrugs) Anyway Hello Brother was just one odd film. And I had no say in Badal, as I told you, because it was my mentors film. But I have another film with Bobby, Bichoo, in which I have a good role. Youll get to see a lot more of me in that film. Let me have 8-10 releases, and after that you can argue that the actress in Rani is getting lost. At the moment Im just enjoying the experience of doing a film for a song or a couple of scenes. Once I get set Ill pick and choose. You have to give me more time. You gave Kajol and Aishwarya a long time, remember? For that matter every other actress. Why are you making an exception only for me? Im working everyday of my life, arent I? And Im trying to do my job well sincerely. If people are still unhappy with me its really sad.



Are you disappointed at losing Lagaan?
Not really. I didnt lose it because I was a bad actress, did I? It was only because I couldnt give four months at a stretch.

Okay, were you disappointed that Karan Johar didnt consider you for his next film despite the impact you made even in a brief role in Kuch Kuch Hota Hai?
No. Maybe I didnt fit into his new project. As for Kuch Kuchfrankly I had never anticipated my performance would be appreciated so much. I really dont think about the kind of impact I make in my films. Its not good to think too much.

Why not? Dont you want to reign like your cousin Kajol one day?
No, Im not here to be No. 1 or No. 2. I just want to work and remain in the industry for a long time. I dont want to shoot up suddenly or slip down the ladder overnight. Slow and steady wins the race.

But to stay in the race it helps to have a Subhash Ghai, a Karan Johar or a Yash Chopra behind you.
Look, it doesnt matter if Im doing Subhash Ghais film, Kamal Haasans film or Salims film. For me every film is as important, every director is as big.


Even Kirti Kumar who hasnt had a hit since Hatya?
Hey, you shouldnt write off a person because his films havent been succeeding at the boxoffice. Everyone goes through hard times. You just put in your best. Whether the film works or not depends on luck. Kirti Kumar has made a lot of big films in the past. Even though they may not have done too well hes still a big director. He can still come up with a great film. You have to give the man a second chance. Pyar Diwana Hota Hai is a good film according to me. Now its up to the people to make it a hit or a flop.

But dont you stand the risk of getting slotted like Karisma by doing so many films with Govinda?
Just how many films am I doing with Govinda? Only three, Chalo Ishq Ladaye, Hadh Kar Di Aapne and Pyar Diwana Hota Hai. And none of them have released yet. Wait and see what they are like. Its too early to make a judgement. Besides, I have films with other stars like Salman and Bobby releasing at the same time. So I dont think I stand the risk of being slotted. I may have started my career with performance oriented roles but right now Im enjoying myself doing lighter roles. I dont want to get typecast so early in my career.



Well, you may be doing different kinds of films but you seem to returning to the same directors. You have three films with your Ghulam director, Vikram Bhatt.
Not three, only one. Mulaqat and Tumhare Liye are not happening. So theres just Tumko Meri Kasam which is a sweet romantic film, very different from Ghulam.

And whats Jackies just launched Jis Desh Mein Ganga Rehta Hai like?
Why ask me? Im not in the film. Rinkes in it, not Rani.




"Success and Failure Make no Difference to me!"

The Rani mania has already begun! At the shooting of Hadh Kardi Aapne, at Madh Island, a = flock of fans wait for a glimpse of their favourite heroine. Photographs are thrust under = her nose to be autographed upon. A mob waits for her to pose with them for photographs. = Biscuits are offered to her by kids and are accepted by Rani as enthusiastically as = they are given. Rani has arrived. She handles the 'fan'fare surrounding her with all the = flair of a seasoned star. And with her charm the queen wins over hearts, more than = once...

Both, Ghulam, as well as Kuch Kuch Hota Hai, have hit the bull's-eye. How do = you feel after this tremendous bout of success?

I feel just like any other normal person would - happy, lucky and enthusiastic = enough to face the world.

Does success scare you?

Success doesn't scare people, it only succeeds in making them greedy. A person = who has seen success will want to hang on forever to that phase because he feels that = the moment it eludes him, he won't be able to handle failure. Most people, however, = don't see the positive side of success.

What do you mean by that?

The positive side is when a person strives to remain a success throughout = his life only to remain at a constant position. Failure doesn't enter his mind. So, he is = always working hard in life. This is much better than wanting to succeed to avoid = failure. Personally I take everything as it comes, so success and failure make no difference = to me. I'm a pretty balanced person.

Will you be able to handle failure when it comes?

Obviously, I'll be able to handle it. As I said, a person should take success and = failure as it comes,otherwise it wouldn't be worth it. I'm sure that in future if I = have to encounter failure, I'll be able to take it in my stride the same way I have taken = success.

How was it working with Kajol, your cousin? Were you apprehensive about working = with such a talented actress?

Not at all! I was very happy and excited when I was told that I had a film with = Kajol. I was looking forward to working with her and the experience was = great.

How do you rate yourself as an actress?

Zero.

What?

I'm not joking! I feel that I need to learn a lot. Whenever I watch my films I = feel I could have enacted a certain scene in a much better way. I could've contributed = much more to it.

Which are your favourite scenes?

In Ghulam my favourite scene is when Aamir comes to my room to collect his jacket. = I think that was the only scene where I had a chance to perform. In Kuch Kuch... my = favourite one is my death scene. Shah Rukh, Karan and I were actually crying while shooting = it.

Has the industry changed you in any way?

Yeah, it has made me more responsible. Otherwise, I'm still the same. After three = releases to my credit, I still don't think of myself as a star. The only difference = being that now instead of leaving home for college in the mornings, I leave for = work.

Your notions on your workplace?

Every profession has its good as well as its ugly side. Besides, this industry = gives me my bread and butter, which makes me biased enough to say it's good. I've yet to = experience its unplesant side.

Have you, at any time, regretted joining the industry?

No, never! I'm insinctive by nature and rely more on my heart than my head. I = believe in destiny and have faith that whatever happens, happens for the best.

Are you an outspoken person?

I speak from my heart and am very demonstrative by nature. At the same time, I = try not to hurt anyone, either by word or by deed. I give an opinion only when I'm asked = for it.

Are you an ambitious person?

I'm not overtly ambitious. If a good film comes my way I'll do it but I'll never = go around begging for a role. I didn't do it after my first film, so why should I do it = now? I believe in destiny and hard work. If I work hard enough everything will be fine. = Problems occur only when one doesn't concentrate on one's career.

What is your mortal fear?

Surprisingly, my worst fear is to be eaten up alive by a shark. After seeing Jaws, I = was so scared that the fear persists even today.

What is your biggest high?

Public adulation gives me a real high. I've watched all my films in the = theatres. It is an exhilarating experience when you see people appreciating your = performance, when your fans come to you and say that they love you. Nothing else can give you a = bigger high than that.

Who are your friends in the industry?

Karan Johar, Vikram Bhatt and Farah Khan.

Who do you speak to when you are sad?

I talk to God. I'm more a God-loving person than a God-fearing one, so I talk to = Him the way one would talk to a friend. Besides God, I discuss my problems with my close = pals. I also talk to myself. I admit I'm a little cracked up here (laughing and pointing = to her head).

What is your motto in life?

To keep my parents happy. I want to give them everything in life, all the happiness = that I can muster. Initially, my father was against my joining films and mom had to = convince him to allow me to do so. Today, of course, he is proud of me. I want to do = good work. The day I feel I have done enough, I'll settle down...

Would you settle down today, if you found the right guy?

If I find the right guy, I will be open about the whole affair and not hide my = relationship with him.

But I will not marry just now, because early marriage is not my cup of = tea.

Would you prefer being more successful as a human being or as a = star?

I'd prefer to be a successful human being. A successful person is at peace with = himself mentally and hence manages to be successful in his career too. If you are just a = successful star then you don't end up being half as happy as you would as a good human = being.

Do you like what you see in the mirror?

Not really. Physically, I feel there is room for improvement, so I'm coping = with it. To me beauty lies in the heart. A person can never look beautiful if she = doesn't possess a good character. When I look at somebody and comment on the person's beauty I = refer more to the character than to the physical aspect of their beauty.

Inteview Courtesy GMagazine

Big surprises come in small packages! Tiny lil' Rani has taken the whole nation by storm. In a mega hit starring two superstars, Shah Rukh and Kajol, Rani has held her own and walked away with the accolades. Her phones haven"'t stopped ringing ever since. In a cosy chat session, Rani gushes over her stardom and how everyone around is reacting to it...

People talk of the similarities between Rani and Kajol, but I'm going to surprise you all. The one person Rani really reminds me of, is the late Divya Bharti. Years ago just before she had officially signed her first film, I had met Divya Bharti. She was meeting a media person for the first time and instead of answering my questions on how she got into the industry, she opened her box of trinklets and excitedly showed me things she had collected. Then she showed me her collection of posters of film stars and so many other 'Aunty see this! Aunty see that!' things.

Years later, I met Rani Mukherjee through a family friend even before Raja Ki Aayegi Baraat happened. Once again I became 'Aunty' to an actress. Rani, like Divya, is childlike, bold, bindaas, genuine and very transparent with her feelings. But unlike Divya, she is confident and not at all insecure.

When Ghulam happened, we celebrated her stardom. But she's no fool. She knew it could be a shot in the dark. Now that Kuch Kuch Hota Hai is a superhit, she allows herself to feel the elation and confidence of having her feet firmly planted in celluloid soil. Rani recently returned from a schedule in Switzerland, met me and screamed, 'Auntee, I've become a ishtaar!' It was the most honest thing I heard from a star! Otherwise, they are almost always on their guard.

But that's Rani! As we sat over endless cups of expresso, she gushed over how everything has changed for her, naturally for the better. Before we continue, let me make a point... Don't be in a hurry to dismiss her as a show-off, as a Jane-come-lately who's talking too much too soon. While every star is excited to hit the jackpot, very few are honest enough to admit it wholeheartedly! And what the hell! Rani is young and unashamedly ecstatic...

'I feel so confident and happy, but there is also a feeling of responsibility, a sense of insecurity. People, especially children, have given me so much love. I have to work harder now to live up to their expectations. In a nutshell, it's scary. Relatives tell Dad that I'm their son and the gem of the Mukherjee family. All that makes me so happy but I also feel weird because it's happened to me so early in life. It's as if I've grown up overnight. It's strange how a Friday night release can change your entire life. I feel very excited. There is a child in me that is reacting but very few people get to see this reaction. I'm quite level-headed otherwise and will not get carried away. If I talk too much, Dad laughs and says `Rani has not even come out of the egg and look at her talking!'

Which is the first thing she bought with her money?

'It's difficult to remember because whatever I've earned so far, I've first given to dad. So I'm confused about the first thing I've bought. Whenever I need money I just ask Dad. But if it's a major thing you're asking me then yes, I'm proud to have bought my cars. My first car was a Maruti van which I gifted to Dad. Then I bought an Opel Astra which Mom and Dad use. Now I've bought a Safari which I'm thinking of giving Mummy because she's more excited about it than I am! I prefer the Opel because I can drive it myself and I feel relaxed in it. The Safari is huge and I'm tiny, so when I get down I look like a pigmy!

'My world revolves around Dad, Mom and my brother. I want to make my family happy and secure .I think for the present and make no plans. Dad tells me to think of the future, but he is there, na! He takes care of savings, investments, income-tax and life policies. I basically don't know anything about finance. I'm totally dependant on Dad. He keeps telling me to take interest but my interest only in going for shootings, talking to my friends over the phone and having lunches with them.' Rani's friends Priya, Ameesha and Shubha are the dearest people in her life. In spite of being a busy star, she can drive MTNL crazy with her long conversations with her best gal pals.

'My friends are still getting used to my not being available all the time. They love me so much that they are willing to adjust. They are even more excited than I am about my success. They love to show off that Rani is their friend and it gives them a high. After Ghulam I'd taken them for a treat and they found it very funny when people came up to me for autographs and photographs. They started laughing and saying loudly, 'Ae! Apni friend toh ishtaar ho gayi re!' Everyone kept staring. I was so embarrassed but we all had great fun. The other day I went for Kalyanji's Little Wonders show. Kids and grown-ups went crazy when I danced with them and later I was mobbed. My friends Priya and Shweta, instead of getting into the car, just stood there to watch me getting mobbed and in the bargain got pushed around themselves. Finally when I got into the car I realized they were left outside, banging on the window! The whole scene was so funny.

'Priya came to the photo session I did with Govinda for CINE BLITZ. She was meeting him for the first time but that didn't stop her from interfering during the shoot. She wanted me to look stunning and kept telling me to wear this, look here and do my hair this way. She even had the cheek to tell Chi-Chi which suit suited him and which didn't! Priya was in full form. I was even more amused when she even started instructing the photographer which angles to take. If my mother had done that I'd have screamed but here I first kept quiet because I knew she was enjoying being a part of what I was doing. Later I told her, 'Baby, you were interfering!' She turned around and snarled humorously, `Thanks for telling me that, Rani!' But my friends don't care what others think. They will do with me what they feel is right and what gives them happiness. And I love them for it! With them, the animal in me comes alive. I let myself loose and we just freak out!'

Can she still go out and freak out with them?

'Of course! I don't care who sees me and who mobs me. I will go with them anywhere. I can go for walks on Yari Road just outside my house. I can handle people staring at me. I'm bold and bindaas! I regularly go to the theatres to watch movies.' Rani's friends ( a major part of her life) are also quite amused by her new found status. 'They get very ticklish when they see me doing romantic scenes and ask, 'How can you hold Shah Rukh like that?' or 'How could you kiss Aamir?' When Priya saw me posing and pouting with Chi-Chi, she was in splits. They find the whole thing very funny. When they saw Kuch Kuch Hota Hai with me, they nudged me and asked 'Acha? Kya ho raha hai?' It's strange but when I haven't given my best shot on screen and only I am aware of it, my friends catch me out - that's how well they know me.'

How does her brother Raja react to her popularity?

'Dada and I fight and argue over a hundred things but do you know that he has watched each film of mine 40 times? He is more nervous about my releases than I am. He goes to every theatre to see the results for himself. We were in Switzerland when Kuch Kuch Hota Hai was released. Raja actually came back early because he wanted to visit all the theatres to see how the film was doing and how people were reacting to my role. He forces all his friends to see my films, 'Ae! Rani ki film hai chalo dekh ke aao.' When my romantic scenes come on he gets up and walks out, but he laughs when I cry on screen. There is a scene in Mehndi where I cry violently. He says I was shaking like Shammi Kapoor does when he's dancing!'

'It is strange how a Friday night release can change your entire life... I've grown up overnight.'

Rani has literally won over a million hearts, besides catching the fancy of all the top heroes. If Shah Rukh and Aamir call up a dozen times to chat with her, Govinda is completely besotted by the little girl. It's to her credit that she has bagged films with the most saleable actors today - the three Khans, Govinda and Ajay Devgan.

'When I had signed Ghulam, do you know I wasn't even aware that I was going to work with Aamir? I wasn't well-versed with who's doing which film (today I am!). Much later, Mukeshji said, 'I won't keep the suspense any longer Rani, but Aamir Khan is your hero!' Karan Johar had seen me perform with Jugal Hansraj to 'Ek Main Ek Tu' at an awards nite. Later he met me and offered me Kuch Kuch Hota Hai. I loved the role and I signed the film. Things have just happened. I'm not one of those who only goes for big heroes or big banners. If my role is good and the subject is great, I'll do the film.'

How does she relate to the Khans?

'More than being good actors, they are first very good human beings. I don't know how to whistle but whenever I would watch them and Govinda on screen, I used to try desperately to whistle in the theatre! Today I'm working with the heroes who used to make me clap and cheer, but sadly, I still can't whistle!' Everyone is talking about what a good actress she is. What does she herself think? 'I think what I do is miles away from acting. I can't act. What you see on screen is what I am off screen'

What about those hot, romantic scenes with Aamir, Shah Rukh and now with Govinda in Hadh Kardi Aapne, her next release? 'Romantic scenes? Oh that's the only time I start acting! And believe me, that's the toughest thing to do.'

But apparently not for the actors who romance the lady on screen. They are simply bowled over by the Rani of hearts!

THE MAKING OF A WOMAN...

Rani Mukherjee

She is a craze today! With Ghulam and Kuch Kuch Hota Hai under her belt, this Arian, born on April 19, has carved a niche for herself in the industry. Amidst giggles and chuckles Rani Mukherjee gives us a glimpse of years gone by...

As a teenager, what posters adorned the walls of your room?

I had only one Archies' poster which said, "Dance and be merry, for tomorrow we diet."

Who was the first actor you fancied? Why?

Amitabh Bachchan! He was amazing in every film he did.

Did you have a favourite toy that you cherish even today?

I had lots of them... stuffed toys and the works and still have them with me.

What games did you play?

Only badminton!

Did you ever get into fights?

I didn't but I remember slapping a guy in school for teasing me. After that nobody dared get into an argument with me.

Which is the first music cassette you ever bought?

I don't remember.

What was the most expensive item you owned as a teenager?

My Ceilo.

What did you want to be when you grew up?

Everything but an actress.

Who made you laugh as a child?

My brother Raja. He's a crazy guy and the entertainer in the family. He keeps us all in splits.

When did you become fashion conscious?

Only when I joined films.

When did you first realise that you had grown up?

After I received the signing amount for my first film.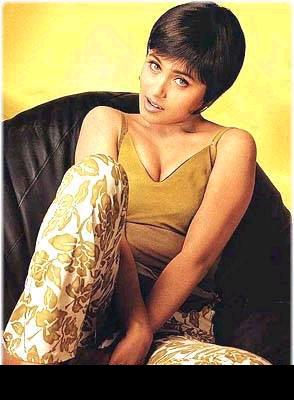 An Interview: Rani Bares Her Soul

Ghulam is the only hit today and Rani Mukherjee is getting letters in blood from guys swearing to be her Ghulam for life .Any 20 yr. olds head would turn with such adulation. Rani Mukherjee reminds one of Divya Bharati. The only difference, Rani knows how to handle her problems whereas Divya did not! But then Rani comes from a film family. Her father Ram Mukherjee was the founder director of Filmalaya Studios and directed many films like Leader etc.

"Kajol and I are the Bengali tigresses today. And we are the ferocious ones I guess! We will not let anyone take us for granted"


Crossing her legs and squatting on the floor, she confessed:

"I had this dream of becoming somebody very rich and famous. I did not want an ordinary life. But believe me I never thought I'd become an actress. If someone suggested it I'd tell him or her they were mad. From which angle did I look like an actress? My mom, I think always wanted me to join films as she too comes from a film background. Her sister is a top actress in Bengal and she herself was a singer and did many shows with Kishore Kumar."

Probably her mother realised her own dream through Rani.

"Maybe...and somehow, when I finished my 12th standard I was also at the crossroads. All my friends had chosen a career but none of the careers they had chosen interested me, yet I wanted a career too. That's when Salim Uncle offer me Raja Ki Aayegi Baraat and I accepted it"

Uncle? Wasnt there a rumour linking her to him?

" People don't know that my dad and Salim Akhtar, have been friends for years. Dad has directed three films with him. I have known Salim, since I was three years old. Doesn't that make him my uncle and his wife my aunt? I'm very close to them. If, say, Kajol's dad Shomu Kaka was doing a film with me, wouldn't I be closer to him than other filmmakers? Just because Salim Uncle is not blood related and he gave me my first break, they are linking me with him. For me, it's sickening even to think of such a thing."


One could see anger in her eyes and the hurt on her face.

"Reading all this in print does not upset me as much as people talking about it. I don't blame the Press; after all, someone has also fed them this information. From whatever, little experience I have, I've realised it's always the people around the star like either the close relations or friends who spread such rumours. These people are either frustrated or very jealous of your success. One cannot stop those gossipmongers who carry such news to the press. I'd appreciate it if journalists checked with me before printing things."


There was a lot more to check with her but that would be later. It was her dream of becoming another Kajol that interested me first. It must have been her cousin's success that gave her the confidence to step into the commercial set up of films.

"First of all Kajol is only my second cousin. One relationship is being publicised because after her, I've come from the Mukherjee family. We are the same blood stream and coloured eyes...that's where the similarity ends. Kajol came into films seven years ago. If it was her success that prompted me to become an actress, I'd have done so a long time ago. Before Kajol my masi had been in films for the last 25 years and saw her in and out of the studios ever since I can remember. But all this cannot guarantee you success or confidence or help you take decisions for life. It's basically your hard work and your luck. Salem uncle also used to tell me when I was a child also that I'd be the future heroine and I'd think he was joking. When he actually offered me that film, I decided to give it a try. That initial process of learning in your first film helps you decide whether you could make a career of it. I decided I could and that's how I'm here.

Is she close to Kajol?

" In a way, yes. We share a warm relationship and now we are doing, a film Kuch Kuch Hota Hai, opposite Shah Rukh Khan. We will be meeting more often and whenever we meet, we freak out. Kajol is a very warm person. She has absolutely no airs and feels very protective towards me. She knows I mean well, I want to work hard and make it here. We're both not into the Mukherjee clan too much. I think she also keeps her distance."

What about their other cousin, Sharbani Mukherjee?

"I'm not close to Sharbani at all. She is older to Kajol as well. Sharbani is six years older to Kajol as well as me, she belongs to the older bracket and I don't know her at all."



People who know Kajol and Rani remark that they are quite similar. In fact, Rani is quite arrogant when it comes to dealing with people.

"Kajol and I are the Bengal tigresses today and we are ferocious ones I guess! We will not let anyone take us for granted. Speaking for myself, I'd say people have formed their own opinions even without meeting me. I don't think it's fair to label me arrogant or clever without knowing me. If a journalist hears this from some unit hand on the sets and calls me arrogant over some small incident, it's not fair. If someone misbehaved with me, I'd have to deal with it accordingly. But its not as if I walk around with my head in the air. I have my feet very firmly planted in the ground."

"Kajol and I are both very frank and basically good people but she is more street smart than I am. That's probably because she has been around longer. I'm quite easy going and react only when something upsets me. Mom thinks I'm very chalk and dad worries and thinks I'm quite cool. If I have a problem with someone, I deal with him or her very directly and don't go around sulking. Maybe, its the fire in my eyes that makes people think I'm clever little thing but I hate hypocrisy. When I talk, it comes straight from the heart. I don't manipulate my quotes for make effect."

Ghulam was actually Pooja Bhatt's film but earlier Aamir Khan had suggested Rani Mukherjee. Today she thinks she was plain lucky?

" Of course I'm happy! Any girl would need that kind of a break. All I know is, Mukherjee called me and offered me this film and I did it! It's wrong to call it a reject. Today, who remembers that Ghulam was supposed to be done by Pooja? It's the end result that matters. Now I'm doing Hadh Kar Di Aapne that Mahima was supposed to do but she had date problems. I have no ego hassles. What matters to me is that I'm doing a film of my choice."

Ghulam has triggered off rumours that there was strong chemistry between Rani and Aamir. Now, before we go on to whether this is true or not, I'd say that the Khan has a tremendous influence on Rani. Now that I was meeting her post-Ghulam, I could see it. Rani Mukherjee today talks, walks, laughs, and gesticulates like Aamir. Throughout the interview as I watched her, I could see a replica of Aamir and I told her this.

She laughed, "Yes, lot of people tell me this. My friends say Aamir ka bhoot chad gaya hai mujhpe, but then I've been working with him for the past one year. There has to be some influence, na? We shared a very close relationship..."

Are you suggesting that....?

" No, I simply don't know how to handle this or answer this question. I've just entered the film industry, he's my first important hero and I'm at an age when I would get easily influenced by someone I'm looking up to. I was never in awe of Aamir Khan. I felt we were normal working people who got along very well. I cannot even have a crush on Aamir because he's a married man with two kids. He's a senior actor, one of the best in the country. I respect him and look up to him. If we didn't get along people would have said we were having problems, like they did with Twinkle and Bobby, just because they were not linked. Today, if a pair gets along well, they say they are involved. Can't an actress have a nice, warm relationship with anybody? If she keeps her distance, she is considered arrogant. Does she have to be branded in extremes? She's never allowed to think she's a normal girl. There has to be a man in her life. Anyway, this is just the beginning and it's part and parcel of this profession and I have to live with it. As long as I'm clean and my conscience is clear it's okay. Aamir has been very sporting and protective about me. If people read much more into this friendship, I can't slap them and tell them to shut up."

It's normal for a 20-year-old to have a crush on her first hero. We weren't suggesting a clandestine affair but she did seem infatuated. Maybe he wasn't married...

"Married men are an absolute no for me." After a long, thoughtful pause. "Look let me talk sensibly and not make such sweeping statements. I'm giving you this interview in July'98 right? Who knows the future? This is my mental state now. Next year, I may change my mind, my life may be different. This is the time for me to grow and mature, so a change is bound to come."

If she were to fall in love would she be discreet like the 100 odd actresses or would she be more open like Manisha, Pooja or Kajol?

" If I have a boyfriend, I'd rather keep it to myself. I come from a conservative family and my parents would never accept my relationship with a man, unless it is of a serious kind. I do care about how they react. For me, my family is only my parents and brother Raja. Beyond that, I don't have anybody. So it's important for me not to hurt them or do anything without their approval."

At this point her mother Krishna says," I think love is such a beautiful feeling. If it's true love, you don't go around giving interviews or do photosessions together for publicity. Yeh to dil me rakhne wali bat hai."

What about Rani's friends, how do they react to her closeness to Aamir?

"Oh, they all had crushes on Aamir and even came to meet him. To them, he's a hero; to me he's a co-star. I have three friends who care for me and feel for me-Priya, Amisha and Shuba. We four speak to each other about five times a day. That's how close we are. They are very proud of me and they love to show off that they are my friends and that Im working with Aamir, Shah Rukh, Govinda and Ajay."

She's doing a film with Kajol, isn't she afraid of being overshadowed by the natural actress?

"People say I'm also a natural actress but I just do what the director tells me to do. I don't know who has got a better job. All I know is I'm doing a good film and if someone's contribution is going to help the film I will look up to that person, whether it's Kajol, Shah Rukh or me. Bus project ka faida hona chahiye. I cannot measure my success with Kajol's or any other actresses"

Is she now getting Kajol's films since Kajol is marrying Ajay in December?

"Kajol and I don't discuss our personal lives. And no, not a single film of Kajol has come to me. In fact, maybe doing a film with Ajay Devgun but I don't know him at all, I've never met him."

How will she feel romancing her brother in law?

"For me a co-star is a co-star period"

Does being from a film background help?

"Well, no one acts fresh with you. They have that initial respect that new comers don't get. No one leeches at you. But no one gives you work just because you belong to a film family. Uncle, aunt and cousins can't get you work, you have to prove yourself. My work will speak for me and not these baseless rumours!"

As I put my Dictaphone aside, I wondered how long it would take for this innocence, childishness and enthusiasm to go. Will this little girl survive the tough world out there in those dusty studios or will she give in?

"Tough times don't last tough people do", she grinned.

There was a firmness in her tone and that I hope, does last!