CLICK ON THE PICTURE TO GO TO 'ALICIA SILVERSTONE WEBSITE'

PROFILE

Name: Alicia Silverstone
Height: 5' 9''
Sex: F
Nationality: American
Date: October 4 1976
Birth Place: San Francisco California
Occupation: actress model producer
Education: Crocker Middle School
San Mateo High School
Relationship: Bryan Mashard (dated in 1997) Adam Sandler (actor; dated in 1996) Mozie Chabbouth (hairdresser) Christopher Jarecki (musician)
Father: Monty Silverstone (real-estate investor)
Mother: Didi Silverstone (former flight attendant)
Sister: Davit Silverstone
Brother: Kezi (a rock singer)
Claim to fame: as Cher Horowitz in Clueless (1995)

(Source : www.celebritywonder.com)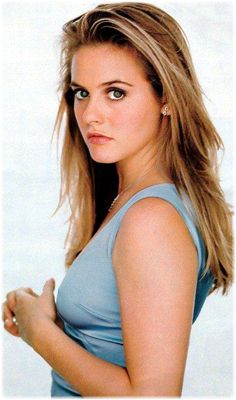 Alicia Silverstone was born on October 4, 1976 in San Francisco. Her mother Didi is a former airline stewardess and her father Monty is a real estate investor. Alicia has a brother, his name is David. Her parents are English and she spent her early summers in England.

She is 170 cm heigh and her eye color is emerald. Carolyn Kessler is her best friend as well as her agent. Alicia has a dog called Samson, described as a "rotweiller-pit bull-doberman".

Alicia started her career with a commercial for Domino's Pizza. In 1988 her first role was on the TV-show "The Wonder Years", where she played Kevin's dream girl.

She became legally emancipated at the age of 15 to work the long hours required by "The Crush's" shooting schedule. She refused to appear nude in "The Crush." A body double was hired for the nude shots. Alicia stood firm on her no-nudity policy,turning down the title role in "The Babysitter" numerous times until the filmmakers got rid of all nudity from the script.

She won "best villan" and "breakthrough performance" at the 1994 MTV movie awards for her performance in "The Crush." Alicia became very famous by appearing in three music videos with Aerosmith. The were all big hits. Cryin, the first of Alicia's three Aerosmith videos, was honored as the best video of all time on MTV.

Alicia also did some theatre work. She played a lesbian coke addict in a play "Carol's Eve".

Film roles Alicia turned down or missed: Missed on My Father the Hero because she was a little bit heavy compared to Katherine Heigl. Missed on Little Women due to age. Turned down replacing Shannon Doherty on Beverly Hills 90210.

After becoming famous to everybody in the Aerosmith videos, she made "Clueless" which was a major success and made Alicia a superstar.

The people who hadn't heard of Alicia after "Clueless" and the Aerosmith videos, got to know her when she played Batgirl in the latest Batman movie, directed by Joel Schuemacher.

She recently started a production company called "First Kiss Production". The company has produced the movie "Excess Baggage" together with Columbia Pictures.



Quotes

"I hate people who call me that Aerosmith chick!"

"I don't want to be known as the Aerosmith chick, but it's fun to put on the boots and makeup and act like a tough girl."

"My favorite thing in the world is a box of fine European chocolates which is, for sure, better than sex."

"I think I can deceive people. I'm like, the nice, sweet girl when you meet me. And I don't have any bad intentions. But I'm a bad girl too."

"I'm the complete opposite of those characters. Sure there's a side of me that wants to kill men, because they can be such silly little boys, but in reality, I'm insecure and I freak out just like anybody else."

"I'm very uncomfortable with my body, and I'm not interested in people seeing it onscreen."

"I love, love, love apricot baby food. My closet in the kitchen is filled with jars of it. I love Lucky Charms and Cocoa Pebbles cereal. I love my purple couch, and I love dancing. I used to have the best stuffed animals, but Samson (her dog) ate them."



Awards

American Comedy Awards
1996 - Actress, Motion Picture Lead (Clueless)

MTV Awards
1996 - Most Desirable Female (Clueless)
1996 - Best Female Performance (Clueless)
1994 - Best Villain (The Crush)
1994 - Breakthrough Performance (The Crush)

Premiere Reader Poll Awards
1996 - Best Performance By A Newcomer (Clueless)

Smash Hits Poll Winners Party
1996 - Best Female (Clueless)
1996 - Best Film (Clueless)



How To Reach Alicia

Write to:
Alicia Silverstone
First Kiss Productions
c/o Columbia Pictures
10202 W. Washington Blvd,
Capra Building, Suite #106
Culver City, CA 90232
U.S.A.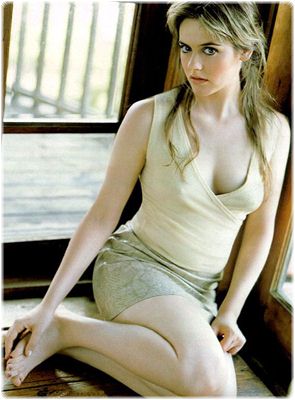 Alicia Silverstone

THE SCOOP: Her quick rise to the top came with Excess Baggage...

A series of swimsuit shots led Alicia Silverstone to modeling. She was a mere six years old; the photographer was her dad. Nine years and many commercials later, the teenager had come into her own. Her natural charisma combined with sultry innocence to create a potent on-screen presence, and the model turned to acting. A role in the movie McBain (1991) was followed by a guest appearance on TVs The Wonder Years (1992). Male viewers were entranced. This was a blonde bombshell on her way up.

Silverstone dropped out of Beverly Hills High (she did attend acting classes, and later earned a general equivalency diploma) for her budding career, and became an emancipated minor so that her working hours would not be restricted by child labor laws. A role in The Crush (1993), effectively her breakthrough, led to parts in the television movies Judith Krantzs Torch Song (1993), Scattered Dreams (1993) and The Cool and the Crazy (1994). An appearance in the successful Aerosmith videos Cryin, Amazing and Crazy (an MTV All-Time Favourite) bridged Silverstones transfer back to the big screen, and 1995 became a big year for the 19-year-old with Hideaway, Le Nouveau Monde, True Crime, The Babysitter, and the smash hit Clueless. Not only did the latter net the young actor a National Board of Review Outstanding Newcomer award, an American Comedy Award and two MTV movie awards, but a $7 million (or $10 million, depending upon your source) three-movie production deal. The hefty perk didnt turn out particularly well, for what followed first was the unfortunate film Excess Baggage with Silverstone as star, and produced by her First Kiss Productions. Cost overruns and poor box office returns on this film resulted in a trimming down by studios of future vanity deals.

Frustrations continued for the Clueless starlet. Hollywood media was not on her side, snidely reporting the Baggage gory details, speculating about a scandalous love life, and announcing a weight gain. All trace, though, of real or imagined poundage was gone by the time she zipped into her Batgirl suit for Batman and Robin (1997), but the actor found the role less challenging than she would have liked, and critics agreed. Silverstone received a worst actress Razzie for her efforts.

Attempting artistic redemption with Blast from the Past (1999), and a singing and dancing debut in Loves Labors Lost (2000), the performer was again in the headlines for an off-camera affair with her director (an affair both parties strongly deny).

Coming up are roles in Stand By Your Man (which Silverstone will co-produce), and Breakers.

Although alternately adored and loathed by the press for her sexiness (shes described as nubile in every article), Silverstone, at 23, has built a show business reputation by capitalizing, but never exploiting, her image. (For example she does not do nude scenes herself, but does agree to using a body double.) Her troubles may now be behind her -- there arent many performers ready to handle a multi-million dollar production deal at 19, but the learning experience will go a long way towards a solid Hollywood career.

(Source : www.celebritywonder.com)
ALICIA SILVERSTONE was kicked off her freshman cheerleading squad for refusing to wear "that stupid outfit."

In spite of that potentially tragic real-life decision, she has become the top teen babe in the land.

In "Clueless," the surprisingly satirical treatise of rich kids at the mall, she gets top billing. The movies naughty treatise on wealthy teens unveils Alicia, the star -- so appealing that she even gains sympathy for her character, Cher, a Beverly Hills mall brat who spends most of her time accessorizing her outfits and talking on her cellular phone. Cher is the kind of girl who has a snazzy sports car, even though she sees no point in learning to drive because "after all, they have valet parking everywhere you go."

In the opening scene of "Clueless," opening today, Cher announces that she has "a way normal life, for a teenage girl."

The real-life Alicia cant really say the same. Her long blond hair frames a perfect face with blue eyes as she takes a surprisingly serious attitude toward the interview. "I mock Cher in a way, but I really liked her," she said. "Shes a stuck-up mall rat, but I dont think shes dumb. She doesnt know what she wants in life yet, but she knows how to manipulate people. I dont really think shes a bad role model but shes not like me. Really?

"Well, NO. Shes loud and Im quiet."

She may be quiet, but Silverstone gets noticed. Esquire magazine, in the current issue, proclaimed her as "the woman were most willing to wait for."

She won two MTV Awards for her movie debut in The Crush, for most promising newcomer and best villain. She was manipulative jail bait in the film -- a pouting Lolita who gave no rest to the older guy (Cary Elwes) who was the object of her attention. Im not aware of all that talk about teenage boys, she said, at an interview at the Four Seasons Hotel in Beverly Hills. "I never ACTED sexy in a movie. I'm not trying to be sexy, and I don't think Cher is either. It's not Cher's fault that she looks good in theclothes.

``I'm just a little girl. I think I have a good head on my shoulders and I'm not going to act like a fool, but, after all, I AM just a little girl. I don't claim to have any sophisticated ideas about sex. What can I do about what `they' think anyway? I mean my image is something someone else sees -- not me.''

Silverstone, now 18, rose to fame when she bungee-jumped off a bridge for the Aerosmith video ``Cryin,'' a work that the ever-diligent MTV subsequently named as ``The Best Video of All Time.'' She appeared in two other videos with the rock group but, demurely says ``I never met Aerosmith and I didn't get rich from it.''

She claims that she's not terribly ambitious and ``never really aspired to become a movie star. Things just happened. When I was growing up, I didn't go to the movies a lot. I saw `16 Candles' and `Fast Times at Ridgemont High.' Being in movies was not really a goal.''

She's made nine movies in the past two years and says ``I just feel lonely. I mean, it seems I work all the time.''

She claims that ``I don't drink, swear or do drugs and I won't do a nude scene. No way. They know that.''

For ``The Crush,'' the brief shots of nudity were done by a double. She subsequently turned down several big movies because they had nude scenes and only agreed to do the upcoming ``The Babysitter'' after it was rewritten to cut such scenes. ``Nudity is not necessary -- pure and simply.''

Of her personal life she states, ``I've kissed a few boys -- not much.''

Silverstone grew up in an upscale community south of San Francisco. Her mom was an ex-airline stewardess, and her dad is a real estate developer. She spent summers in England, the native home of her parents. She performed a routine to the theme song from ``Flashdance'' in a local talent show in San Francisco and promptly got a modeling agent. She hated modeling (``too dumb'') and subsequently hired an acting agent. The family moved south from San Francisco and enrolled her in Beverly Hills High School for her sophomore year. (Tori Spelling of ``Beverly Hills 90210'' is a good friend.)She was cast as the dream girl of the character played by Fred Savage in the TV series ``The Wonder Years'' as well as Raquel Welch's daughter in a TV movie. ``The Crush'' was the surprise breakthrough.

Amy Heckerling, who wrote and directed ``Clueless,'' spotted her in an Aerosmith video.

``I saw a sexy and pretty girl on the verge of womanhood,'' the director said, ``but I also saw something childlike. Alicia has a real vulnerability. Then, I saw `The Crush' and I said, `She's great, but can she be funny?'''

After tests, Heckerling, who rose to fame directing ``Fast Times at Ridgemont High,'' was sold on Silverstone's comic timing.

Audiences like Cher, Silverstone said, in spite of the fact that she is the most material of all material girls. ``She really means well,'' Silverstone said. ``She thinks she's helping girls by giving them a makeover and by making matches and manipulating people. Cher has a lot of imagination, although she doesn't know yet what she wants to do with her own life. I like her a lot. I make fun of her, but I'm not really mocking her.''

As for her own career, Silverstone claims that ``I don't think I have a sexpot image at all. I feel pretty normal. It's only when I do interviews that people want me to evaluate my life in five minutes. It's too early to evaluate it. All I can say is that I'm not crazy. In this business, that's saying something. Actually, it's saying a lot.''

by MAL VINCENT, The Virginian-Pilot

(Source : www.toppics4u.com)
Alicia Silverstone is cooing: "Baby, where are you going?"

On a crisp weekday morning in the winding Hollywood foothills above the famed Chateau Marmont, Silverstone half trots alongside her companion of nearly a year. They met in East L.A., where she discovered him, cut and bleeding, while shooting the as-yet-unreleased indie detective thriller "True Crime". Silverstone, then just 17, took him home, nursed him back to health, and the two have been inseparable ever since. She even scored him a cameo in "Clueless", a chaste teen comedy in which Silverstone headlines as a spoiled, matchmaking Beverly Hills mall rat. But none of that togetherness can keep Silverstone's favorite male from dashing off to explore an unruly hedge that juts out over the narrow road. He is Silverstone's dog, Samson - the first of many dogs the actress hopes to rescue by forming a foundation to protect and limit the canine population vie sterilization. Planning her first foundation at an age when most young women are applying theirs - stardom does have its upside, though Silverstone's success doesn't seem to be the product of ambition. "I'm not driven," insists the girl who, between the ages of four and six, secretly believed her mother was a pop queen Olivia Newton-John and once danced to "Physical" atop her family's coffee table. "I didn't want to be a star, ever." That assertion was blown to hell the instant Silverstone Rollerbladed into a screeching close-up as Darian, the jailbait from hell in "The Crush", a low-budget, Lolita-ish thriller that landed her a starring, albeit wordless, gig in a trilogy of sultry Aerosmith music videos. Heavy rotation fanned the heat, burning the image of Silverstone - suspended by a bungee cord from a freeway overpass, triumphantly flipping her digitally obscured middle finger at her no-good boyfriend - into the brains of every red-blooded American with basic cable. A supporting turn in the throwaway thriller "Hideaway" didn't hurt her career, but it did little to dispel the notion of Silverstone-as-sexpot. "I truly appreciate the response I've gotten, because in my heart I know that it hasn't come from me exuding [sex]," Silverstone says. "I never once, in any of my work, never am I trying to be sexy. It's just being." Apparently, "just being" is enough. Consider Silverstone's burgeoning on-line fan club - of which she's also only peripherally aware - where net surfing devotees of Aliciamania trade dish and doctored naked GIFs of their favorite actress. Her reputation has even reached her hometown temple in San Francisco, where Silverstone attends services when visiting her grandfather. "I thought the holiest place could not change, but it can," Silverstone says, a bit bewildered. "The way people respond to you, they all become" - she strikes a cooler-than-thou pose - "different." With her hair pulled back in a ponytail, sans makeup and sporting her de rigueur uniform of gray sweatpants, worn running shoes, and a faded Georgetown University sweatshirt, Silverstone doesn't look much like a starlet brimming with boy-toy brio. Add to that thte twitch in her right eye (she's supposed to wear glasses, but doesn't), and she comes off as plain and awkward as Sandy, the terminally wholesome character portrayed by childhood idol Newton-John in "Grease", one of Silverstone's favorite films. Were it not for the occasional flashes of her lopsided, Meg-Ryan-ish grin, one would barely recognize the Silverstone whose Darian downshifted from cunning to coy on a dime. "There's such a happy-little-girl quality to her," says director Amy Heckerling, who spotted her in Aerosmith's "Cryin'" video while writing "Clueless" and immediately arranged a meeting. "We were sitting in a restaurant and she was drinking soda out of a straw. Here we were talking deals and careers and she's drinking like my nine-year-old daughter does. You just see her and go, 'Aw, she's so sweet.'" "She's sophisticated and unsophisticated at the same time," adds Raquel Welch, who played Silverstone's mother in the TV movie "Torch Song". "You want to be nurturing and protective of her. At the same time, I don't think she's anybody's fool. She's a real smart girl. I know a little bit about being a sex queen, so it's kind of amusing." Like Darian, Silverstone is skating on that delicate edge between girlhood and womanhood, as eager to let fly around the rink as she is reluctant to let got of the side. "I'm only eighteen," Silverstone says, "so no matter how sophisticated or centered I am, I'm still a little girl and I haven't had a lot of experience in anything, really." At an age when plenty of her peers are reveling in club hopping, pill popping, and all-night keggers, Silverstone's don't drink-swear-rat-my-hair approach stands out. "I have no interest in doing [drugs]," she says. "When I want to relax and have a goot time, I go be with my dog or go eat, because to me that's being bad." "She's not a promiscuous girl," says Judi O'Neil, Silverstone's acting mentor. "She's not a wild girl. She's not a free spirit." Yeah, but even Sandy ditched the ponytail and got a perm. Doesn't Silverstone ever want to be bad? She shakes her head, shrinking back from the thought. "I'm so sensitive and emotional that if I give myself five minutes, heaven forbid, and I turn off my phone, I feel, like, Oh my God, what if my parents are trying to reach me? That's my badness." "I was very upset," says Didi Silverstone, recalling the day her legally emancipated, fifteen-year-old daughter left home - alone - to shoot "The Crush" in Vancouver. "It was the beginning of her journey, this journey. But life's never been quite the same. My little girl is a woman now, and I'm the little girl. The roles are reversed." Caretaking comes naturally to the daughter of Didi, a retired flight attendant, and Monty Silverstone, a real estate financier. At fourteen, Alicia used to climb behind the wheel when her senior classmates got too drunk to drive home from their high school parties. Raised with an older brother in Hillsborough, an affluent Bay Area suburb twenty minutes south of San Francisco, Silverstone was a perceptive, if not carefree, child. With free air travel earned from Didi's stewardess satus, the Silverstones summered in their native England, where they made frequent trips to the theater with their stagestruck daughter. "I was fascinated," says Silverstone, certainly not the first child to throw up while en route to see "Cats". "I knew I wanted to be an actress, but I didn't know what that meant." Fortunately, Daddy did. Around the time Alicia picked up the fourth- place prize at a county fair for performing a routine to the theme song of "Flashdance", Monty Silverstone landed his daughter a print agent in San Francisco. But Alicia detested modeling and signed up for an intensive acting workshop run by Judi O'Neil. "I thought she was a very sweet girl," O'Neil says. "She wasn't a hey-look-at-me or aren't-I-special. Alicia's modest." "I was awful," Silverstone admits. "I would get bright red and be so shy, but I enjoyed [the classes] so much. Your heart is constantly pulsing, pumping, feeling everybody's mind ticking. That energy was just so attractive." Meanwhile, Silverstone auditioned for plays at her high school. Described by her peers as talkative and popular, Silverstone can recall no adolescent exploit wilder than, on one Halloween, dressing up as Debbie Gibson. By her sophomore year, she landed an agent in Los Angeles, and the family Silverstone packed up their bags, headed south, and signed their daughter up for a semester at Beverly Hills High. By the time she got the "Crush" cattle call, Silverstone was fed up with auditioning for features - and consistently losing out to such rivals as Reese Witherspoon and Fairuza Balk. "I went to the interview and I was like, All right already," Silverstone says jokingly. "I was as bitter as a fifteen- year-old could be." And more prepared than most. Just prior to her "Crush" audition, Silverstone turned a corner in her acting technique when she performed idol Laura Dern's part in a scene from "Smooth Talk" for O'Neil's acting class. "Everyone in the room just kind of went,'Whoa,'" O'Neil recalls. "Smooth Talk was where Alicia made that transition to start dealing with her womanhood. When "The Crush" came along, she was really ready." But the studio wanted a name and offered the role to Fairuza Balk. "It's the first time I ever got sad about anything," says Silverstone. "I sat on the stairs outside of Judi's apartment and had little tears running. I thought there was something in this [role] I really had to do." When Balk passed, Silverstone enthusiastically embraced the studio's request that she legally emancipate herself from her parents, thereby allowing her to work the grown-up hours required by "The Crush"'s shooting schedule. Silverstone refused, however, to appear nude in the film. (A body double was hired for a couple fleeting butt shots.) Silverstone has since stood firm on her no-nudity policy, turning down the title role in the still-unreleased "The Babysitter" numerous times until the filmmakers axed all nudity from the script. "I'm very uncomfortable with my body, and I'm not interested in people seeing it onscreen," Silverstone says emphatically. "Acting is not about presenting your body to people." Prime-time kingpin Aaron Spelling, whose movie company produced "The Babysitter" and whose actress daughter, Tori, is a friend of Silverstone's, denies reports that he asked Silverstone to get naked for the film. "I was thrilled that Tori's friend didn't want to do a nude scene," says Spelling. "You would think [she'd say,] 'Oh God, I'll do anything to do this movie.' Bunk. She wasn't gonna do it." Fully clothed and trudging up the steep pavement behind a panting Samson, Silverstone is pondering the dubious realism of sex scenes. "When I see sex in a film, it really distracts me," says Silverstone, "It always seems like two actors trying to look attractive and get their best angles... I've never done a sex scene. I've kissed a few boys, not much." Really? While hardly graphic, Silverstone's jarring backseater with Kevin Dillon in "True Crime" and her quickie with Jason London in "The Babysitter" definately qualify as cinematic shoop. Just ask Mom. "The Crush, I didn't mind in the slightest. It was nothing compared to what I saw in "Cool and the Crazy"," Didi Silverstone says, referring to a scene in the Ralph Bakshi-directed Showtime movie in which Silverstone stands before her seducer and begs him to have his way with her. Silverstone didn't care for it either, since she believes the filmmakers tapped another actress to loop additional, more orgasmic moans over the scene. But the truth is, Silverstone has never been comfortable with sex on film. "The way I'd been taught about it from my mom was that it was a pure, beautiful, wonderful thing. And then I would see it onscreen and go, 'Eeeew!'" Silverstone says. "But don't get me wrong. If I found a beautiful script that I thought absolutely needed it, I'd do it in a second." To combat her coquettish image, Silverstone has turned to Cher - the virginal valley girl Silverstone plays in "Clueless", a tame teen romp with an emphasis on comic timing over choreographed cocktease. "I hated the behavior of this girl," says Silverstone, who was kicked off her freshman cheerleading squad for refusing to show up at games wearing the "stupid outfit. I hated it. So it was hard for me to say,'Okay Alicia, make this you.'" Inquiries about Moize Chabbouh, a hairdresser and frequent set visitor in his late twenties whom Silverstone has previously identified as her boyfriend, are stopped cold. "He's not my boyfriend. He's just a friend." "She's very headstrong," says her costar in "The Crush", Cary Elwes. "I think she can fight [her image] all she wants, but ultimately when she reaches full womanhood, I think she'll be quite happy to be called a sex kitten." Before kissing her cadre of badass video babes good-bye, Silverstone offers a final observation: "It's not a girl trying to be sexy," she says, slipping uphill with Samson. "It's just a girl going through life."

-written by Kristen O'Neill, staff writer for PREMIERE

(Source : www.toppics4u.com)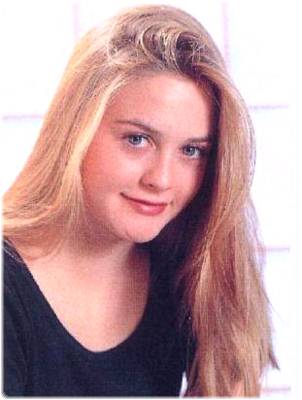 Alicia Silverstone
Patrick Stoner: This is your first film under your new production company. That makes you the boss, and lets you make the kind of movies you want to make. What is it like to be such a young mogul?

Alicia Silverstone: I feel very, very proud that I can make movies and take risks, and it means a lot. It's exploring different sides of me, it's exploring my responsibilities in society. I was responsible for this picture [EXCESS BAGGAGE] for two years, and it's my baby. I didn't stop at just casting. It was, like, every single step of the way. That was my job, and I loved it.

Stoner: Responsibilities to society?

Silverstone: I just mean, being a responsible person. This particular film, I think, speaks to a lot of young people, and there are some good lessons. It's nice to be able to entertain and, at the same time, to share my points of view.

Stoner: How many questions did you get while the movie was being made -- thousands? Were people asking you, "What do you think about this?" or, "What do we do here?"

Silverstone: Yeah, but that's me going out there and making sure things are running smoothly. You've got to pay constant attention so you can be on top of it, or it will become trouble before you know it. It was important. The reason that I cared is because I know how young people feel. I know what it's like to want be loved, to want to figure out who you are. I've been through that, and certainly most young people are going through that. If you don't have good parents, who do you turn to? Even if you do, you REALLY need to look inside. These are important lessons to be learned, and they take FOREVER to learn. I hope I'm contributing to that. Anyhow, it's a good way to start, you know?

Stoner: I look forward to seeing how you use your social responsibility, Alicia. Thanks.

(Source : www.whyy.org)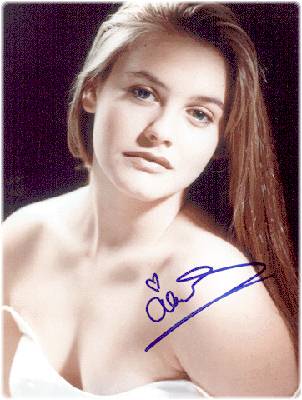 Interview

(Source : www.eonline.com)

Stardom, producing and general goddesshood by the age of 20 seems pretty cool, but I imagine it's also daunting.
The only thing about being young that really affects it is that I'm still naive and disheartened when somebody is mean. Any person. Even if they're just out on the street, it's like, "Why are you mean?" As much as I can be cynical and go, "The whole world's fucked up, and everybody's an asshole," I still think it's terrible when people do that. It's, like, a real dual thing.
So, it hurts when people in the Industry or the media make issues out of your being too young to produce or gossip about your weight? That must be strange after everybody loved you so much in Clueless.
I never felt like everybody loved me in Clueless, and that's probably the key to the whole thing. Wow, I just figured that out! I never went, "Oh, everybody loves me, now I can breathe." And then, everybody hates me? It wasn't like that. I never paid attention to any of the hype or the praise. I'm not even really aware that it ever happened. All I know is Clueless got me some fans and a lot of people bug me now.

I'm still Alicia, who's dealing with her shit and her life and whatever. I never noticed that, and it's the same thing with the negative. People can say it to me, I can hear, "Oh, guess what, they think you're blah, blah, blah." But I've been working hard and haven't had time to pay attention to any of it. Who cares what people say?

Healthy attitude. And healthy appearance. You're as pretty as ever, but have there been times when you've felt unattractive?
It's not hard for me to go there. Actually, it's more comfortable. [Laughs.]

What was it like making Excess Baggage? There were reports of battles on the set.
There were many battles. I don't mean, like, in a violent way. It's just that there always are. You always have to deal with stuff. Whether you're in the office on the telephone or working out ideas on the set, there are always going to be bumps. Figuring out how to get over the bumps, that's what's really fun.
Excess Baggage certainly did not turn out like anything we might have expected from the Clueless cutie.
I didn't want to make a conventional story. The stuff underlying the film--things about having hope, about learning and accepting that you can't change someone, that you don't need somebody else to validate who you are...those are conventional ideas. But all the circumstances around them are pure craziness. I just wanted it to be as real as possible, and then that would be what would make it funny.
One unusual thing--for movies, anyway--is the way you and Benicio take a long time to learn about each other, then get drunk and horny together before you fall in love. It makes the relationship feel earned.
We tried to make Emily and Vincent real people that you and I can relate to. They don't have it that easy and are figuring things out. A lot of movie love stories have romances that are unattainable. It just seems so picture-perfect, but it doesn't ever happen. People don't have sex like that or meet like that.

Tell me about what went through your mind at this year's MTV Movie Awards, when you were ravished by Jim Carrey in front of a live audience.
Well, Jim is hysterical, and I think it's awesome he did what he did, because it was funny. But at the time, it was like, "What are you doing?" Alicia was up onstage, it wasn't like, a character. I was so shy and scared already; I'm so bad at reading from those monitors. I was just feeling strong, thinking I got through it and was about to walk off the stage. Then he comes up and does that, and it's like, You just killed me, dude.

So then, he's giving his speech, and I think everybody's looking at me. That's how ridiculous I was because I was so embarrassed. Backstage, he said he was really sorry. He didn't know I would react that way. I thought, what did you think I was going to do? Stick my tongue down your throat?

Now that we know what doesn't work, tell us your ideal of a perfect man?
My English grandfather, who's 94 and my favorite human being. He's the cutest, sweetest...I love him so much! He has great views about women, he's charming and funny. And he has very soft hands and ears.


Speaking of vision, do you think anyone in charge of Batman & Robin had any?
Well, I think what's fun about Batman is the hype of doing it. But once you've had about a day of that, it's not fun anymore. It was an honor to be asked to play Batgirl. I was really excited, but then everyone just went so Batman-crazy. I don't know how to ride that kind of hype, so I just sort of floated with it without really knowing what was happening. When I was working on it, my heart was always in Excess Baggage. It was like a day job and a night job.
Would you come back for another Batman movie?
I don't think there's going to be another one, is there?

We can pray, but they do well overseas. Anyway, what's up next for you? You've been linked to everything from something called Free Money to an I Dream of Jeannie movie.
Those are not projects that have really entered my world. The only thing I know that will happen eventually is this movie called Breakers, with Anjelica Huston. We'll play mother/daughter con artists who terrorize men. It'll be fun!

When you're not working, what do you do for fun?
I like to make dinner for my friends--macaroni and cheese. And play with my dogs. I have five now.

You make like celebrity doesn't mean much to you. But there must be something about the whole movie-star thing you like.
The nicest thing about any of it is when a mother tells me, "Thank you for what you're doing for my kid." That feels good. It's nice when both parents and their kids approve of what I'm doing.

Any concerns about how parents will react to all your smoking and drinking in Excess Baggage?
When you show a character smoking who's as miserable and tormented as this girl, I don't think you're encouraging it. I feel responsible in the way that I don't want people to think I think it's a good thing.

But I don't think a lot of things are good. I don't think it's good that people are unkind to one another, that people are selfish and greedy, that they're unkind to animals. It gets to a point where I'm like, wait a second, I'm not the President. And I don't even know anything--these are just my beliefs. I'm not responsible for how people respond to my beliefs because they're just my little things. And I can't convert the world.