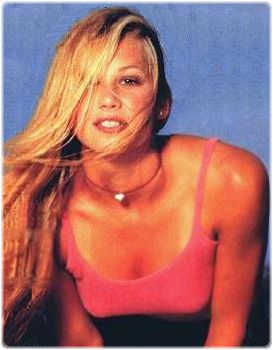 PROFILE
(Source : www.annak.org)


Residence: Miami, Florida, USA
Birthdate: June 7, 1981
Birthplace: Moscow, Russia
Height: 5' 8 1/4" (1.73 m)
Weight: 123 lbs. (56 kg)
Plays: Right-handed (two-handed backhand)
Status: Pro (October 1995)

PERSONAL
Mother's name is Alla; father's name is Sergei...Travels on the tour with her parents...Graduated from Russian high school in 1997, and started Physical Culture Russian University in September 1997...In 2000, made a $10,000 donation to junior tennis in Russia and financially assisted the upgrade of her first tennis club, Spartak...Likes to dance, read, listen to music and watch television (The Tonight Show with Jay Leno)...If she wasn't a professional tennis player, she would like to be an actress...Favorite city to visit is Paris and favorite tournaments are Roland Garros and Wimbledon...Other sports interests include NBA basketball and ice hockey...Favorite color is black...Loves animals, art, fashion, the ocean and beaches.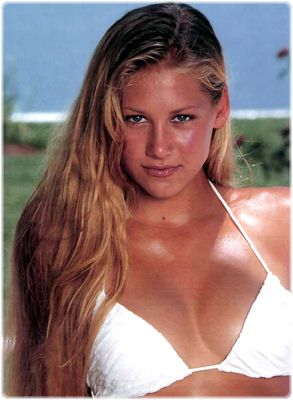 BIOGRAPHY
(SOURCE : www.annak.org)

Sergei and Alla Kournikova knew that their lives would change when they brought daughter Anna into the world on June 7, 1981. They just didn't know the entire tennis world would soon be turned upside down as well.

Both Alla and Sergei, a natural athlete who wrestled professionally and coached tennis part-time, encouraged their daughter to take part in physical activity at an early age. When she turned five, Anna received a Christmas gift that would change her life.

"I found my first racquets under the Christmas tree," Anna recalls, "but I found out later that my parents sold one of their TVs to get me those racquets."

From that moment, Anna has rarely put down her racquet. She began hitting at Moscow's Soklniki Park and soon was a member of the prestigious Spartak Tennis Club, coached by the husband of Russian pro Olga Morozova. At eight, Anna began appearing in junior clinics and quickly caught the eye of local tennis scouts. Still, she says, her childhood was "regular, average" as she spent a lot of time shopping, going to amusement parks and spending time with friends.

When the ATP Tour established a major tournament in Moscow in 1990, Anna would have the opportunity to show off her skills for the international tennis community. The nine-year-old prodigy competed in the juniors and soon signed a management deal. Within two years, Anna was headed to Bradenton, Fla., where she would train at coach Nick Bolletierri's famed tennis academy.

Bolletieri instantly recognized her potential.

"Anna is a shotmaker," he said. "She has the ability to create situations on the court that very few people can create. And at the net she's brilliant. She hits volleys from all angles. The only person I could compare her to is John McEnroe."

Anna Kournikova was on the professional track, and everyone knew it. At 14, she become the youngest player ever to win a Fed Cup match and captured the European Championships and Italian Open juniors. At the close of 1995, she was ranked No. 1 and crowned as ITF Junior World Champion. She was ready to hit the professional circuit.

Shortly after turning 15, Anna burst onto the pro scene after much media fanfare by reaching the fourth round in her first Grand Slam tournament, the '96 U.S. Open, and the semifinals of her debut at Wimbledon in '97.

In the subsequent years, she has maintained a consistent presence in the top ten singles rankings and captured a Grand Slam doubles title with Martina Hingis at the '99 Australian Open. Most recently, she tore through the competition en route to a semifinal appearance at the 2001 Australian Open in Melbourne.

The 19-year-old Russian has beaten virtually every top player in the women's field and is the only player in the past 15 years to have defeated four consecutive top ten players in a single tournament, which she did on her way to the '98 final in Key Biscayne, Fla.

Perhaps the most heavily sponsored and marketed female athlete in sport today, Anna also ranks as one of the biggest draws on the entire tennis tour, commanding Standing-Room-Only crowds for her Grand Slam appearances and often selling out exhibitions from Mahwah, N.J. to Sao Paulo, Brazil.

The game's most respected veterans seem to agree that Anna is destined for superstardom.

"She's a gorgeous young woman who's very fit and works hard at her profession and is in the top ten in the world," says 18-time-Grand-Slam winner Chris Evert. "I think she's good for tennis."

Tennis legend Billie Jean King echoes those sentiments.

"Anna is the real thing," says King. "She's great off the ground and quick. Most of all, she loves the limelight and loves the show courts. She's having a good time out here and is poised for the big time."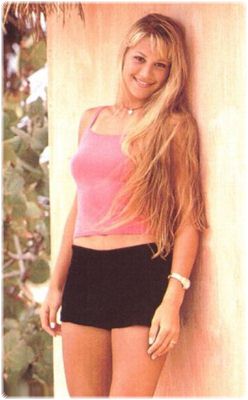 Interview, 2001
(Source : www.annak.org)

Q. You looked at times as if you were getting pretty irritated out there. Was that the heat?
ANNA KOURNIKOVA: Irritated?

Q. Yeah.
ANNA KOURNIKOVA: No. I don't think so. I just was a little bit uncomfortable maybe in the beginning playing against a good friend of mine, so I guess we were both a little bit feeling, you know, strange. And it was difficult for me to concentrate and just to get some kind of a rhythm. You know, but after that, after the end of the second set, I really got some rhythm and started to play better.

Q. It was pretty hot out there. How did you find it?
ANNA KOURNIKOVA: Yeah, it was, you know, first day that weather has been so hot. So I think that it was difficult for both of us, but, you know, you get used to it after a while after playing two sets you kind of get used to it. You don't feel it anymore. It's just like in a sauna, so it wasn't so bad.

Q. Do you feel that media should place so much emphasis on what clothing ladies should be wearing out there or pay more emphasis on the ability to play tennis? There's been a lot of discussion about the clothing, the dress code.
ANNA KOURNIKOVA: Well, I think that there should be a dress code, I'm sure there is from the WTA like, you know, obvious things. But I think that, you know, if whatever you're wearing fits into the dress code is fine, it's up to you. And if you enjoy wearing nice clothes and fashionable clothes, why not. First of all, like I always said, we are women and it's absolutely normal that we want to look good and we want to wear nice clothes.

Q. So what about the way you play tennis, your ability, is that secondary to the way you appear and the way you look to the public?
ANNA KOURNIKOVA: Well, we wouldn't be here if we wouldn't be playing tennis, right? I wouldn't be here if I wouldn't be playing tennis. So it doesn't matter how I dress. It wouldn't matter what I was wearing if I wasn't playing tennis. Nobody would talk about what I am wearing if I wasn't playing tennis.

Q. If they asked you to put on something very provocative, would you do that?
ANNA KOURNIKOVA: I don't see how this has to do with tennis.

Q. Well a lot of people are discussing the dress code nowadays. There has been a lot of emphasis, that's why I'm asking you.
ANNA KOURNIKOVA: I haven't heard about that.

Q. What did you do to get back to that game? What happened that you got back into it?
ANNA KOURNIKOVA: Well, I think that after I was down a set and 3-3, I kind of said to myself relax a little bit, doesn't matter if I lose. Just try to play a good match from then on. I just tried to go for my shots and not worry about the result and I guess it took the -- it took, you know, like the frustration and everything away from me and I just started to go for my shots and play a bit more consistent and, you know, get some balls in. Before that I think I was making too many mistakes and Barbara was serving really well today. She was serving hard and consistent, but I think that I was serving also not bad, especially at the end. And I had a few aces, maybe six or seven. So that was good, some free points. And just started to move better, I started to run all the balls down, you know, and make her play as long as possible.

Q. How do you rate your form now? Are you happy with your form?
ANNA KOURNIKOVA: Well, I'm definitely happy that I won. That makes me feel great. You know, but I wouldn't say that I'm in the best shape right now, like playing. But I'm getting there.

Q. You're going to play another Barbara next round. Have you ever played Rittner? What do you know about her?
ANNA KOURNIKOVA: Of course I've played against her. Many times. And I know her game pretty well, and I think maybe I played her three or four times or three times. I don't think I lost to her, so that's a good point. That's a good thing. We've had some tough matches before, but it was a few years back, so I'm a different player now. She's a different player. But I think that Barbara was playing very good now since the end of last year. She played well in Luxembourg and she's playing well again now and she's a tough player. She's very experienced. She has a lot of different shots in her game, so she's going to mix it up obviously a lot.

Q. Barbara said she let you off the hook a little bit. Did you feel the same?
ANNA KOURNIKOVA: Well, I think that it was also tough situation for her. She was up a set and 3-1, she felt like I think this pressure that she had to close it out and, you know, not starting making mistakes. Sometimes when you're winning so easily like she was winning in the first set, you know, she didn't know how she won. I was making the mistakes. I think that's how it would be for me. Sometimes I win like really easy and I don't know how I won because the other person was making all the mistakes. Then when she stopped making the mistakes, I had to find how to play against her so I think that's what happened.

Q. One of our photographers courtside thought you had a bandage on your stomach or abdomens. Do you have an injury?
ANNA KOURNIKOVA: Well, I've had the bandage since my first match here. I did have a problem with my stomach since the beginning of the tournament.

Q. How is it? Is it treatment that you're having for it or is it something that rest --?
ANNA KOURNIKOVA: No, well I'm having both, treatment and rest. I have to wear the bandage. It restricts me to serve a little bit the way I want to, but, you know, it's getting better.

Q. Did that happen when you came to Australia, or was it something that --?
ANNA KOURNIKOVA: Yeah, I think that it was when I was playing in Sydney. That's where it started.

Q. At one point I think in the second set it seemed like at one of the changeovers you -- it appeared that you were shaking at one of the ball girls or ball boys for water. You seemed like you got annoyed because you didn't have a drink?
ANNA KOURNIKOVA: No, I was asking for ice. And the ball boy brought me that thing that you put around your neck, not the ice in the cup. So I just asked for ice in the cup.

Q. Your countryman Yevgeny Kafelnikov said in comparison to other athletes, tennis players wouldn't earn so much. What do you think about that?
ANNA KOURNIKOVA: Wouldn't earn so much?

Q. Yeah. He said it's like ridiculous.
ANNA KOURNIKOVA: That they don't earn enough?

Q. Yes. That they don't in comparison to other players; their prize money would be ridiculous. What do you think about that?
ANNA KOURNIKOVA: Basically he said that they don't earn enough?

Q. Yes.
ANNA KOURNIKOVA: Well, I think that every person has the right to their own opinion. He's, you know, a very great player. He's proved himself so he has the right to voice his opinion.

Q. Do you know the average salary in Russia? What people earn in Russia? Like an average?
ANNA KOURNIKOVA: Why should I know it?

Q. Well, maybe it's interesting.
ANNA KOURNIKOVA: No. I don't know it.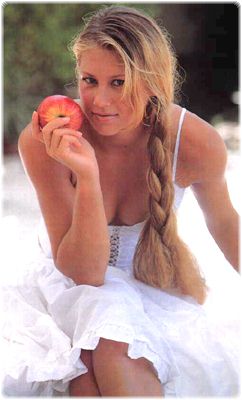 Interview
This interview with Anna Kournikova was undertaken by her sponsors Adidas. Originally published in 1997 after Kournikova turned professional

(Source : www.annak.org)

Why are you so mentally tough?

"Am I?" she shoots back.

Aren't you?

"That's a tough question."

That's your reputation.

"Really?" she says somewhat incredulously. "I guess I just don't think about it. I just try to mentally play every point."

Why did you decide to go pro?

"Why? Because I felt I was ready for it, and I couldn't stay in the juniors anymore." In other words, it was too easy.

Was there one specific thing that happened?

"No."

Do anyone try to talk you out of it?

"No."

Who are your heroes?

"Don't really have any."

No tennis heroes?

"No."

When you go into matches, do you feel like the underdog?

"Which way?"

Like the fact that a lot of tennis fans don't know a lot about you

"I think they do know a lot about me." she says firmly.

How long are your days when you're training?

"I play three hours of tennis and do one hour of general workout."

You travel a lot. How do you manage to have fun?

"Traveling is fun." she explains.

Where's your favorite place so far?

"Paris."

Did you go shopping already?

"No, not yet. I just arrived yesterday." It figures that in a world where typical teenagers go to the mall, Anna goes to Paris. Then again, typical teenagers don't go pro at 14.

Do you have a driver's license?

"No, my birthday is in one week!" Anna turns 16 on 7 June. She plans to get her license after the French Open. And, no, she doesn't know if she'll get a car yet.