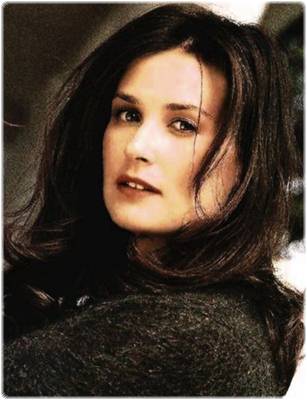 (Source : www.demimoore.org)

DEMI MOORE (Maiden name: Demetria Gene Guynes)
(Named for a beauty product Virginia saw in a magazine)

Born: November 11, 1962. Sun in Scorpio, Moon in Taurus, in Roswell, New Mexico, USA.

Height: 5'5" - 168 cm

Weight: She'd kill me... :o)

Address: Fan Mail:
c/o Creative Artists Agency, 9830 Wilshire Blvd, Beverly Hills, CA 90212 USA


DEBUTS:
Film: Choices, 1981
Stage: The Early Girl, 1981
TV: General Hospital, 1982


LOVED ONES:

Parents: Charles Harmon, Air-Force employee (Natural father)
Virginia Guynes (Mother) [1943 - July 2, 1998]
Danny Guynes, Newspaper-ad Salesman (Father by adoption) [? - 1979]

Siblings: Morgan Guynes, special effects technician
(Half-brother (different fathers)) [Born 1967]
James Craig Harmon (Half-brother (different mothers))

Spouses: Freddy Moore 1980 - 1982 [Born 1950]
Emilio Estevez 1984 - 1987 (engaged)
Bruce Willis 1987 - 2000.
Married quickly in Las Vegas, then re-married on November 21, 1987. Presiding Minister at the $875,000 ceremony: Little Richard

Children: Rumer Glenn Willis [Born August 16, 1988]
(named after British novelist Rumer Godden)
Starred as Demi's daughter in Striptease
Scout Larue Willis [Born July 20, 1991]
(Named for child narrator of novel: 'To Kill a Mockingbird')
Starred as Pearl in The Scarlet Letter
Tallulah Belle Willis [Born February 3, 1994]

Family: Mary Guynes Hinman Capps [Aunt] (Virginia Guynes' sister)
Carmen Hinman [1st cousin] (Daughter of Mary Guynes Hinman Capps)

Pets: Two dogs
Numerous dolls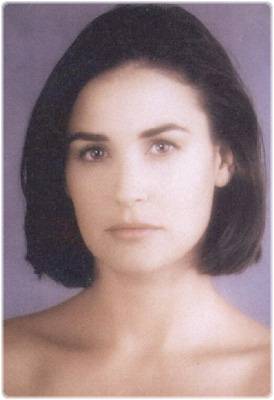 BIOGRAPHY

(www.demimoore.org)

The strange phenomenon that is Demi Moore- hardbody mother of three, humorless exhibitionist, extravagantly compensated star of box-office thoroughbreds and dogs - might not be so inexplicable after all. Demi Moore was born in Roswell, New Mexico, ground zero for all logic-defying bizarreness in American life.
Not that Moore could be an extraterrestrial. It's just that she has become a preeminent Hollywood UFO: Unstoppable Film Occupant. No matter how loud the hooting that greets her every movie release (many reviewers brought out heavy artillery for G.I. Jane in '97, the same year Allure magazine thumped the actress in a story entitled "Women We Love to Loathe"), Moore just keeps bouncing back, collecting boatloads of money - $12.5 million for the much-panned Striptease in '96 - along the way.

Some of the resentment, of course, is a response to the enormous pride Moore takes in her modest talent. "I want things to be the best they can be. I want greatness," she told Vanity Fair in '92. But her relentlessness isn't just the result of a complete lack of humility or self-doubt - qualities that she probably ought to have in good supply. Moore's roots, or lack of them, almost certainly assured that once she found something solid in life, she'd latch on and never let go.

Born Demetria Guynes in Roswell, NM, Moore grew up with a half-brother Morgan, their shared mother, Virginia, and her stepfather, Danny Guynes, a newspaper ad salesman. The couple fought incessantly as the family scuttled from one town to another in her stepfather's pursuit of work. According to Moore's estimate, they moved some 30 times before she was a teenager. The constant uprooting made it difficult for her to maintain friendships. "I had an essence in my life that I was nothing," she said of those times. She was further unsettled by physical problems: in her teens, Moore had two operations to correct a crossed right eye.


At one of the most vulnerable periods in her life, as Moore reached adolescence, she discovered that Guynes was not her biological father - she had been conceived during her mother's two-month marriage to an Air Force man in 1962. A year later, while the 18-year-old Moore was still trying to come to grips with that information, Guynes committed suicide by breathing carbon monoxide from his car's exhaust pipe.
The remaining family moved to L.A.; Moore dropped out of high school at 16, was married for two years to rocker Freddy Moore, and landed a role on General Hospital. in 1982. But being newly married and having a steady acting job didn't guarantee stability. Moore began abusing drugs and alcohol. "I got involved with drugs because I was young and not sure how to deal with my sudden burst of fame," she has said. The fame escalated in '85 with a role in St. Elmo's Fire, the movie that helped launch a handful of Brat Pack careers, including that of Emilio Estevez. Moore and Estevez began a romance that dipped in and out of engagement for three years. Estevez "was definitely my first love," Moore told Cosmopolitan.

But not the love of her life. That was Bruce Willis, who Moore met at a screening of Estevez's 1987 film, Stakeout. After seeing each other almost daily for just four months, they were married in Vegas by a fittingly flamboyant minister - Little Richard. From that kitschy union, the couple had appeared to have forged an old-fashioned family with three daughters, Rumer, Scout and Tallulah. "Marriage was a goal," she told Vanity Fair in '92. "A family, for me as a young girl, was my image of what I hoped for. It was part of the big picture." But from the start, tabloids and the rumor mill predicted the headstrong pair's imminent rift first as Moore's star rose to Willis's height, then as the hard-working couple spent more time apart. In 1997 they waged a highly publicized court battle with former nanny, Kim Tannahill, who accused the pair - especially Moore - of being inattentive to the children and abusive employers. After more than ten years, the incessant naysaying proved right - Moore and Willis split in the summer of 1998. Friends called the parting amicable, though Liz Smith reported that "Demi has taken the breakup much harder than Bruce."

Perhaps that was because Willis had other things to concentrate on, like his still booming career. The once-blazing Moore, on the other hand, had no new projects lined up. In the early '90s her big pictures, including Ghost and Indecent Proposal had indeed proved huge, critics' disapproval be damned. That seeming bankability had helped vault Moore to the top of the A-list of Hollywood actresses. But later vehicles like 1996's Striptease (which might have been more enticing if Moore hadn't already twice bared all for the cover of Vanity Fair) and G.I Jane (a picture many industry-watchers considered a make-or-break film for Moore) underwhelmed critics and audiences.
Still, it would be foolhardy to count Moore down - or out. The steel-willed actress has always seemed unfazed by criticism of her naked ambition. She told George magazine: "There's still a negative attitude in our society towards women who use a strength that's inherent - their femininity - in any way that might be considered seductive."

Not everyone is negative, especially in Hollywood. "Right now I'm completely one-hundred-percent gay," industry mogul David Geffen has remarked. "But every time I see Demi Moore walk in front of my beach house I think, 'Whoa, she's really hot!'" Now that's one for the X-Files.

Entire Bio taken from: People Online Profiles.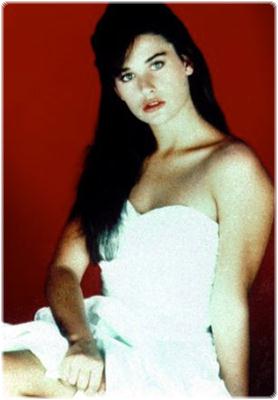 Demi Moore Interview

(Source : www.toppics4u.com)

Rick Anthony (NA) Wed May 22 22:44:35 1996

Demi Moore is currently the highest paid actress in Hollywood. It is no wonder that she is very busy in the loop working on several movies that are soon to be released. They all vary in content, script and character and they show us the many aspects of Demi Moore1s talent.

She now stars as a terrorized mother in "The Juror" opposite Alec Baldwin.

FM: Have you ever been on a jury?

DM: No. Never. I haven't. They have never called me. I registered to vote. I don1t know why but they have never been interested in me.

FM: Do you have a feeling that you could have done this?

DM: I think that I have that kind of opinionated way. When I really believe something I think that I can be persuasive. But not if I don't believe something.

FM: What did you like about the film?

DM: What I love in the film is the moment that she is trying to convince the older woman. She is talking about her child and she does have a child in danger. When she really knows what the motivating factor is, which is the children, what she is saying in a weird way is true. If they do let somebody go that we are not sure about, or if they do put somebody away that we are not sure about, then we are wrong. It is an interesting part of our justice system that, unfortunately, it doesn1t matter what is the truth or what is a lie or what is false. It is just what you can prove.

FM: They said that justice did not prevail. Is that true?

DM: That is what's so twisted about it. Evil did prevail because he did order the killing. But the fact is, he did not actually kill somebody. It is a very twisted thing. There is a line in "A Few Good Men" that I always loved where it says, "It's not what you know, it's what you can prove."

FM: Being a woman, is this always your worst nightmare?

DM: Definitely. I can't imagine anything worse than your child being in some kind of jeopardy.

FM: If Hollywood were a horse race you are in the lead in terms of salary.

DM: Am I?

FM: That is what I keep hearing. How does that make you feel?

DM: I am so much more on the inside of it that I don't think of it as an external concept. That is an outside perception of me that I am not objective to. I don't think about myself that way and I don1t speak about myself that way. I am grateful that I am getting opportunities to do work that I am interested in with people that I admire. When I am inside of it I am strictly involved with doing it and showing up and giving my hundred percent.

FM: But you are a ten million dollar woman.

DM: Well, if you want to get down to it, it is $12.5 but who is counting.

FM: That puts you at the top of the list.

DM: Yes, but it doesn't matter that it is me. The most important element is that it happened. And it happened because they believed that what I was going to contribute to the film was worth what they were offering me. It was an even exchange. It was not a great favor to me. As of the day my deal was made every woman1s salary changed. But more importantly, the perception of women1s contributions to this industry changed. And forever will be changed. And tomorrow somebody else will be paid more than me so it doesn't matter that it was me. It's nice that it was, it feels nice. I'm not going to say that I didn1t get a nice ego stroke, of course I did. It is wonderful and I worked very hard for them.

FM: Does it bother you that it was for a role that they required you to take your clothes off?

DM: They didn't require me, first of all. It was of my own choice and contractually of my own choice. Nor was it because I had to dance. They didn1t even ask me if I could dance. I never have done any kind of dancing professionally or otherwise. It was something of a mutual agreement. I felt to play the role, I would want to do that and do it as they do. To me that is the experience that I benefit from.

FM: You did a great job stripping.

DM: Is that the word? I did a great job.

FM: Was it fun?

DM: Yes it was. I can say that it was my best film experience to date. The people were extraordinary. The movie is not about taking your clothes off, first of all. And it is a comedy. That is the other thing I will make sure everybody knows. Not unlike the theme of this movie ("The Juror") it is about a woman fighting for the life of her child. She is fighting for the custody of her seven year old daughter from her drug addict ex-husband.

FM: This new film you are working on, "G.I. Jane," I heard you compare to "Full Metal Jacket."

DM: Actually it is a very important part of the film. It doesn't take place at the beginning of the film. It is not as if they go and they cut it and I start the film. Because the movie is obviously about a woman who is put through Naval Intelligence, Navy Seals training. As she gets part way through the training, she realizes that by the men's attitudes she recognized that if she doesn't really go the distance...

FM: Is that why you are sporting such a short do?

DM: The indication of cutting her hair is more to show that she is no different than they are. It really is just a metaphor for her passion and determination.

FM: Are you concerned about how you will look?

DM: I don1t think so. It is going to be so short. It is not really just for a vanity thing. It really is an important part that we are trying to convey in the story. It is an unbiased point of view of whether women should be in combat or not. We are trying to convey every body's questions and opinions without there being one side.

FM: Will Bruce Willis still love you?

DM: He has loved me always so I can't imagine that with no hair... I have actually had my head shaved but just not this short.

FM: Is this going to be a physically demanding role?

DM: We have quite a bit in the water. We have a few things that we have to do coming out of helicopters and boats. A lot of the training requires being in a pool tank with your hands bound where you can only jump to the top for air. I don1t know if we are going to portray that but they have to carry logs as a team. So there are a lot of elements that I think will be extremely difficult.

FM: Did you enjoy working on the animated side of the business? Do you think you look like your character?

DM: As a contemporary art doll collector, I know the concept of how faces are created. With animation the eyes are always very large with a small chin. They video you when you do your voice so I saw my expressions. You do see yourself. When you see Kevin Klein as the soldier you do actually see him but it is more in expressions. She doesn1t look exactly like me. She actually has black skin but I am so there. Even when I had taken my kids to see "Toy Story" for the tenth time and they were showing the trailer it was so odd to look and hear my voice because it didn1t even seem like me for a moment.

FM: Have you not seen any of the movies portions of it yet?

DM: I1ve been working this for two years. The way it works is that you go and you work alone. You do a little bit of your voice and they go and animate it. Then they decide oh, I don't like the way that sounds. So they have you maybe add a line here of whatever. It1s a nice way of working. It makes it a little bit more perfect. Isn1t that interesting. If only we could do it in the real movies. So I1ve seen a few scenes pieced together but I haven1t seen the whole film. I still have more voice to do. I'm not done.

FM: It is a Disney film. Was the reason for taking the gig the kids?

DM: Of course. They pay you nothing. Literally scale - nothing. I give that to charity. The only thing I said I wanted was the little molded statues which nobody knows about. But I do being a contemporary art collector. Big bucks, big score.

Demi Moore is a talented actress and a very smart business woman. I look forward to seeing some of her latest projects unfold on the big screen.