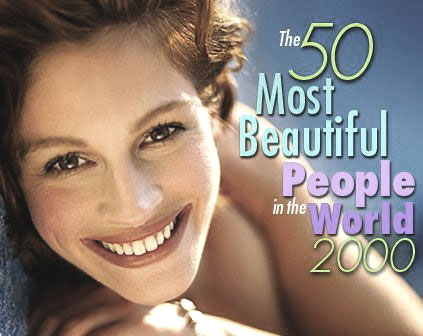 Julie Fiona Roberts was born in Atlanta, Georgia, on October 28, 1967, at 12:16 a.m. in Crawford Long Hospital (associated with Emory University). After leaving the hospital Julia went home to 849 Juniper Street in Atlanta. Julia along with her Mother (Betty), Step-father (Michael Motes), and Sister (Lisa) moved to Smyrna, Georgia in 1972, where Julia grew up. Julia attended Fitzhugh Lee Elementary School, Griffin Middle School, and Campbell High School in Smyrna.

(Source : www.juliafan.com)
Name: Britney Spears
Birth Name: Britney Jean Spears
Height: 5' 4''
Sex: F
Nationality: American
Date: December 2 1981
Birth Place: Kentwood Louisiana
Occupation: singer
Education: NYC's Professional Performing Arts School
Broadway Dance Center
Mickey Mouse Club
Relationship: Justin Timberlake (member of 'N Sync) Jason Geddert (dated in 1997)
Father: Jamie Spears (building contractor)
Mother: Lynne Spears (a second grade teacher)
Sister: Jamie Lynn
Brother: Bryan
Claim to fame: Baby One More Time which sold for 6000000 copies (1999)


FAN MAIL:
Britney Fan Club
PO Box 7022 Red Bank
NJ 07701-7022
USA

(Source : www.celebritywonder.com)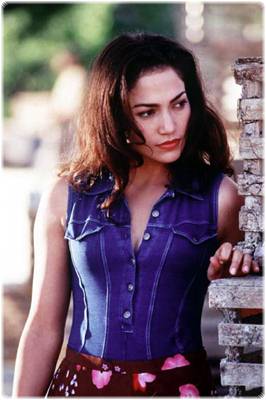 Jennifer Lopez

Occupation
- Actress, Singer
Date of Birth
- 24 July, 1970
Birth Place
- The Bronx, New York, USA

Mailing Addresses
Jennifer Lopez
C/O International Creative Management
8942 Wilshire Blvd
Beverly Hills CA 90211


Jennifer Lopez
PO Box 57593
Sherman Oaks, CA 91403
USA



Jennifer was born on July 24, 1970 to David, a computer operations specialist and Guadalupe, a kindergarten teacher in The Bronx, New York. She has two older sisters - Lynda and Leslie. Her parents come from Puerto Rico, thus the latin look.

An actress whose first major role was in the movie "Money Train".
Her real breakthrough came when she played the tragically killed musician Selena in the movie with the same name. At the movie wrap party for Selena (1997), on Oct. 28 1996 in San Antonio, star played an unexpected love scene when her boyfriend Ojani Noa grabbed a microphone and proposed to her in the middle of the dance floor, presenting her with a large marquis-cut diamond ring. She said 'yes'.

Jennifer Lopez was engaged at 15 with David Cruz "The best looking guy of the neighborhood". In the gyms they called her "La Guitarra" because her body curved like a guitar.
In her local Bronx they call her "The Supernova". She moved to Manhattan to learn how to dance and used to sleep in the studio where she was practicing.

After Selena she acted in numerous movies.

(Source : www.celebritycd.com)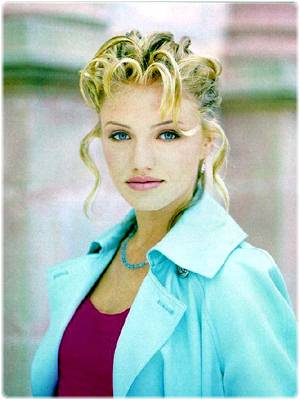 CLICK ON CAMERON'S PCITRUE TO GO TO THE WEBSITE 'BEST OF CAMERON DIAZ'


Name: Cameron Diaz
Birth Name: Cameron M Diaz
Height: 5'9
Sex: F
Nationality: American
Date: August 30 1972
Birth Place: San Diego California USA
Occupation: actress model
Education: Long Beach Polytechnic High School in Long Beach California
Relationship: Jared Leto (actor; dating as of 1999 until now) Matt Dillon (actor; fiance; together from 1996 and broke up in late 1998) Carlos de La Torre (video producer; together from 1990 to 1995)
Father: Emilio Diaz (an oil foreman)
Mother: A exporting agent
Sister: Chimene (older)
Claim to fame: as Tina Carlyle in The Mask (1994)


FAN MAIL:
Artists Management Group
9465 Wilshire Blvd Suite 519
Beverly Hills Ca 90212
USA
(310) 271-9818

(Source : www.celebritywonder.com)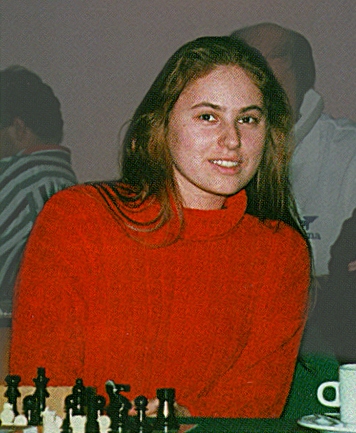 CLICK ON THE PICTURE TO GO TO CHESS GODDESSES WEBSITE
(FOR MORE INFO ON JUDITH POLGAR)

JUDIT POLGAR


Judit was born in Hungary on July 23, 1976, the youngest of three sisters. Zsuzsa, Zsofia, and Judit were raised under the tutelage of their father, Laszlo Polgar, who strove to prove that genius can be cultivated through hard work and discipline, He had decided, early on, that the medium for this training would be chess, and so all three Polgar daughters began studying chess by age four almost to the exclusion of anything else.

Laszlo Polgar's experiment in manufacturing genius was a controversial one; it actually provoked the opposition of the Hungarian government. Critics claimed that Laszlo Polgar used questionable methods to train his daughter, and armed government officials once arrived at the door of their home in an attempt to save them from what they saw as a potentially abusive situation.


Although Polgar's parenting philosophy raised eyebrows, his strict supervision of his children's education has resulted in a trio of geniuses. Zsuzsa is the women's champion and Zsofia is ranked seventh worldwide. But it is Judit whose wins have broken through the gender barrier; significant in a sport populated by chauvinists of both sexes.

Judit Polgar has consistently refused to take part in the separate women's events. This intractability, combined with her magnificent talent, has led many to believe that she is the first woman with a realistic chance of winning the world championship. Already she is the only woman to have competed consistently with the top 20 players in the world, winning games against the most esteemed competitors in chess, including Anatoly Karpov, Boris Spassky, and Viswanathan Anand.

Her rise started at the age of 9, when she won the unrated section of the New York Open, winning 7 games and drawing once. At age 11 she earned an International Master title - younger than Fischer or Kasparov. At age 13 she was the World Under 14 Champion for boys and FIDE's highest rated woman.


And then she accomplished what seemed like the impossible; she knocked Bobby Fischer off his throne, becoming the youngest grandmaster ever at 15 years and 4 months (Bobby Fischer became Grandmaster, at 15 and 6 months, in 1958). In 1993 Polgar defeated former world champion Boris Spassky 5.5-4.5 in a 10-game exhibition match and took home $120,000. In 1998 she became the first woman in history to win the U.S. Open.

Polgar is still going strong. In the last few years she reached the quarter-finals in the 1999 FIDE World Chess Championship in August, 1999, out of an original field of over 100 players from all over the world. She also won back to back tournaments in Bali, Indonesia and Malmo, Sweden in April-May, 2000; her win in Bali was again first a field that included former and present World Chess Champions and was, according to the commentators, the strongest performance yet by a woman.

Her aggressive style and fiercely competitive nature has earned Polgar much respect and admiration from both fans and fellow players. She plans each move of each piece by carefully analyzing her opponent's style, and orchestrating her moves in response to their strategy. Her flexibility is legendary.


Laszlo Polgar's experiment may have caused much controversy, but led to the much-delayed acknowledgement that women chess players are capable of competing on an international scale among men. In only 24 years, Judit has accomplished a lifetime of achievements, not the least of which are demolishing stereotypes and opening the field for the next generation of women players. One can only wonder where her pursuits will lead, and hope that Judit Polgar will be remembered as the player who made gender divisions in chess obsolete.


(Source : www.myhero.com)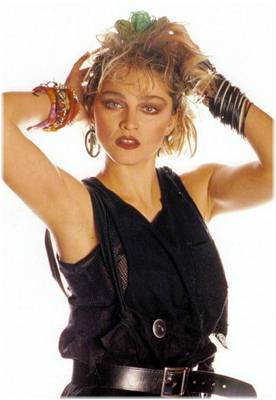 CLICK ON MADONNA'S PICTURE TO GO TO 'Official Madonna site at Warner Brothers'.


Name: Madonna
Birth Name: Madonna Louise Veronica Ciccone (pronounced: CHEE-KOH-NEH)
Height: 5' 4''
Sex: F
Nationality: American
Date: August 16 1958
Birth Place: Rochester Michigan
Occupation: singer actress producer composer
Education: University of Michigan (majored in Dance; dropped out)
Adams High School Rochester Michigan
West Junior High School
Husband/Wife: Guy Ritchie (director; together since 1999; married on December 22 2000) Sean Penn (actor; married in August 1985; divorced in 1989)
Relationship: Andy Byrd (actor; filmmaker; brief relationship 1998) Carlos Leon (personal trainer; 1994-97) Dennis Rodman (professional basketball player; together briefly 1994) John Enos (actor) Warren Beatty (actor 1989-1990)
Father: Sylvio (Tony) Ciccone (design engineer for Chrysler/General Motors; family immigrated from Italy)
Mother: French Canadian who died of breast cancer
Sister: Paula Ciccone (producer; younger) Melanie Ciccone (publicist for Opal Records; younger)
Brother: Martin Ciccone (dj; older) Anthony Ciccone (TV production assistant) Christopher Ciccone (artist; younger)
Half Sister: Jennifer Ciccone (younger)
Half Brother: Mario Ciccone (younger)
Grand Father: Gaetano Ciccone
Grand Mother: Michelina Ciccone
Step Mother: Joan Gustafson Ciccone
Son: Rocco Ritchie (born on August 11 2000 at 12:52 am; father: Guy Ritchie)
Daughter: Lourdes Maria Ciccone Leon (father: Carlos Leon; her personal trainer)
Claim to fame: Album Like a Virgin (1984)


FAN MAIL:
6342 Mulholland Hwy
Hollywood Ca 90068-1648
USA

8491 Sunset Boulevard 485
West Hollywood California 90069
USA

(Source : www.celebritywonder.com)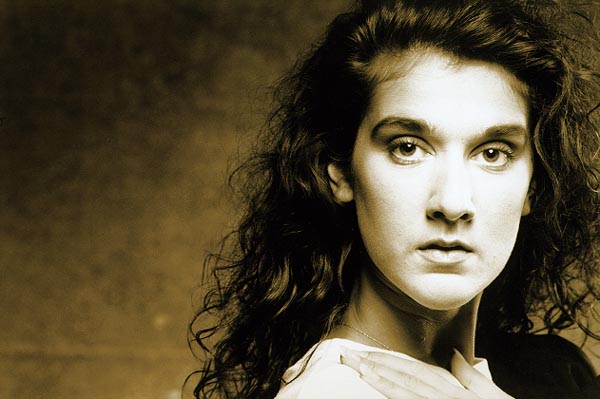 CLICK ON THE PICTURE TO GO TO 'THE OFFICIAL CELINE DION WEBSITE'

From humble beginnings in a rural French Canadian home town, Celine Dion has risen to international superstardom like a shooting star. Celine has been called the premier contemporary pop vocalist of the Nineties. She has earned music industry accolades from around the world: Grammy Awards in the US, Juno and Felix Awards in Canada, and World Music Awards in Europe. The entire world has seen Celine Dion literally transform herself from a gifted pre-adolescent into an international superstar.

Born in Charlemagne (a small town 30 miles east of Montreal, Quebec, Canada), Celine is the youngest of 14 children of a highly musical family. Her parents, both musicians, operated a small club, and on weekends, the entire family performed and entertained the local population. From the tender age of 5, Celine sang with her siblings and quickly acquired the ability of performing live. At the age of twelve, together with her mother and one of her brothers, Celine composed a French song which would forever alter the course of her life.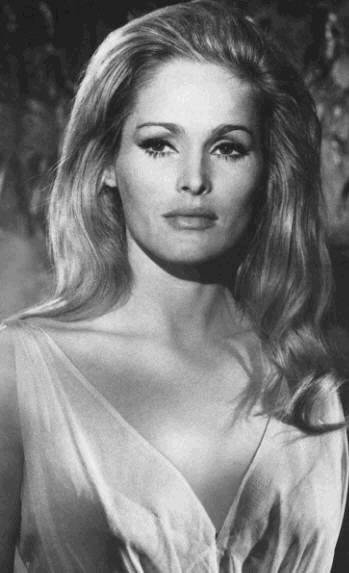 CLICK ON THE PICTURE FOR MORE INFORMATION ON HER

Name: Ursula Andress
Sex: F
Nationality: Swiss
Date: March 19 1936
Birth Place: Bern Switzerland
Occupation: actress
Husband/Wife: John Derek (director actor; married in 1957; divorced in 1966)
Relationship: Harry Hamlin (actor; 1 son) Fausto Fagone (1988-1991) Lorenzo Rispoli
Father: Rolf Andress (diplomat)
Mother: Anna Andress
Son: Dimitri Alexander Hamlin (father: Harry Hamlin)
Claim to fame: as the first Bond Girl: Honey Rider in Dr No (1962)

(Source : www.celebritywonder.com)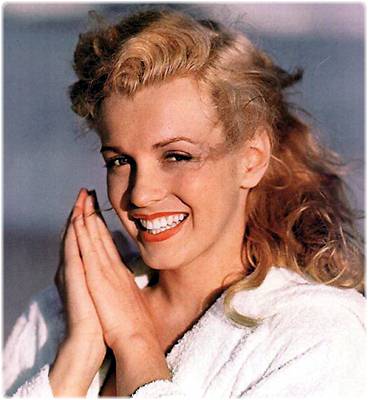 CLICK ON THE PICTURE TO GO TO HER OFFICAL WEBSITE


Name: Marilyn Monroe
Birth Name: Norma Jean Baker
Height: 5' 5 1/2''
Sex: F
Nationality: American
Date: June 1 1926
Birth Place: Los Angeles California
Occupation: actress model producer
Education: Van Nuys High School Van Nuys California (graduated)
Actors Studio New York
Morris Carnovsky Actor's Lab
Studied acting with Natasha Lytess and Michael Chekhov
Death Date: August 05 1962
Place of Death: Los Angeles California
Death Cause: Drug overdose
Husband/Wife: Jim Dougherty (factory worker; married June 1942; divorced September 1946) Joe DiMaggio (pro baseball player; married January 1954; divorced October 1954) Arthur Miller (playwright; married June 29 1956; divorced January 21 1961)
Father: Edward Mortensen
Mother: Gladys Baker (née Monroe; film cutter)
Half Sister: Bernice Miracle
Step Father: C Stanley Gifford (worked for Consolidated Film Industries)
Claim to fame: as Pola Debevoise in How to Marry a Millionaire (1953)




CLICK ON THE PICTURE TO GO TO THE GILLAIN ANDERSON WEBSITE


Name: Gillian Anderson
Birth Name: Gillian Leigh Anderson
Height: 5' 3''
Sex: F
Nationality: American
Date: August 9 1968
Birth Place: Chicago Illinois
Occupation: actress
Education: City High School in Grand Rapids MI
National Theatre of Great Britain at Cornell University in New York
Goodman Theatre School of the DePaul University in Chicago
Husband/Wife: Errol Clyde Klotz (art director; married in 1994; broke up on October 1996)
Relationship: Rodney Rowland (starting in 1997) David Duchovny (actor)
Father: Edward (film post-production company manager)
Mother: Rosemary (computer analyst)
Sister: Zoe (younger)
Brother: Aaron (younger)
Daughter: Piper Maru (father: Errol Clyde Klotz; born August 25 1994)
Claim to fame: as FBI Agent Dana Katherine Scully on TV Series: The X-Files (1993)


FAN MAIL:
C/O William Morris Agency
151 El Camino Drive
Beverly Hills CA 90212
USA


Creative Artists Agency
9830 Wilshire Boulevard
Beverly Hills Ca 90212
USA
(310) 288-4545

(Source : www.celebritywonder.com)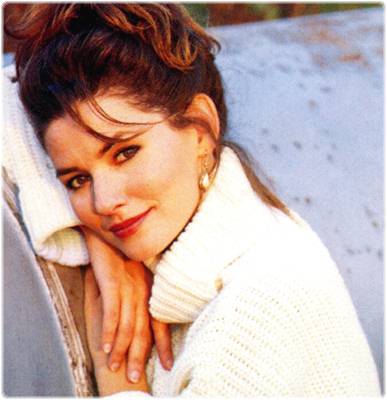 CLICK ON THE PICTURE TO GO TO THE SHANIA TWAIN SUPERSITE
Name: Shania Twain
Birth Name: Eilleen Regina Edwards
Height: 5' 4''
Sex: F
Nationality: Canadian
Date: August 28 1965
Birth Place: Windsor Ontario Canada
Occupation: singer
Education: High School
Husband/Wife: Robert John Mutt Lange (music producer; married on December 28 1993)
Father: Clarence Edwards
Mother: Sharon Twain (killed in a 1987 car accident)
Sister: Jill (older) Carrie Ann (younger)
Brother: Mark Darryl
Step Father: Jerry Twain (killed in a 1987 car accident)


FAN MAIL:
Shania Twain C/O Mercury Records
66 Music Square West
Nashville Tn 37203
USA

(Source : www.celebritywonder.com)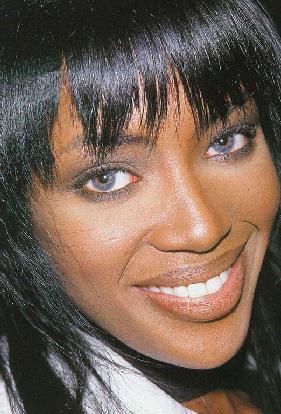 CLICK ON THE PICTURE TO GO TO NAOMI CAMPBELL GALLERY

Name: Naomi Campbell
Height: 5' 95''
Sex: F
Nationality: British
Date: May 22 1970
Birth Place: Streatham South London England
Occupation: model actress
Education: London Academy For Performing Arts
Relationship: Damian Aspinall


FAN MAIL:
C/O International Creative Management
8942 Wilshire Blvd
Beverly Hills CA 90211
USA

(Source : www.celebritywonder.com)
Personal
Born: December 21, 1954
Birthplace: Ft. Lauderdale, Florida
Residence: Boca Raton, Florida and Aspen, Colorado

Career Highlights
Won 157 singles titles
Won at least one Grand Slam singles title for 13 consecutive years (1974 through 1986)
Won 18 Grand Slam singles titles (including 7 French, 6 US Open, 3 Wimbledon and 2 Australian) and 3 Grand Slam doubles
Highest singles ranking: 1 (1975-76-77-78-79-80-81-85)

(Source : www.wslegends.com)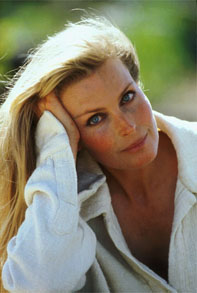 CLICK ON THE PICTURE TO TO GO TO THE 'BO DEREK OFFICAL WEBSITE'
Born November 20th, 1956 in Long Beach, CA., Bo is the oldest of four children, followed by her brother, and two sisters. Christened Mary Cathleen Collins, she was known as Cathleen or Cathy in this Irish/German/Dutch-California family.


Recently, in Santa Barbara Harbor, Bo was rigging a Hobie Cat Sport to sail and someone remarked this was no problem for Cathy as she's always been really athletic and a great sailor. Turns out these were some old friends from the days her father worked in advertising for Hobie. Bo describes her father's connection to Hobie as just one of his fun jobs, "He took care to find jobs which involved the 'toys' he liked, so he was always bringing home prototypes to try out. "To us kids, it was great fun. As a teenager I wasn't very ambitious and had no big plans. I certainly never dreamed of going into films, my main interest was the beach and I assumed I'd end up working in a surf shop."



CLICK ON THE PICTURE TO GO TO HER FANSITE

HOLLY HUNTER
Holly is the youngest of seven children. At an early age her parents encouraged her to pursue her acting talent, and her first gig was the part of Helen Keller in a 5th grade play.
In 1976 she went to Pittsburgh and earned at a degree in drama from Carnegie Mellon University. And upon graduation, she made the move to New York, where she went on to get roles in Beth Henley plays, including "Crimes of the Heart" and "The Miss Firecracker Contest", and later she also starred in the screen version.
In 1982 Hunter moved to Los Angeles, and landed her first starring role in features in the Coen brothers' "Raising Arizona", a part that is said to have been written with her in mind. But she gained the most attention from audiences and critics alike in 1987 when she took on the role of a driven TV news producer in James L. Brooks' "Broadcast News", a part which garnished her with numerous awards for Best Actress.
In 1993 she earned an Academy Award and worldwide acclaim with her stirring performance as a mute bride in Jane Campion's "The Piano", opposite Sam Niell and Harvey Kietel.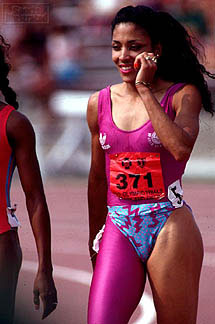 CLICK ON HER PICTURE FOR MORE INFO

FLORENCE GRIFFITH JOYNER

Florence Griffith Joyner was one of the greatest athletes of all time. She was born in the city of Los Angeles and began track at the young age of 7. She, then at age, 14 won the Jesse Owens National Youth Games. She received her education and furthered her track career at the University of California, Los Angeles.

Florence's amazing grace and agile speed was evident whenever she was on the field. During the 1988 Seoul Olympics Flo-Jo, as her fans know her, captured golden triples at the Games that were in the 100, 200 and 4x100 meters relay. She still holds world records in the 100- and 200-meter dashes that she achieved during 1988 and she set the 100 mark of 10.49 seconds at the quarterfinals of the 1988 Olympic trials, and since then, no woman has even broken 10.60. She also broke the 200- meter record with a time of 21.34. There is only one other American woman that has accomplished a time less than 21.70, Marion Jones.