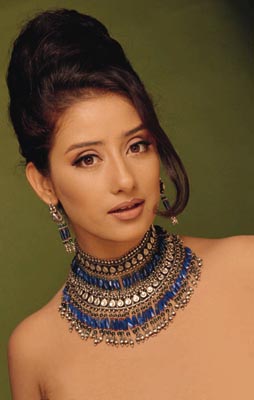 Manisha Koirala

Date of birth: August 16

Address:
302, Beachwood Towers
Yari Road, Versova
Andheri West, Mumbai: 400 061
Telephone: 91 22 6319200

Manya studied the Army Public School, Dhaula Kuan, Delhi. She was a science student with biology as her chosen subject. She left TAPS after completing her eleventh standard.

Her favorite sport is basketball, though she enjoys bungee-jumping a lot !!

Her favorite color is white.

She devotes a percentage of her earnings to charity and plans to adopt a child in near future. Actually, she plans to play god-mother by taking care of all expenses of a child.

Her height is 5 feet 5 inches.

Her favorite movies include 'One flew over the cuckoo's nest', 'An Officer and a Gentleman' and 'Kagaz Ke Phool'.

Her favorite drinks are Water, Fresh Lime Soda and Strawberry Champagne.

Her favorite male stars are Marlon Brando, Dilip Kumar and Al Pacino.

Her favorite female stars are Ingrid Bergman, Meryl Streep and Whoopi Goldberg.

Her favorite books are Fyodr Dostoevsky's 'The Idiot', John Irwing's 'The world according to Garp' and Erica Jong's 'Fear of fifty' .

Her first Hindi movie was Saudagar and the first Nepali movie she acted in was called 'Pheri Didhora'.

She is an accomplished Bharatnatyam and Manipuri dancer.

Favorite comics are Tintin and Archie.

Her favorite Ghazal singers are Begum Akhtar and Mehdi Hassan.

She has a younger brother, Siddharth.

She is a non-vegetarian, though she prefers to eat vegetarian food.

Her favorite perfumes are Private Collection and Skate.

Her favorite holiday spots are Kashmir and London.

She has only tea for breakfast.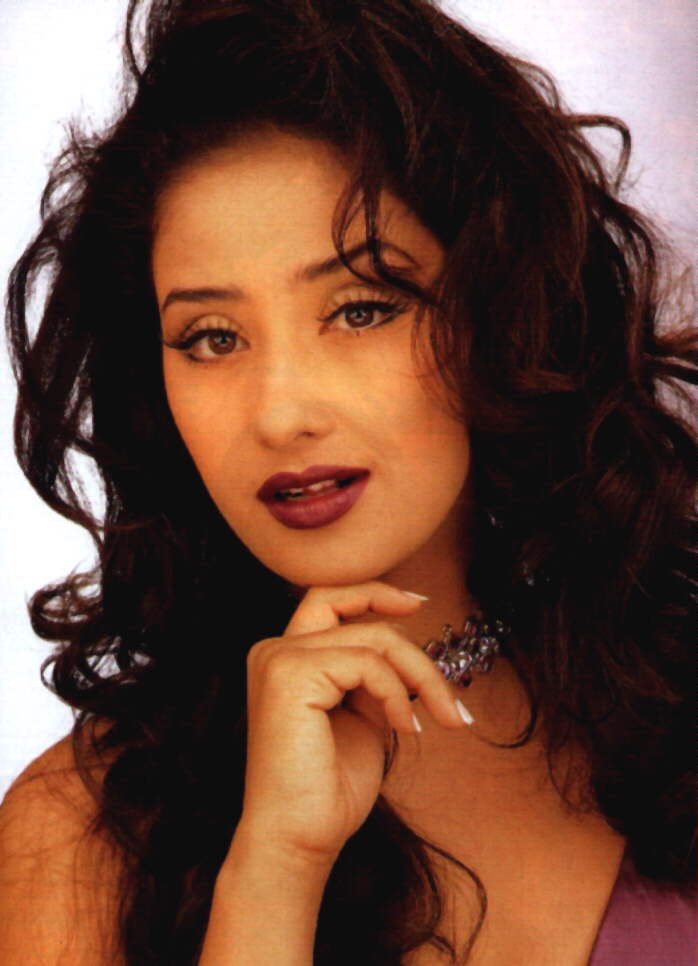 Biography
(Source : www.apunkachoice.com)

She descended from the mountains bordering India. Was part of a family of established politicians who wielded power for years in her land. She was of a royal pedigree.

Manisha Koirala was pristine and had her roots in the Koirala family in Nepal. Surprisingly enough, the then newcomer did not resort to her influential family to provide her with a launching pad in Bollywood.

She came on her own, with slight opposition from folks, and managed to create a base on her own. Bagged a Subhash Ghai for an opening. Though Saudaagar had quite a handful of the film industry's stalwarts like Dilip Kumar, Raj Kumar, Anupam Kher, Manisha's presence was felt and appreciated. She was heralded as one of the future star-heroines of Mumbai.

Saudaagar' did not do as well as it was expected to do. But Manisha set her charms on the industry. She was unusually attractive and was willing to experiment with her talent. Offers poured in but Manisha was careful in filling her bag.

Her range began from Love Letter to 1942: A Love Story' to more serious ones like Akele Hum Akele Tum, Agnisakshi, Bombay, Khamoshi, Dil Se and Mann.

It is a paradox that though most of Manisha's films failed to thunder at the box office, the actress's niche was unharmed. She continued to get her share. Clubbed with her allure was her chic lifestyle that separated her from the rest in the band.

In a career spanning a decade, the Nepali beauty has done her variety and still has zest to 'work in meaningful projects'. Films apart, the person in Manisha does not shy away from taking on responsibilities to improve the state of people in the country. Women, rather girl children have called her attention and she is doing her bit to make a difference to their lives.

Films will continue to happen. But Manisha is above the rat race. She has her own territory and producers will always come back to her when they need a kaanchi with a mind for their films.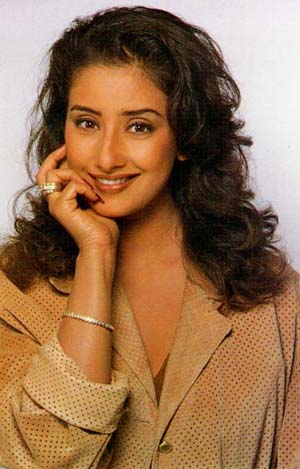 MANISHA
"I'm not a wastrel nor am I wayward"

Interview
(Source : www.indya.com)


The critics are on her back once again but that's hardly a matter of concern for Manisha Koirala. She cares a flying duck for opinions and righteousness bores her. She lives her life on a have-a-good-time policy and hides a yearning heart behind it. She likes to be an actress but would not like to die with her shoes on. She won't kill herself for a few roles. That's why her career tells the here-now-gone-tomorrow story.
It must be hard when the trade comes down heavily and writes you off...
I've been written off so many times that I have lost count. Like Maheshji (Bhatt) once told me, people are quick to write premature obituaries. It's okay, this too shall pass. My career can never be over. Seriously, a few flops will not make any difference.

I'm just waiting to dig my teeth into roles of substance. It's not important that all the movers and shakers must sign me up. It may sound strange coming from me, but I've never manipulated or plotted. If I've wanted to work with someone, I've told them straight-off. Then it's been up to them to sign me. Believe me, my PR skills are terrible. I don't ring up directors to wish them Happy Diwali or Happy Birthday. I don't woo media barons and I certainly don't keep track of what each heroine is doing.

Would you have liked to work with Sanjay Leela Bhansali for Devdas?
If he had a role for me he'd have signed me. We had a misunderstanding after Khamoshi. So there was bad blood between us for a while. Once I went to him, we had a long chat and cleared the air. I was happy that he went to the Film Institute to give a lecture, just to get away from all the hype and euphoria after Hum Dil De Chuke Sanam.

A section of the industry insists that you're extremely indisciplined.
I know. Such reports amuse me. Every single newspaper in town writes about how I've been shooting non-stop for the last four years. If I'm indisciplined, then how come I work so hard? I haven't had a decent vacation in two years. In nine years I've completed around 35 films. I've worked with Subhash Ghai, Feroz Khan, Shekhar Kapur, Mani Ratnam, Shankar, Sanjay Leela Bhansali and Indra Kumar. Surely all these filmmakers didn't sign me on only because they liked my face. They must have sensed a degree of devotion and dedication.

I admit I'm not as disciplined as Amitabh Bachchan. You cannot set your clock by me. But neither am I a wastrel nor am I wayward. I truly believe that an artiste is a free spirit and shouldn't be bound by time factors. Since film economics don't permit such liberties, I've now realised that I'm better off doing two or three films a year.

Do you think an artiste should be socially responsible as many actors think these days?
If socially responsible means not playing a role that has grey or negative shades in it, I don't agree. I will accept the challenge and enact the role. If I don't, what kind of an artiste am I? Were Shah Rukh Khan to think of social responsibility, he would not have had a film like Darr to his credit. Anyway the person playing a negative role always suffers or dies or gets transformed in the end in a Hindi film. So it shouldn't really matter.

Would you do a bold film like Fire?
Depends, I liked Fire. See, if the script is engrossing and I have a worthwhile role in it and I'm comfortable with the director, then I don't see any reason for declining the film. The director's intentions are also important. He shouldn't be making such a film to titillate the audience.

Actresses like Pooja Bhatt, Juhi Chawla and Raveena Tandon have turned producers. Do you plan to do so too?
I have seriously considered directing a film. I have a plot in mind which will make a good art film. I'm an art film buff. I watch German, Italian and Japanese films. But all my plans are on hold at the moment because I need to concentrate on my career as an actress.

How do you look back upon your relationship with Nana Patekar?
With great fondness. He's a very creative and extremely nice human being. I believe that whoever enters your life does so to convey a certain message. People don't see each other or feel connected without a specific purpose. There has to be some reason. What it is, is for you to understand. I have gained something from every relationship of mine.

Kajol and Madhuri Dixit got married this year. Does that inspire you to tie the knot?
I definitely want to settle down and have a family, but not now, I'm not prepared for it as yet.

Would you consider an arranged marriage?
(Ponders) Hmm... Not likely, because I'm strong headed and independent. But you can't categorically rule out anything in life. If there is an offer I would want to know what the man is all about. What are his values? Is he an intellectual or one of those dumb types? Can I relate to him? Will I learn something from him or will I have to teach him all the while? A crucial factor would be the man's family background. Marriage is serious business.

After having completed nine years in showbiz, how would you estimate your stint?
Being Subhashji's (Ghai) protégée instantly brought me into the limelight. The years that followed remain blurred. I was just not happy with the work I was doing. I signed a lot of extremely mediocre films. That was the first stage of my professional life.

The second phase began with Bombay, followed by Akele Hum Akele Tum and 1942 - A Love Story. After being called a one film wonder, directors began to take me more seriously. Fortunately Khamoshi and Dil Se consolidated that reputation.

I think this is my third phase. I want to do fewer films, take a keen interest in the scripts that are being offered to me. I realise it is pointless signing up films just because I'm being paid good money. Such films go nowhere. It's almost like trying to win a losing battle. Mind you, I'm not blaming anybody for the lacklustre performance of my film.



Interview

(Source : www.indya.com)


She's an underrated actress, but she somehow gives you the feeling that she is not serious enough about her career. She has shown glimpses of greatness. She is excellent when given the opportunity. Watch her in the scene in Bombay when she opens the door and sees her parents for the first time since she has eloped. She is also capable of looking totally indifferent in performance and in attire when she doesnt like the role. Mann is an example. You get this feeling that her body of work has done little justice to her enormous abilities. Is she responsible or have filmmakers arbitrarily overlooked her talent?
Manisha is shooting in sultry Chennai for Kamal Haasans ambitious Azhavandhan (Abhay in Hindi).Anytime during the day, she says, when asked for an appointment. The make-up man is applying greasepaint when one is ushered into the room. She has lost weight and looks fresh and beautiful, like she did at the beginning of her career. She answers questions patiently and with disarming candour.

Bombay was shown on TV recently and everyone was marvelling at your sensitive performance. Did the fact that you did not have too many lines in key emotional scenes help?
It depends. For me, it doesnt matter. It varies from character to character. If the character is talkative, I wont have any problems.

Did you enter the industry for a lark?
I was not serious initially. I thought I would do a couple of films and go back to studies, but the acting bug never leaves you. That happened to me too.

When did you realise that you could act and were comfortable in front of the camera?
The first film that I did was a commercial Nepalese film. That is when I realised that I could act and thought I should go on. I liked being in front of the camera. As you go on, you want to learn more about the filmmaking aspect.

But you still have this Manisha is not serious about her career tag.
Basically, I really dont care about what people think or say. Over a period of time, people have given me various labels. I know I am a serious actress. I know I am far more capable than most actresses today. I have to be interested in a project. Sometimes, you do a film for the heck of it. It is like It is better to do something than nothing. That used to be my attitude till last year. I just followed the tide. I realised I was taking something I love casually.

You hail from a family with a political background, but you never make politically correct statements to the press.
I am not a very calculating person, I must say. I am too emotional and instinctive. I am impulsive and say things which I think are correct. I dont care a damn about being politically correct. For me, being honest and upright is more important.

Do you have this sneaky feeling that the press is using you?
Yes, I have been used many times. I would be the ideal prey for people who want to write gossip because I am blunt and honest and have a strong opinion about certain things. I am not coy or diplomatic. When there is an outspoken person and another who keeps things to herself, you automatically choose the outspoken person and misquote her. But it is also believable that I could be saying these things.

You have recently said that you regret your verbal slanging matches.
I was immature and brash, but today I look at situations more calmly. I was young and outspoken. If I hated someone, I would launch into a tirade. It is not as if the other person showed dignity, no way. I am talking about whoever I clashed with (Aishwarya Rai). In fact, I was instigated.

But today, even if the other person shoots her mouth off, I keep quiet. In the long run, it does not help. It just creates negative feelings. I forget my hatred. Life is about progress. It is not about hanging on to ill feelings.

Do you think it would have helped if you had not used a via media but had a direct conversation with the person concerned?
The conflict was too strong. I dont think it would have worked. Today they are small issues. There is so much to life.

Lets get back to your career. What stage of your career are you in?
Im basically tired of doing what I have been doing for the last 10 years. My interest level was dipping. I was doing a fairly good job, when compared to others. The standards I have set for myself are higher. When I watched the Broadway show Miss Saigon, I was ashamed of being called an actress. The leading ladys performance was outstanding. I was ashamed that I am in the same profession but could not touch those heights.

You cant blame yourself entirely.
Yes, you lose interest because you are not given opportunities. So I am trying to create opportunities to do the things I think I am capable of. I at least try. I am now sitting with writers and directors. Let us see how things work.

Do you approach directors if you get to know there is a good role going?
That is very unlike me.

Why do actors shy away from doing that? It is just asking for a good role.
There are different kinds of filmmakers. There are some I wouldnt mind asking. Most directors are on an ego trip. I am scared of being looked down upon by any standards.

What is it that keeps drawing you to Southern cinema?
I think the South has great talent. When Mani offered me Bombay, everyone advised me not to do regional films. But for me, cinema does not have a language. I wanted to grow. Thank goodness I did Manis film. It was a brilliant experience. I keep telling everyone that the one thing we must learn from the south is discipline. In Bombay, people are constantly pointing fingers at others. The dedication there is amazing. Mani and Kamalji are two people I admire greatly. That is what keeps me coming back. I do get a lot of offers, but I have worked with the cream. I am doing a small role in Abhay, but I am charged up.

Your role seems to have been lengthened.
Not at all, but it is an interesting role. Its great to work with Kamalji.

You had a great role in Bombay, but it looked like you were sleepwalking in Indian. Yes, yes. Indian was recommended by Boney Kapoor. Again, my incentive was to work with Kamalji. I didnt know Shankar, but I was an admirer of Kamalji.

Do you think he made up for it in Mudhalvan?
I guess so. I connected better with Shankar in Mudhalvan.

Were you wary of signing Mudhalvan?
No. He said he wanted me to be the typical south Indian village belle, and I said, Why not?

Isnt it ironical that you are not in the Hindi version?
Not at all. The whole set-up has changed. I like Rani Mukerjee a lot. I saw Hey Ram yesterday, and she is brilliant. This film was turned down by Shah Rukh and Aamir. With Anil, I am sure Shankar must have recommended me, but Anil is the kind of person who likes to work with younger actresses (laughs). There I go again.

Actresses have a smaller life span when compared to actors.
Actresses do suffer this stigma. After a certain age, you cannot be as charming for the audience as you were. Because so little is required of an actress in the kind of films we make, anyone can do it. Any good looking girl can do our kind of films. Unlike Julia Roberts, who gets the best roles even after 10 years. It is high time actresses made an effort to carve a niche for themselves. We have to prove that we are capable of something better.

How do you go about doing that?
Well, work with fresh directors and writers with fresh ideas. The problem today is that if one film is a hit, there are 20 clones and none of them do well. Frankly, you have to be a part of the production team. But then, there is a jinx in Bombay. Any film produced by an actor has flopped badly for the past few years. But greats like Chaplin have succeeded by making their own films.

Theres Kamal himself.
There you are. It is a lot of hard work.

Have you signed any other films?
There are a lot of interesting projects coming my way. Hopefully, everything will work well. It is too early to say anything.

What happens when you work hard, give a good performance, and the film flops?
Nothing. I grow as an actress. The kind of films I have liked have not done well. I like thought-provoking films like Saraansh, Arth and Ardh Satya. If a film you like does well, it is a bonus. Abhay is an education. The way Kamalji and Thiru handle the camera is an education. I have learnt more about womens issues after Lajja.

Dont you think it would help your performance if films like Lajja and Grahan had not taken so long to make?
Performance definitely suffers. No doubt about that. To create the same emotions again is difficult. It definitely helps if you shoot continuously.

They say Manishas date diary is always in a mess.
(Laughs) Not anymore. There was a time when that was true. That was a time when I did films just to keep myself occupied.

There is this Kannada producer Ramu who says you left him in the lurch.
He should be more than happy because I paid him more than what he deserves. He got more money than he had spent. I paid him out of my pocket.

Why did you do that?
That was because I had made a commitment and backed out.

So why is he cribbing?
That is human nature. To blame someone else. That is understandable and ignorable. I dont feel bad. Lot of stars do not even return the signing amount.

What do you do as a UN ambassador?
Unfortunately this year, I havent been able to do a lot. The UN does a lot and I am a part of it. We create awareness about issues like population. I did go for a summit to Geneva. I hope to make more time for it.

You got to see Hey Ram and Mahanadhi.
Yes. Hey Ram was a revelation. There is so much that you learn about Godses state of mind. Otherwise, you just thought a madman shot the Mahatma. Mahanadhi was highly inspiring. How a simple man gets into the big money trap and loses everything one by one. Kamal has explored the jail situation so well.

How important is it to have a co-star of Kamals calibre?
Frankly speaking, I have never worked with anyone of his stature or someone who is so intelligent and who writes and makes his own films. He also appreciates all kinds of films. He is a wonder. You are always learning.

You have said that you dont believe in the element of luck. Has your philosophy changed?
I think luck should be created. It is like someone waiting for the right time to do anything. I believe in two per cent luck and 98 per cent hard work. Some people are born lucky. They are less talented and less hard working, but things just work for them. How do you explain that?

Thats luck.
Yes. There are exceptions. But one can reach heights through sheer hard work.

So we still havent seen what Manisha is really capable of?
No, no. Hopefully youll see much better stuff. Hopefully!