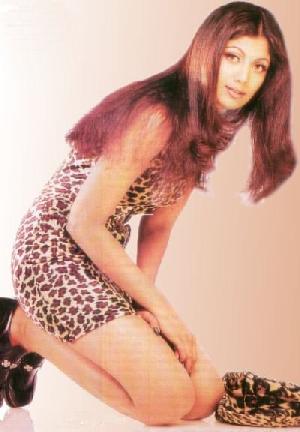 Interview
(Source : www.indya.com)

Hell hath no fury like a woman scorned. Shilpa Shetty is huffing and puffing away these days. Still not got over her painful split with Akshay Kumar, she has decided to strike back with a vengeance of a wounded tigress. Amidst strenuous dance rehearsals (for some show), Shilpa spoke about the man who caused her much grief, in brief!
The past few months have been quite a roller-coaster ride for you
Yes, it has been a rough period personally. But I'm glad that the ordeal is over. After every dark cloud, there's always a silver lining. All this while though things were going well professionally, my personal life was pulling me down. It feels good that it's finally behind me.

You are very upset about your break-up with Akshay Kumar.
Don't I have reasons to be upset? When you love someone and all along don't realize that you are being taken for a ride, it can be very annoying. I never imagined that he could two-time me, and that too all along our relationship.

Why are you lashing out after months of breaking-up with him?
I wanted our film to get over and released, so that it wouldn't come in the way of my producers. I couldn't harass them just because my personal life was turning into shambles. So, I decided to wait till Dhadkan was done with.

Akshay said recently that you should not make 'such a tamasha' of your relationship in public.
That's his opinion, not mine. After what he did with me, what else could he say? See, I don't regret my decision at all. Someone has to let people know about him and warn all the other women to keep off him. Besides I was very angry and wanted to let him know that he could not get away with murder.

Are you upset with Twinkle, since he left you for her?
No, I'm not at all upset with her. What's her fault if my man was cheating on me? There is no point blaming any other woman, it was entirely his fault. Akshay Kumar used me and conveniently dropped me after he found someone else. The only person, I was upset with was him. But I'm sure he'll get it all back.

So, have you moved on yet?
It's not easy to forget the past so soon, but I'm glad I've had the strength to move on. Today, he's a forgotten chapter as far as I'm concerned. I will never work with him again. Professionally, things have never looked better; I've signed five new films. So, I confidently say that I've moved on after our split.


Biography
(Source : www.nazara.com)

With no film background, but a confidence enough as for starters, Shilpa Shetty joined a career which fascinated her so much. She was considered a star material when her very first film 'Baazigar' opposite Shahrukh Khan smashed some records. Her role, though a small one, was full of substance and her career had taken a flying start. Or so she thought.

Shilpa Shetty, with her unconventional looks, may have worked with top actors like Shahrukh Khan, Akshay Kumar, Govinda and even Amitabh Bachchan, but her career has remained stagnant. She is yet to spell out the ultimate word 'Success'. She is yet to grab Subhash Ghais and Sooraj Barjatyas of the industry. She has to come out of her protected shell.

Some of Shilpa's remarkable films have been 'Mein Khiladi Tu Anari' (Akshay Kumar), 'Gambler' (Govinda), 'Auzaar' (Salman Khan) and 'Lal Badshah' (Amitabh Bachchan). Whether or not this 'Chura Ke Dil Mera' girl is able to show her acting prowess in her forthcoming films like 'Dhadkan' is yet to be seen?

She has gone through a lot of changes in last couple of years both professionally and personally. She has shed off her old looks and way of dressing up. Suddenly she has started looking 'wow' with trendy hairstyle, impeccable make up and designer clothes. The old Shilpa Shetty is just a distant past.

Her roller coaster relationship with Akshay Kumar ended in a sad note and Shilpa is trudging with caution now adays. She is looking fabulous in her forthcoming film Dhadkan and has a lot dreams and hopes attached with it. here's wishing her all the very best.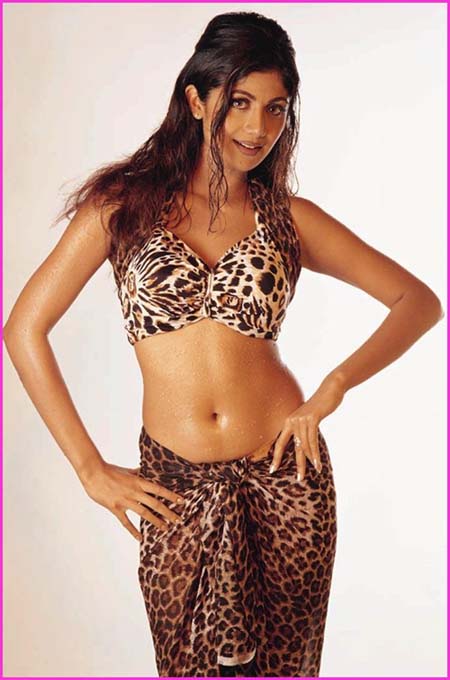 Interview
(Source : www.rediff.com)

'I have rediscovered myself'

She is glowing. Her body language screams confidence. For those unfortunate to have missed that, there's the effortless ease with which she delivers her lines.

Yes, Shilpa Shettyhas arrived.

And not a minute too soon.

A seven-year stint in the film industry has seen her through more downs than ups.

But Shilpa has refused to be beaten. She has bounced back in a different avataar in each of her films.

Now, post-Dhadkan, Shilpa promises Runima Borah Tandon,"Every film of mine from now on will bring me praise."

Tall claim? Well, it's hers to know and you to decide!

How have you grown as an actress after Dhadkan?

That is a question only my audience can answer.

As for my career, I have been getting roles with a lot of scope to perform. There is a lot of variety in the roles I'm doing now.

I am also getting a lot of positive feedback, which is a good feeling.

That is something I have been working on for a very long time. I have been in the film industry for seven years. And I'm only now getting what I should have a long time ago.

It feels good. Better late than never, I say!

But I can tell you one thing: Every film of mine from now on will get me praise as an actress. I am very positive about that. You see, the films I am now choosing are very different from the ones I used to earlier.

Where do you see your career heading now?

In the right direction, I think!

There's Bobby Kent's film with Salman (Khan). There's a (Satish) Kaushik and (Anil) Kapoor Entertainment film called Badhai Ho Badhai, opposite Anil Kapoor, being directed by Satish Kaushik.

I'm working on the Sunny Deol home production Indian, being directed by Maharajan. There's Junoon opposite Chandrachur (Singh).

Then there's a film being directed by Yashji's (Chopra) assistant, Abhi. Though the hero hasn't yet been finalised. It's a fun-filled family comedy.

So there is a lot of interesting work happening.

What kind of roles are you playing in these films?

In Bobby Kent's film, I play a very young and vulnerable model. She is very modern and falls in love with someone she thinks is very modern but only poses to be one before marriage.

He comes from a very orthodox family with very Indian values, whereas in my house it is just the opposite. We are very Western and we think we've come from London!

So it is a clash of two cultures and how things change after marriage. I think it is a beautiful subject. It is a very real film and something I would relate to.

Satishji's film has me playing a very vivacious and loud Punjabi girl. That again is something I haven't done before. Her character is a mix between a Punjabi and a Christian, and her name is Banto Betty *laughs*.

She is quite a character.

In Indian, I play Sunny Deol's wife, a very emotional girl who loves her father very much. The film has a lot of action, but it is a family film, too.

What appealed to me was that this girl's character is very well-etched. She has two children, is very homely, and her world revolves around her husband.

Tell us more about your role in Junoon.

Well, it is very interesting.

I play an intelligent and spunky youngster who's the brain behind her father's political career. He is a minister.

She is very bold, open and honest about her feelings. She is very cool and a very today kind of girl. Doesn't care what the world thinks about her. At the same time she's a very passionate person.

I hope I haven't given out the story! But this is something I've never done before.

Is it true that you got burnt while shooting for Bobby Kent's film and that Salman Khan just kept on staring at you without helping you out?

What rubbish! Salman is not that kind of a man.

We were shooting a suhag raat scene and there were lights on the bed. I didn't realise that. We were supposed to go out of frame. That is when I fell on the lights, and got burnt.

It was only the next day that I realised that it was bad, and I had to get it treated. I still have the marks on my body.

But it was nothing serious, and I certainly don't think Salman should be blamed for that.

Salman is like a great buddy of mine. He is the kind of friend I have had for the last six years. I have done many shows with him.

I have worked with him and his brother Sohail before in Auzaar. I have worked with Arbaaz in Dhadkan before Sunil came in for the role.

Salman is not a fair weather friend and is the kind of person I can totally rely on.

Which of your films will be released first?

Indian. We just have the songs and the climax. And it will be released in February 2001.

Bobby's film will be out sometime in June. As will Junoon. And Badhai Ho Badhai is slated for an August-September release.

What according to you are your strengths and weaknesses? Where do you feel you need to improve as an actress?

I think my strength is that, even after seven years, people see a different Shilpa with every film. That is something I have maintained all throughout. *laughs*

And people still want to work with me after being here so long time.

Recently, I went through a very low phase -- there was so much I wanted to do, but just didn't get the right chance.

Today I am happy I'm getting that opportunity to do so. And I'm quite content.

As for my weaknesses, I'm working on turning them around so that they become my forte.

What is your dream role? Is there a particular character you would like to play?

Until I after Dhadkan, I felt it was my dream role. But now, there are a few interesting roles like the in Salman's film.

I thought after Dhadkan I would never get a role like that again. A heroine-oriented role, I thought, would be very difficult to get.

But people are offering me such amazing roles that I feel like a new heroine. It's really great. I feel I have rediscovered myself after Dhadkan.

You sister Shamita believes that you work very hard. What do you have to say to that?

Why, I'd say the same about her.

I have seen the way she works. You know, she used to be really thin and gawky.

When Adi (Aditya Chopra) signed her on, he gave her three months to put on weight. Look at her in Mohabbatein. She has the most toned body. You can't get that in three months.

I think she is very focused and hardworking.

Do you feel that Mohabbatein was the right launch vehicle for her?

To tell you the truth, Shamita didn't want a film career. She has a diploma in fashion designing.

But when Yashji offered her the film through Karan (Johar), Manish (Malhotra) and our friends, we thought she couldn't get a better launch film. Yashji is someone I always admired.

We knew that whatever the end product, it would be fabulous. So she might as well be part of a film in which she would be appreciated than work in a flop film.

As it turned out, it was the right move. Mohabbatein has turned out a winner.

Shamita has signed on for a few films, but I'd rather let her speak about them.

What kind of advice have you given her about her film career?

Well, she is a smart girl. I was the foolish one; I came from a non-filmi background. I learnt everything on my own. She has seen me go through all that.

We have told her only one thing, "You don't need to sign any films because you want to buy a car or a house." We have all that.

It's not that I signed films because of that. It's just that in the beginning you don't know. You don't have anyone to give you the right advice.

Shamita can learn from my mistakes. That's the reason she is not on a signing spree.

Films are coming her way but she'd rather work on maybe two or three films a year and find job satisfaction as an artiste. That is essential.

I think job satisfaction is the key word.

Now that both of you are in films, who does your mother accompany to shoots?

You know, while I was shooting for Dhadkan, my mother had accompanied Shamita to London for the shooting of Mohabbatein.

It was so strange. For the first five days, I just kept crying at home. It was very depressing.

You know, she has always been Daddy's girl, and I've always spent time with mom. But for the first time, I realised how much my sister must have sacrificed for me. At her most vulnerable age, mom was with me. And she never complained.

That is when I began to appreciate all that she has done for me.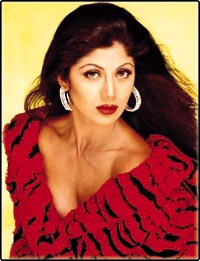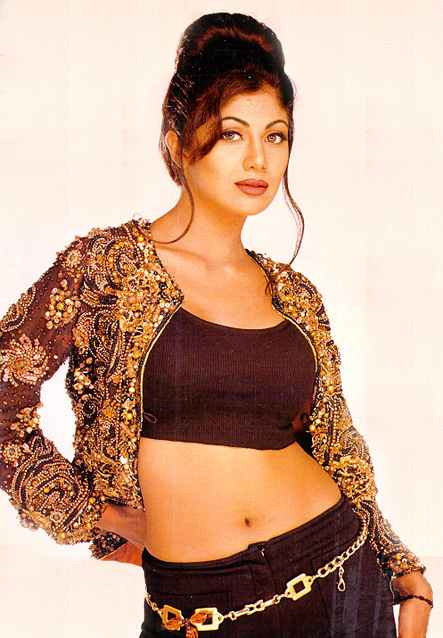 'The role is not just about lashes and lipstick'

(Source : www.indiainnewyork.com)

At one time, soon after "Baazigar," Shilpa Shetty was projected as a rising star in the film industry. Then, a string of mediocre films seemed to put the brakes on her career.

Today, her sister, Shamita Shetty, is making more news than Shilpa Shetty. Shamita Shetty is the one with the big banner and one of the most talked about films of the year -- Aditya Chopra's "Mohabbatein." But Shilpa -- who has been noticed more for her special dance numbers in films like "Shool," "Jung" and "Tarkieb"-- is looking to stage a comeback with Dharmesh Darshan's "Dhadkan," which was released in cinema theaters across the country last week.

Q: Was "Dhadkan," a major change for you?

A: You're making it sound as if this was the first time I was performing. I've performed in my other films too, haven't I? What made "Dhadkan" different is that this isn't a run-of-the-mill commercial film, where the story revolves entirely around the hero and his doings. This is a film about relationships and every character has a significant role to play in carrying the story forward. Perhaps that's the reason every member of the cast has come up with a performance that's sure to stand out. No doubt, "Dhadkan" is a very special film for me. I was lucky to get the opportunity to work with a talented director like Dharmesh Darshan. I grabbed it and made the best of it.

Q: From Juhi Chawla in "Lootere" and Karisma Kapoor in "Raja Hindustani" to Twinkle Khanna in "Mela," Dharshan has been known to change the image of his heroines completely. People have already started talking of your stunning, stylized look in "Dhadkan." Was this metamorphosis worked out to a carefully deliberated plan?

A: Well, I do have this image of being very glamorous and that has sometimes overpowered the performer in me. Dharmeshji did not make a conscious effort to make me look less glamorous, but yes, he did work hard on portraying me as an actress, rather than a glamorous star. I know this is kind of confusing, but I really can't explain it better. The heroine of "Dhadkan" is a stylish, modern miss who's beautiful in every which way. She's glamorous too, but to use one of my oft-repeated phrases, the role is not just about lashes and lipstick. This film is not about Shilpa Shetty, it's about Anjali (the character she portrays) and there's more to her than just a pretty face. She's the kind of person you'd want to know better.

Q: Of late, you seem to have developed a talent for creating a sensation with a song. So does "Dhadkan" also boast of a special item number like "Shool," "Jung" and "Tarkieb?"

A: No, for the first time I have not been projected as a girl who dances well. All the songs have been picturized on me, but for once I'm not doing any dancing. It's Mahima's turn this time and it was a welcome change for me to watch another heroine dance.

Q: The story of "Dhadkan" is a closely-guarded secret, but from what little we've heard, you are supposed to be in love with Sunil Shetty, but end up marrying Akshay Kumar and tormenting Sunil who wants you back in his life at any cost. Is that right?

A: Well, yes. Usually, in a Hindi film, the heroine isn't supposed to get involved in a relationship before marriage and if she does, it's usually treated as a dark secret and never alluded to directly. What's nice about Hindi films is that they are always trying to uphold Indian values and tradition, but what's even nicer is when a film like "Dhadkan" comes along, and has no qualms in projecting a heroine who had loved a man and married another. Anjali has a past. She accepts it and carries on with her life. You can't live on love and fresh air, you know. Also, she loves her parents and does what they think is best for her.

Q: How would you react if you were faced with a similar situation in real life?

A: What's beautiful about "Dhadkan" is that the story's so real it could happen to any of us. There must be so many women in our country who have gone through what Anjali does in the film. Sometime in your life, you must have had a crush on someone. But maybe he didn't fit into your scheme of things, and you went ahead and made your life with someone else. Even the thought is giving me gooseflesh. But because Anjali's situation is so unfilmi, it is easy to identify and empathize with her.


Q: Do you empathize with her? Who would you choose to make your life with: The man you love, or the man your parents want you to marry?

A: I don't think my parents would ever oppose me if I really believed in and loved someone intensely. But, if they did, then they have the right to do so. Our parents are more experienced in the ways of the world. They see things in a wider perspective and would know what's best for us. For me, my parents are God. I would definitely do what they wished, because I know for sure my mom and dad would never do anything to hurt me.

Q: Dharmesh Darshan is known to be a hard taskmaster and a perfectionist. What was your experience of working with him?

A: It was a pleasure to be associated with a director like him. I learned a lot from Dharmeshji. He has been responsible for the metamorphosis of Shilpa Shetty.

Q: Arbaaz's exit, Mahima's entry and major alterations in the script. How much has the story of "Dhadkan" changed in the last three years from what was narrated to you?

A: Changes always happen and they're usually for the betterment of the film. Dharmeshji as the director was the captain of the ship. He knew what was best for his ship. I believed in him and just sailed along. It was not my job to worry about what he was doing. And why would I need to be worried? My role hasn't changed. The basic storyline is the same. Dharmeshji has only made some modifications to add to the screenplay and enhance the look of the film.

Q: You weren't upset when you heard that Mahima had been added to the cast?

A: I was more than happy. Mahima has done justice to her role. She's very good.

Q: "Dhadkan" is supposed to resurrect your career and bring Shilpa back...

A: Hey, you make me sound like I'm gone, finished.

Q: You have reportedly bagged the romantic lead opposite Sanjay Dutt in Sanjay Gupta's "Dostana" recently. How did that come about?

A: I signed "Dostana" two months ago. It's just that I didn't speak about it. It's a great role and good fun to be working with my "Jung" co-star and director again. I'm going slow on my career at the moment because I don't want to do too many films.

Q: You want to do more shows?

A: Yeah, I am doing a lot of shows. I have some good songs right now and I should cash in on that, right? Also I'm a workaholic and I can't sit at home twiddling my thumbs. If I get a good show and the money's great I go ahead and do it. I prefer doing a good show to doing a bad film.