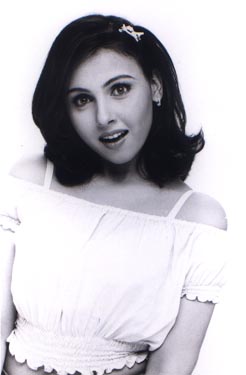 CLICK ON THE PICTURE TO GO TO SUCHITRA KRISHNAMOORTHY'S OFFICIAL WEBSITE

I was not always interested in having a career in showbiz - infact the family I come from is in no way connected to either films or any other related field. I come from a family of IRS officers, chartered accountants, PhD's, MBA's and doctors. So as a child, though I was winning singing & acting competitions I was told that all these extra curricular activities were fine as a hobby, but what was ultimately the most important was that I excel in academics and go on to become (like everybody else at home) a chartered accountant or an MBA or something along those lines. For a while I complied - it was easy - excelling in academics was not too difficult.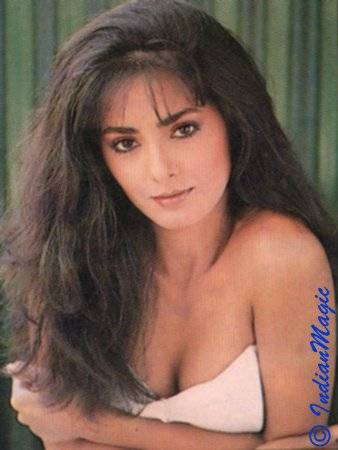 CLICK ON KITU GIDWANI'S PICTURE FOR MORE INFO

Kitu Gidwani unearths the actress in her
(Source : www.apunkachoice.com)

Some people are only too happy steering clear of the limelight.

In spite of having all that it takes to make it to the big league Kitu Gidwani avoids what she calls the Bollywood big route. She rather digs unconventional roles and the films that are far removed from the beaten track.

Presently she is doing a Malayalam film with the National Award winning director Shyamprasad, and an American film with Hollywood filmmaker David Klaus.
While the former film has Kitu playing a polio victim whose one leg is useless, the latter titled Nicobar casts her in an entirely different role opposite the American actor Nick Stahl.

Kitu reveals how arduous it was for her to portray the character of an Anglo-Indian polio victim in Shyamprasads film. Besides sprucing her linguistic grasp over Malayalam she had to act dragging her one leg throughout the film. Kitu, who already has good command over histrionics, is convinced that doing such varied roles helps her explore the many latent potentialities as an actress.

Also in the offing is Govind Nihalanis Deham which is a delectable adaptation of Manjula Padmanabhans award-winning play--Harvest.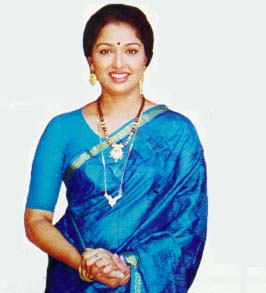 Name: Gouthami
Date of Birth: July 2nd

Place of Birth: Tamilnadu, India
Address: Gouthami
295, T.T.K.Road
Chennai-18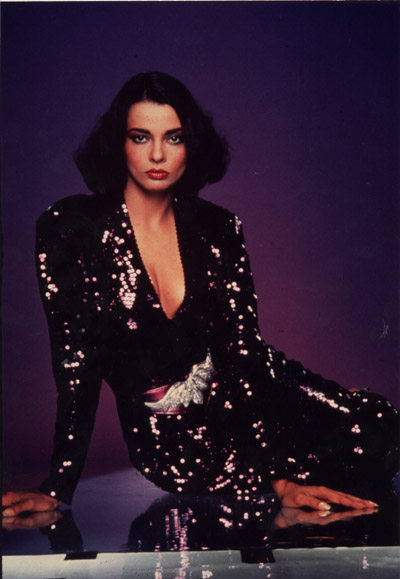 CLICK ON THE PICTURE TO GO TO 'A TRIBUTE TO PERSIS KHAMBATTA'

Persis Khambatta

She was the daredevil who would not take no for an answer. When Indian films found her too 'foreign', she decided to seek her place in the sun abroad. Armed with her title as Femina Miss India, and a battery of photographs, she tried her luck in England. Fate took her to America -- where she wooed Hollywood with unabashed fervour, winning herself the coveted role in Star Trek after her much-publicised audition, which she went for with a shaven head. Persis kept the action going, even after her return to India -- where she compiled the Pride of India, about the many Miss India title-holders through the years. She planned to dabble in television and start a fund for children, but fate decided otherwise. She died young, her head still full of plans, her heart full of dreams.

(Source : www.indiatimes.com)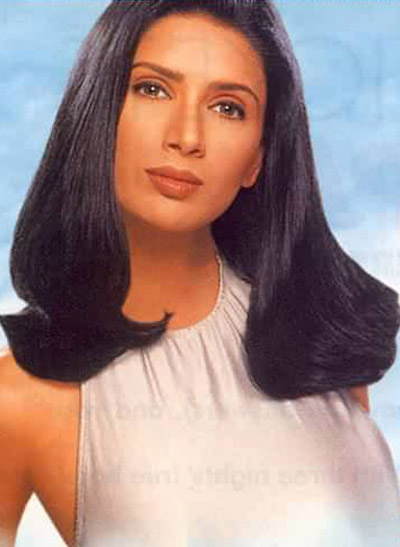 Mehr Jessia



Femina Miss India 1986, Mehr Jessia was queen of the Indian ramp for a number of years, before she voluntarily gave it up to step backstage for choreography. Sports freak in her earlier years, she was more or less cajoled into modelling. Her top ad campaigns are Bombay Dyeing, Lakme, Vimal, OCM, Nivea, Palmolive and Campa Cola. She recently married the Indian ramp God, Arjun Rampal and they make a most striking couple. Mehr also started a modelling agency in Mumbai, called Face One, which introduces new faces each season.

(Source : www.indiatimes.com)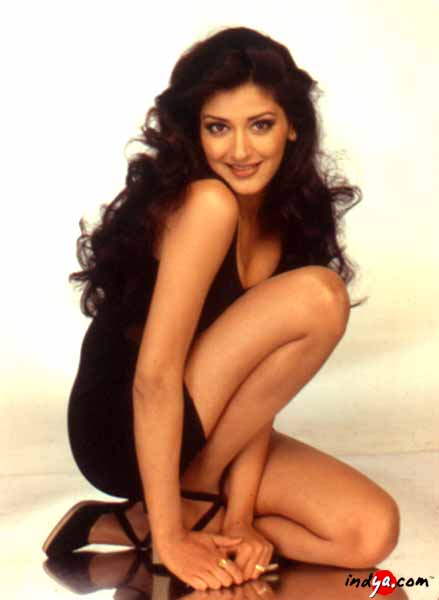 CLICK ON THE PITCTURE TO GO TO SONALI'N FAN CLUB AT www.indya.com

Name Sonali Bendre
D.O.B. January 1
Place Mumbai, India
Occupation Actress / Model
Height 5' 7" 1/2
Family 3 sisters

Address A/203 Building 34, Paradise Apartments, Swami Samarth Nagar, 1st Cross Lane, Andheri (W), Mumbai 400 053, (India)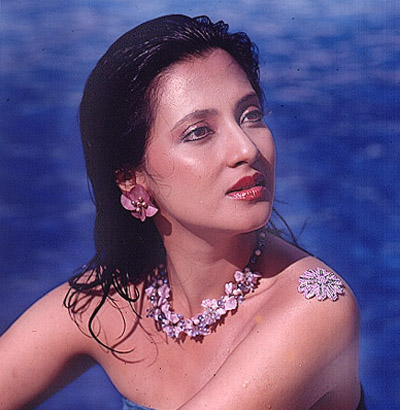 Moon Moon Sen

She's been more successful as a model than an actress. Her silken hair and glowing complexion complemented her sensual bikini shoots. She was a regular on small screen with serials like Jaal, Detective Karan, Nazaare, Ek Tha Rusty (based on one of Ruskin Bond's stories). Even today odd modeling assignment and TV serials, in Hindi and Bengali keep her busy.


Simi Grewal

The actress-turned-television hostess has created a distinct brand of feminity. One which oozes with dignity, rather than oomph and makes a scintillating fashion statement in white. Grewal may not have had a successful film career and is best remembered for her vampish role in Subhash Ghai's Karz, but her state-of-the-art talk show - Rendezvous with Simi Grewal - has created a new benchmark in tele-interviewing. With more and more celebrities consenting to bare their souls before her gentle probing, Grewal has managed to create a loyal band of viewers. Of course, some find her too sweet and sugary, but so what. Nice woman are like that, no?

(Source : www.indiatimes.com)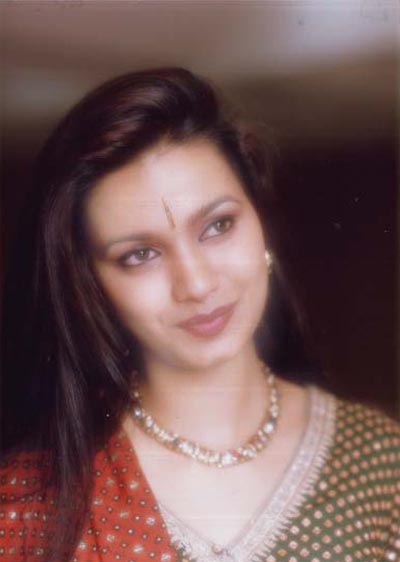 Diana Hayden
Diana Hayden, the ravishing beauty from Mumbai walked away with the Femina Miss India title and then swept the world off its feet by a repeat performance for India, of winning Miss World 1997. As Miss World, she became the name and face for L'Oreal and ambassador for CRY (Child Relief and You).

(Source : www.indiatimes.com)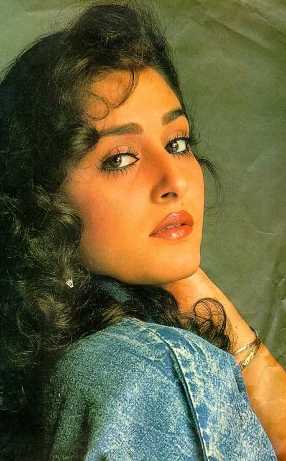 Jayaprada
Some twenty-three years ago when producer M. Prabkakar Reddy rechristened Lalitha Rani, a dancer with finely chiselled features, a slim figure and a flawless peach complexion, as Jayaprada, and cast her as the heroine in Naaku Swatantram's Vachindhi, little did he know he was shaping history. She not only reached the pinnacle in Telegu films but also won the adulation of Hindi-speaking masses with the musical Sargam with Rishi Kapoor and Sharabi with Amitabh Bachhan. She played the doughty, dutiful and all-enduring bahu in film after film - Ghar Gahr Ki Kahani, Sindoor and Jeevan Dhara capturing even the traditon-bound sections of the film-goers. This image exuded confidence in her new role as a star campaigner for a resurgent Telegu Desam Party.

(Source : www.indiatimes.com)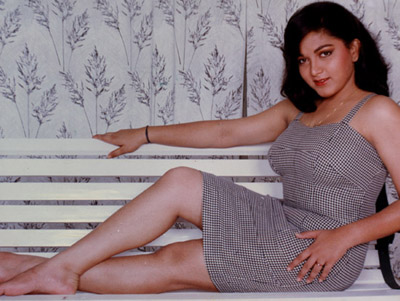 Khushbu
Simple, innocent and attractive, Khushbu has become the heartthrob of many down south. And a temple being constructed for her in Trichy is the talk of the town. Counted amongst the finest actresses and dancers of the Southern cinema, she made her debut some 12 years back with Sri S.P. Mulhuraman's Dharmatthil Thalaivan but shot to fame with Fazil's Varusham 16.
Her only Hindi film Shanthi Kranti also starring V.Ravichandran, Rajnikant and Juhi Chawla did not get her much recognition in the Bollywood, but her performances in Tamil, Telugu, Kannada and Malayalam films stormed the big screen. She bagged the Tamil Nadu government's award for best actress not once, not twice but three times for her roles in Chinna Thambi in 1991, Kolangal in 1995 and Pathini in 1997. Her movies Chinna Thambi and Irattai Roja got her the coveted Cinema Express Award in the year 1992 and 1996. Her most recent projects include Veeram Velanja Mannu, Guru Paarvai and Kannathal in Tamil and Malyalam film Stalin Sivadas opposite Mammmotty.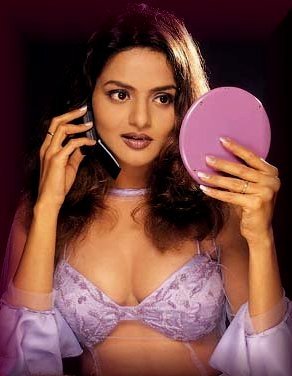 Madhoo

Address: Krishna Kutir, Sagarika Society Juhu Tara Road Mumbai 400 048
Realname: Madhoo Raghunath
Date of Birth: March 26th
Place of Birth: South India
Family: She is Hema Malini's cousin

Meet A New Madhoo Who Is Determined To Prove Her Detractors Wrong. "I Know I Am Good"

She came into her own as the Roja girl; and expectations soared as Roja became a megahit. But, as luck would have it, Madhoo has still not found a firm footing in Bollywood. There is a lot more to Madhoo, the actress and her talent needs to be tapped. For, whenever she has been called to perform, Madhoo has been noticed. Right now it seems, however, the Roja girl is out to prove in her worth with determination..

Q : After Roja there were a lot of expectations from you? Do you feel that you have come up to those expectations?
A : I am very happy with the way I am placed today. People expected a lot of me immediately after Roja, but it did not happen. Basically it is male dominated film industry. One does not get heroine oriented subjects or a film like Roja which revolved around me. you need bold makers to make a film like that. If I wait for a film like that to come my way, I probably would be doing just one film a year, or probably not even that. Such films are not made often. I do not want to sound as if I am boasting, but I can act well. I think I am a good actress and I have often been doing justice to whatever roles I have been given. People who know me, the public, the people in the industry feel that I am good and I have been appreciated in whatever I have done so far.
I am doing all kinds of films and if you ask me on what basis I select my films, it will not be a fair question. Presently, I am also doing a film called Yashwant with Nana Patekar. Now that is a film where one might except some good performance. It is not that I don't perform well in my other films. But I am sure Yashwant is a film that will be appreciated.

Q : But isn't it true that when there is Nana, the others tend to get overshadowed?
A : Nana is a brilliant actor and brilliant person. He even helps you to perform well. now, my challenge lies in a film like that which has Nana Patekar. Knowing that he is going to be critically acclaimed, knowing that he is going to get such so much of appreciation, I should strive for such performance, so that people say that she was equally good if not better. Madhoo has matched him or she has been better in a scene.
I would rather work with the greatest so that I may probably be better than them. One can never know how good or bad one is unless there is competition. If you are running alone you will never know if you are first or last. Only when you run with people will you know if you are first or last. And even if you come last, there is nothing to be sad about. You can always work hard and probably beat them in the next race. But you have to take the challenge. It is not unhealthy competition.

Q : When You enact a role, do you feel kind of drained out by the end of the day?
A : I feel very, very alive. it is like tapping your heart. You are crying but still it drains you emotionally. it gives you a very different feeling. Basically, you should be able to switch off and on, but with me, part of it tails over.
The Character you see on screen is different from the Madhoo after pack up. But somewhere after working day in and day out, the two people merge and you don't really know when the real you is there. Like, sometimes, before the camera it is the real you who is probably doing a particular scene. But sometimes, sitting between friends you are still acting. If you analyze yourself, you find that you have lost the difference.
As a person I have grown in confidence and a lot of it could be attributed to my being in the profession and doing things independently

Q : Would You call Yourself a director's actress?
A : I feel I can perform any role that is given to me, be it serious, comedy, anything, but I am always better when the director knows what he wants from me. Quite frankly, I am not doing one or two films at a time. I am doing quite a few films, so the director should know exactly what intensity he wants from me. The better the director, the better will be my performance.

Q : Coming to your south Indian films, how come you have given better performance there?
A : I was introduced by K Balachander, the legend, I worked with Mani Ratnam, K Raghavendra Rao, i.e. different directors from different schools. I like to think I am a director's artist. I won't say that the directors with whom I am working here are bad. I think the approach to film making is different in the South. it is not only me. Ask any of my colleagues. All of us are doing it equally well or not so well. In the South, I have worked in Tamil, Malayalam and Telugu and I have also worked in one Kannada film.

Q : Do You have any bitterness of grudge against anyone?
A : Today, I have absolutely no bitterness or grudge against anyone. I am happier than I have ever been in my life before. Everything I attribute to experience. Anything going slightly bad input down to experience. Today, I am a better person, more understanding I guess. But I am not bitter. Even if someone has hurt me, I am not going to turn my face away from the person if I see him. I am going to be nice to him. I have nothing to complain about. If probably, I was still in the dumps today, then I would have been bitter. God has been kind to me.