Gabriela Sabatini

Birthdate: May 16, 1970

Birthplace: Buenos Aires, Argentina

Residences: Buenos Aires, Argentina; Key Biscayne, Florida, USA

Height: 5' 9" (1.75m)

Weight: 130 lbs. (59 kg)

Plays: Right - handed

Status: Retired (turned pro on Jan. 1, 1985)
First appeared on computer at No.72 in October 1984

Ranked No. 1 on ITF World Junior list for 1984; won a total of six junior titles

Ranked No. 1 in South America and Argentina 1985 - 95

Was youngest player ever to capture the Orange Bowl 18s when, in 1983, she did so at 13 years, seven moths and one week of age

Formerly youngest semifinalist ever at Roland Garros; in 1985 she was 15-year and 3-week old when she lost to Chris evert in final-four

At 1985 Hilton Head, upset three top 10 players -- Zina Garrison (No. 9) Pam Shiver (No. 8) and Manuela Maleeva (No. 5) -- to reach final, losing to Chris Evert; Ranking jumoed from No. 33 to No. 18 after event

Defeated Chris Evert in semifinal match at 1988 Boca Raton, first defeat of Evert in six meetings; went on to defeat Graf in final, for first time defeat of Graf in 12 meetings
Captured Silver Medal in singles at 1988 Olympics Games in Seoul

At 1990 U. S. Open, knocked out Steffi Graf 6-2, 7-6(7-4) in final to win first Grand Slam ecent in career

Extended Monica Seles 6-4, 5-7, 3-6, 6-4, 6-2 before losing in the first-ever five-set Virginia Slims Championships final in 1990

After 42-tournament title drought, earned back-to-back titles begining with 1994 Virginia Slims Championships, followed by 1995 Sydney; defeated Lindsay Davenport in finals of both events

At 1994 Virginia Slims Championships, ended Martina Navratilova's career with first-round upset

Surpassed $8 million mark in career earning following 1995 Lipton, becoming fifth woman to cross that milestone

Launched her own perfume, Gabriela Sabatini, in May 1989;

Later launched Magnetic and Cascaya perfumes
in 1991, signed a multi-million dollar contract with Pepsi, becoming the first female athlete to do so

Recipient of 1991 Corel WTA Tour Most Improved Player Award; named 1985 Corel WTA Tour Most Impressive Newcomer; Named honarary chairperson of special Olympics/WTA Players Association program in March 1993

First tennis player ever to have a doll produced in her likeness, by Great American Doll Company

Appeared in U. S. national milk ad in 1995

In 1992, a fiery orange-red rose was named in her honor "Gabriela Sabatini Rose" marking the first time in history thta a rose has been named after tennis player; other celebrity-named roses include: Ingrid Bergman, Queen Elizabeth, Princess de Monaco, Audery Hepburn, Elizabeth Taylor, John F. Kennedy, Picasso and Cary Grant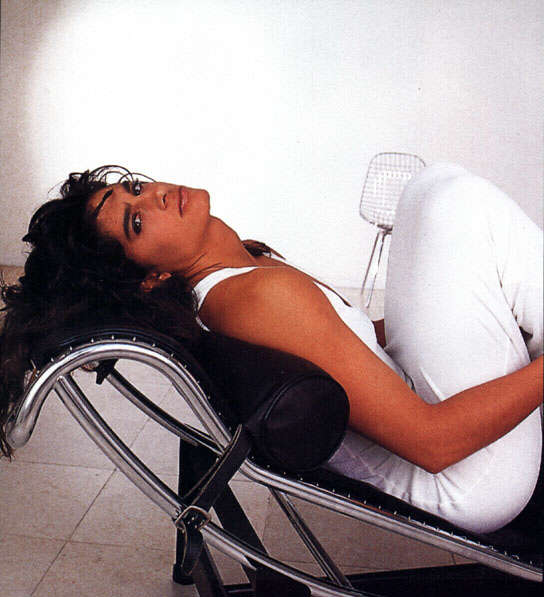 Gabriela Beatriz Sabatini

-Born on the 16 of May 1970, in Buenos AAires, Argentina Currently resides in Buenos Aires & Boca Raton, Florida- Family is made of her father Osvaldo, mother Beatriz, Brother Osvaldo Jr. Married to Catherine Fulop and has two daughters Oriana Gabriela, and Tiziana.
-Gabriela announced her retirement on thhe 23 of October 1996 in Madison Square Garden, New York. Home to her three major titles:
US Open 90' & The Virginia Slims Championships 88' , 94'.
-Gabriela had turned pro at the age of 114 on 1/1/1985. After 11 years of professional tennis, for the first time in June 96' She dropped out of the top ten (she joined the top 10 on 4/8/1985)
for not participating in the Roland Garros, due to injuries, Only four months before announcing her retirement.

-Number 1 in Argentina and South America since 1985 till the day she retired.
-The youngest player to win the Orange BBowl Trophy for 18 year-olds, At the age of 13 years, 7 months, and 7 days.-Is a member of the Olympic family.
-Was the very first female athlete to siign a multimillion-dollar deal with Pepsi.
-In 1992 became the very first athlete tto have a rose named after her, A red orange fiery rose was named -The Gabriela Sabatini Rose-.
-The Great American Doll Company createdd a doll in her liking in 1994.
-Launched her line of perfumes in 1989 sstarting with "Gabriela Sabatini", "Cascaya", "Magnetic", "Bolero" in '98, "Wild Wind" for men & Women in '99 and her latest Summer in '00 with the German Company Muelhens. All achieving great success.
-Signed a deal with Warner Latin Americaa, Did "Warner Break" (a show for kids).
-Produced a line of linens "Estradaa" and "Activity" with Veritex.
-Wrote "My Story" a motivationnal book for children, published in 1994.
-"Dancing On the Court" by Yukkihiko Shima , an artist with the camera presented Gaby in many different beautiful ways on the court in his book, published in 1997.

-Chosen as an ambassador for Argentina to Promote the Argentine beef and wine by the president De La Rua in May 1999.

-Took the Best Athlete of The Century Award ( Konex) in Argentina in October,1999.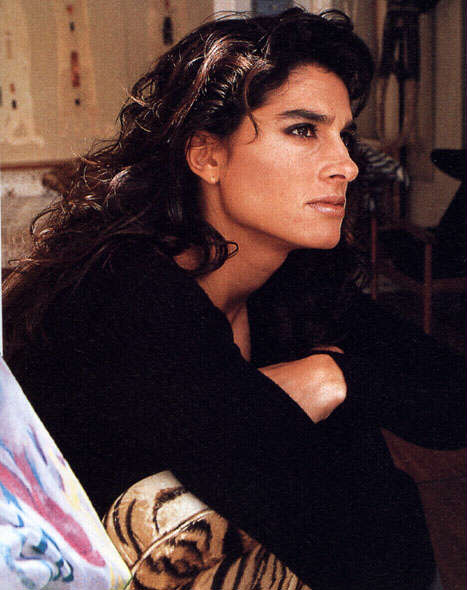 FAREWELL GABY

by Karen West

On Thursday October 27th Gabriela Sabatini called a press conference at Madison Square Garden to announce her retirement at the age of 26. As a Gaby fan for more than ten years I was saddened by the news, but not surprised. Having watched her defeat in the first round of the European Open in Zurich the previous week, I had wondered about the possibility of imminent retirement. Her opponent, Jennifer Capriati - on the comeback trail after a long layoff, is a player who had, over the years given Gaby many close matches. Ranking and form favored Gaby as the winner and after the first game it looked to be a fairly straightforward victory for Gaby. She played a good defensive game moving Jennifer around the court and looked very solid. Unfortunately as Jennifer lifted her game Gaby's proceeded to fall apart, with her serve doing the most damage as she struggled with her second serve giving away many valuable points with double faults. Jennifer took victory 6-3, 6-4, little knowing that the match would be Gaby's last of her professional career.
Gaby has not won a title since January 1995 in New South Wales and was not helped earlier this year by a long layoff with a stomach muscle injury that saw her miss the French Open and Wimbledon. During that time her ranking dropped out of the top 10 and she was unable to reverse the trend after her return to the game in July this year. She was ranked at 29 in the world when she announced her retirement having suffered two consecutive first round losses. Gaby first appeared on the computer in October 1984 at number 72, aged 14 following a highly successful junior career that saw her become the youngest ever winner of the Orange Bowl 18s, in 1983 at the age of 13. By 1986 she had reached the top 10. Her highest ranking of 3 was first achieved in 1989 and she then stayed in the top 10 until this year. From 1985 to 1995 she appeared in at least one grand slam semi-final each year, winning at least one title per year in the same period with the exception of 1993. Thoroughout her career she has amassed over $8 million in prize money and has earned millions endorsing Yahamha Racquets, Head clothing and footwear, Gosen strings, and Pepsi. Perhaps her most talked about endorsement was in 1995 when she appeared in a US national milk ad complete with milk moustache.

Over the years Gaby has worked with a number of different coaches including Dennis Ralston, and recently Juan Nunez. But it was Carlos Kirmayr who helped her adapt her game from the defensive baseline play she had favored since watching her idol Guillermo Vilas when she was a kid. Gaby had always possessed natural talent and in 1990 she surprised many when she played an attacking serve and volley game to beat Steffi Graf, 6-2 7-6 (4) and win her first grand slam at the US Open.

Her victories continued in 1991-2 when she beat Monica Seles at the peak of her career, in two consecutive Italian Open finals. She also had a string of victories against Steffi Graf at the same time, most notably in Florida where it seemed she could do no wrong. Gaby came very close to taking Steffi Graf's number 2 world ranking and was within grasp of the number one spot, another grand slam victory could have made all the difference. But, it was not to be, in the Wimbledon final of 1991, she almost clinched a second grand slam victory against her old rival Steffi Graf, but despite coming within a couple of points of victory she was unable to complete the task. After winning five titles in 1992 Gaby did not win one in 1993. Instead she reached a career low point at the French Open when she had Mary Joe Fernandez at 6-1, 5-1 and then lost the match 1-6, 6-7 (4), 8-10 in the longest grand slam women's match of the open era at three hours and 36 minutes. Her career drought continued into 1994, but finally ended at the Virginia Slims Championships where she ended Martina Navratilova's career by beating her in the first round and going on to take the title beating Lindsay Davenport in the final. This was followed in January with another defeat of Davenport in the New South Wales Open final.

Few players have been as popular with the fans, over the years, as Gaby. Wherever she played she was guaranteed to have a loyal army of supporters applauding every point. Undoubtedly her looks have attracted fans, but she has also been such a consummate professional on court, has always been immaculately turned out and has shown such great sportsmanship, very rarely questioning calls, that her popularity has been entirely justified. Looks aside, the most attractive element of Gaby's game is her style. She has a great deal of natural talent which is evident from her stroke making. Where many players are mechanical in their actions Gaby is graceful. She has such great touch and natural ability on the volley that it really is a wonder that she was not a serve and volleyer from the start. Perhaps if Gaby had been born in a different country or had idolized someone other than Vilas there would have been a different story.

Although Gaby will be best remembered for her singles career, she was also a successful doubles player. She won 12 doubles titles between 1985 and 1995 with a variety of different partners, including a 1988 grand slam win at Wimbledon and three French Open finals with Steffi Graf. Other winning partnerships were with Martina Navratilova, Jennifer Capriati, Helena Sukova and more recently Brenda Schultz-McCarthy. In Chicago 1995 with Brenda, Gaby ended a long drought winning her first doubles title in five years. This team was a successful one that from 1994-5, won two titles, reached two finals and a Wimbledon semi-final. Where Gaby and Steffi had been a strange but effective team, who communicated infrequently and seemed more like two separate players on court rather than a team, Gaby and Brenda were a partnership. They complemented each other well, with Gaby's touch at the net and Brenda's powerful serve.

Many people have written Gaby off as a one-hit wonder, who was only able to achieve one grand slam success and was unable to reach her full potential by reaching any higher than a number 3 world ranking. Let us not forget that Gaby is a courageous player who changed her game, while still ranked in the top 5, to achieve grand slam success. Few players have attempted such a bold move and succeeded.

Gaby has given a lot of enjoyment to tennis fans worldwide during her twelve year professional career. While it is sad to see her retire, there can be no doubt that she has earned a long and happy retirement.