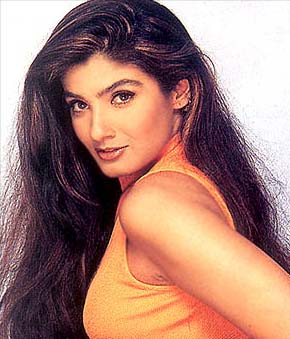 Full Name : RAVEENA TANDON

Date Of Birth : Oct 26

Place Of Birth : Bombay

Height : 5'6"

Status : Single

Mailing Address: Tandon House, Nippon Society,

Juhu Church, Juhu, Mumbai 400049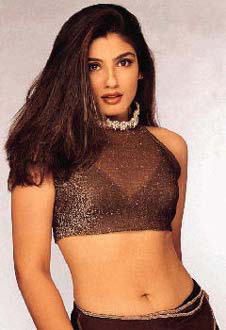 BIOGRAPHY

(Source : www.mtvindia.com)

The mast mast girl who sizzled and simmered her way into a thousand hearts with the "Tu cheez badi hai" number from Mohra. Well, ravishing Ravs is in the news again shes scheduled to burn up the screen very soon with Officer opposite Sunil Shetty and Daman opposite Shayaji Shinde.

Whats more Raveena is on MTVs Hot Seat all this month. Dont forget to catch her on air.

The ABCs

Raveena, daughter of Director Ravi Tandon, had an education. Really. She went to Mumbais Mithibai College before the inevitable film offer came her way. In fact, she was first offered a role in Fateh, opposite Sanjay Dutt. Raveena wasnt keen and lord knows what happened to Fateh.

Anyway, just about that time Salman Khan made a stunning debut with Maine Pyaar Kiya. Overnight, a new sensation was born and when G.P. Sippy offered Raveena a role opposite the killer Khan in Patthar ke Phool, she just couldnt refuse.

"My friends were more interested in the film than me coz they wanted to meet Salman," she says. Well, she said yes, and the rest is history. Pathar ke Phool, incidentally, sank without a trace.

Stairway to stardom

However, despite Pathar ke Phool sinking like the Titanic, the industry and the audience sat up and took notice. She went on to do a whole lot of forgettable roles and some cool ones in flicks like Shool, Aatish, Mohra and Dilwale.

Today, she has found her place under the sun not just as a pretty face but as a thoughtful performer as well. Her two forthcoming films Aks and Daman, require her to do more than shake a leg and act cute. So dont forget to check her out!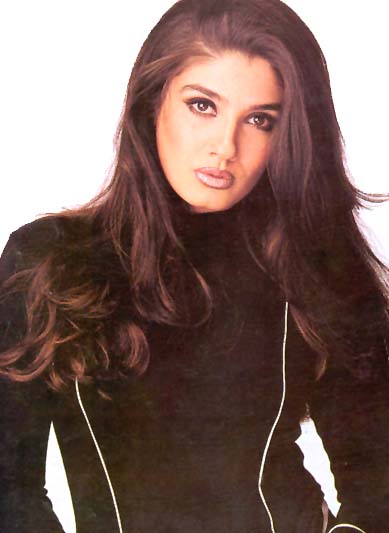 RAVEENA TANDON
"In Aks, I play a club dancer who has no qualms about her profession."

(Source : www.indya.com)

She sizzles hotter than the chicken shaslik sizzler in Rakesh Mehras Aks. The mast mast girl is back with a vengeance. I cant get over the calls Ive been getting for Aks. Especially the song Yeh raat. And to think I was shooting three shifts when I shot for that song! I was so tired.

Raveena grins when I meet her at her plush penthouse. All credit goes to Mehra. Hes done a fantastic job, she gushes. Just then, Rakesh Mehra calls and its back to the Aks effect again.

An Aks-rated exclusive:
How did Aks happen?
Its a very funny story. Rakesh Mehra had called me to say he wanted to discuss his film with me. I had heard about it so I asked him to meet me where I was shooting. I was in a hotel room and in walked this cowboy with long hair, a hat and all. I was like, Hello, who are you? And he goes, Maam, Rakesh Mehra. It took me like ten minutes to get over the shock. What happened after that is Aks.

Your character has shades of grey to it, right?
Look, its a very real role. I play a club dancer who has no qualms about her profession. She's not into it because she has to pay the hospital bills for some brother dying of cancer, like it normally happens in Hindi films. Shes what she is. Take it or leave it. It was a pleasure doing this role. You grow so much as an actor when you do a real role like this one.

How was it working with Amitabh Bachchan?
Ive worked with Amitji in Bade Miyan Chote Miyan earlier where I played his sister. But in Aks I have these heavy-duty scenes with him. I had to say all these bold dialogues to him. I would constantly be like, Amitji, I hope Im okay. I mean with Manoj (Bajpai) I share a completely chilled out rapport. Ive done Shool with him and we are like on back-slapping terms. But Amitji, I must say, was a great help. He was so encouraging. Plus, working with him teaches you so many things. Hes a walking-talking institution.

Hows life after winning the National Award?
Great. Im having a blast. Ive got Aks coming up. Then theres Kamal Haasans Abhay. Its been great working with Kamal Haasan. Then theres Arjun Sajnanis Agni Varsha. Its a period film based on a play by Girish Karnad. Then theres a bilingual Im doing with Mamooty. Im balancing my lineup well. The right mix of serious films along with my usual fun films with Chi Chi.

So, whats up on the personal front? Are you seeing anybody?
Wheres the time? Ive been so busy working all the time. My idea of a perfect guy is someone nice-looking with a good sense of humour and who will be faithful to me. But where do you find such men, these days? Hard to find, no? And honestly, its not even as if Im searching high and low for one. Im having too much fun working.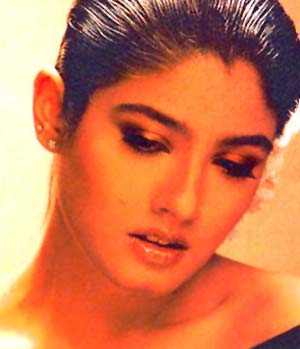 RAVEENA TANDON
"I feel on the top of the world!"

(Source : www.indya.com)

Signs that the mast mast girl is maturing and changing significantly have been apparent for quite some time now. Last year, when Raveena did a serious, no-songs, off-beat film called Shool with Manoj Bajpai, you knew she was diversifying as an actress. Her role as a victim of marital rape in Kalpana Lajmi's Daman and the Best Actress National Award for the film only confirms this metamorphosis. But does that mean Raveena is bidding good-bye to the razzmatazz of commercial cinema?

indya.com corners the vibrant and triumphant Raveena.
How do you feel after winning your first national award?
I feel on top of the world after winning the national award for Daman. I have really worked hard for it. These kind of controversies dont matter and they have not taken away my feeling of a high.

What about the allegations about manipulations of the award in your favour?
I have not manipulated the award, nor did I campaign for the BJP to gain favours. As you know, the same man who made allegations against me being given the award (because of my alleged links with the BJP) has cleared me of the whole controversy. What more can I say?

Will you now be doing more of serious cinema or will you continue to do Shaher ki ladki type of films?
I will continue to do commercial films since these films have made me what I am today. How can I stop doing these films? Of course, if something that is similar to Daman comes my way, I shall definitely do the film. There is no conscious effort to change my image. Immediately after Daman, Aks will follow. I play an ultra-glamourous character there, then there is Ankhiyon Se Goli Maare which is a total comedy. Please, I am not announcing that I am doing only art cinema from now on. All I can say is Ive had my fill of those typical roles which the audience is quite tired of.

How much of Daman did you relate to?
I had no problem relating to the character I played in Daman. The film handles a very strong social issue. Abuse against women is a worldwide problem. Im a woman and can identify with it to a certain extent. Ive been one of those few lucky ones who was born in a house where gender was never an issue. If my brother was treated in a certain way, so was I. Besides, I have some friends who have gone through what my character in Daman goes through.

Was it easy playing the mother of a teenager in Daman?
There was no problem at all. For the simple reason that I have two teenage daughters at home whom I look after. It is easy to portray as an actress what I actually experience in real life!!






RAVEENA TANDON
"I'm surprised Akshay got married."

(Source : www.indya.com)


Raveena is on the threshold of new phase in her career. Her zooming career was nipped when she got involved with Akshay Kumar and stopped signing movies. After the break up she had to start all over again. Newer, younger faces had hit the screen by then. So she found another niche for herself. Shool was her first foot forward in that direction. Then came Aks and Daman. Out of the headlines she rocked a couple of years ago, how is this fiery actress faring in her quieter times?

How does it feel to be out of the main headlines?
Doesn't matter. I'm relieved actually. I am going through the most interesting stage of my career. When I joined the industry, I used to treat my work lightly. Everything was chalta hai. Chalo, hairbrush kiya, thoda make up lagaya, set pe chale gaye. I never took acting seriously. When I started getting serious, I was only offered your usual song and dance variety roles.

Why did you take them?
Beggars can't be choosers. I had almost quit films and I was out of the scene for a while. Then life threw a shocker at me and I was desperately trying to make a come back. So I said yes to whatever I got. Luckily for me at least all those films did well.

How did you get so deep into parallel cinema? You'd never shown interest or inclination towards the serious stuff earlier.
While I was doing my Chitrahaar stint in films (when I did only song items in the movies), I got Shool out of the blue. It was a role that required me to emote. It was an amazing experience doing that film. And then close on the heels of Shool came Kalpana Lajmi's Daman. And now, I'm doing Kamal Haasan's Abhay. It's an interesting role. For that matter, both Daman and Rakesh Mehra's Aks will release at the same time.

You're playing the mother for the first time in Daman, was it difficult identifying with it?
I could easily identify with the character because I have two teenage girls in my house. When they came home after I adopted them, they were babies. So I can exactly identify with my character in Daman. Another thing that attracted me to Daman was that it deals with a social issue like rape and abuse of women, which is a worldwide problem albeit often brushed under the carpet. These are the things we don't want to look at or admit that they exist in our sane and cultured society. But they do, believe me. You will be surprised by the statistics. It's frightening.

People who have seen Daman are going crazy about your performance.
I am really flattered by the kind of reaction I have got from the critics as well as others who saw the preview of Daman. I've never got this kind of appreciation for any other role. It feels great.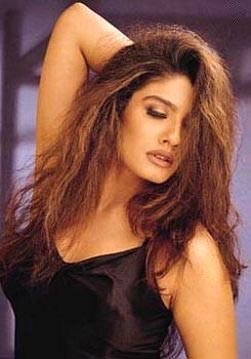 RAVEENA TANDON
"The person in front of you suddenly from a normal thinking person turns into a bumbling idiot. That's romance"

(Source : www.indya.com)

She's been unlucky at love lately, she's been named the Chitrahaar Queen of the industry and she's just about made a come back, but Raveena Tandon seems to have maintained her sense of humour throughout this roller-coaster ride that life had tossed her.
First thing you do in the morning?
Run to the loo!

Last thing you do before you go to bed?
Talk on the phone... or read.

What do you sleep in?
My pyjamas.

Have you ever been to a shrink?
No. But I've wanted to send quite a few people to a shrink. No, no names please.

Do you think only the mad go to a shrink?
The problem is that the mad don't.



Are you a romantic?
Yes, yes, yes!!!

Are you the poetry and flowers kind?
Nope, all that's too trite. I like spontaneous gestures and surprises.

What is your idea of romance?
When the person in front of you suddenly from a normal thinking person turns into a bumbling idiot. That's the cutest thing about romance. Yes, romance to me is all this and much more.

What's the stupidest thing you've ever done?
I've lost count. I keep doing stupid things.

What's the most sensible thing you've done?
Sensible and me? You must be joking.


Do you say 'No' easily?
No