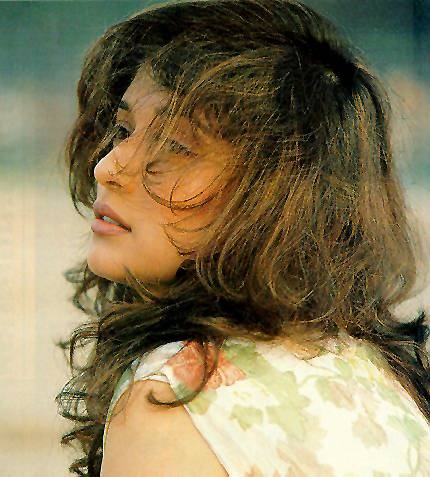 Biography
(Source : www.apunkachoice.com)

Madhuri Dixit made a humble beginning with the Rajshris. The film was called Abodh and had the then Tollywood (Calcutta) superstar Tapash Pal cast as her hero.

The film bombed and Madhuri's future in Bollywood did not seem too bright. Filmmaker Subhash Ghai wasn't detracted though. He always said that Madhuri had the potential to be the number one and maintained at that.

Ghai did not give up on the Maharashtrian beauty and re-introduced her in Ram Lakhan. The film succeeded in exposing Madhuri's beauty and people dubbed her as the reincarnation of Madhubala.

The film that cut the ice and established Madhuri in the big league was N Chandra's Tezaab. The film was a huge success and the Saroj Khan-choreographed 'Ek do teen' entered the hallmark of extremely popular dance numbers. The item with a liberal dose of jhatkas not only propelled Madhuri towards stardom, it also established Saroj Khan as a hot dance director.

After Tezaab, producers and directors waited for months to let Madhuri's dates coincide with Saroj's. Meanwhile, Subhash Ghai was still carving out a strategy to present Madhuri as the successor to the then reigning queen Sridevi. Khalnayak fulfilled his dream. Madhuri became the next super girl with 'Choli ke peeche'.

Madhuri still reins but marriage has made changes in her list of priorities. She has cut down on her assignments and spends more time with her medico husband based in Los Angeles.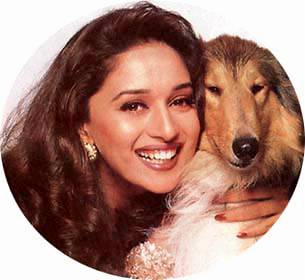 Interview

(Source : www.indya.com)

MADHURI DIXIT
"Every child wants to be an actor"


Madhuri is glowing with good health. Slimmer than she's ever looked, she's in great shape. Her hair's grown long and lustrous and her smile has become even more enigmatic. She looks extremely relaxed on KC Bokadia's sets. Probably the best thing to happen to her was her wedding. Her fans continue to throng the studios for a glimpse of the dhak dhak queen. Clad in a grey silk and net lehenga kurta with heavily embellished silver zardosi, designed by Reza, her hair done up in a sophisticated bouffant with a lock dangling on her cheek, she looks seductive and sexy.
Were her work schedules permitting her time with husband Shriram? "I've just returned from a long holiday with him in Florida," she said, her face saying the rest. "I'm not doing so many films now. And there's a decent gap between my schedules that permit me to take off at least a month in the US. Otherwise it doesn't make sense. I also manage more time now with my parents here in Mumbai." She seemed to have worked it all out for herself.

"I'm right now working on KC Bokadia's film Hum Aapke Hain Sanam." The film is directed by the South Indian director Adiyaman. It is a remake of his own Tamil film Thotta Chinungi (Touch me not). In the making now for three years, the film also stars Salman and Shah Rukh Khan, Suman Ranganath and Atul Agnihotri. Her other films are Deepak Shivadasani's Yeh Raaste Hain Pyar Ke with Ajay Devgan, and Sunny Deol in a guest appearance, and Bhansali's Devdas with Shah Rukh and Aishwarya.

Sanjay Leela Bhansali of Hum Dil De Chuke Sanam and thirty-five awards fame had always wanted Madhuri as the heroine for every film he made. He finally got the nod from her with Devdas. Was she looking forward to playing Chandramukhi in Devdas? "Hmmmn," she displays just a glimmer of a smile. She is loath to talk to the media yet. "I have not much to say. People still only want to know everything about my marriage and my husband." But I was asking her about her role in Devdas.

Can't expect human beings to be excited all the time, can I? I decide to sail tepid waters with her. What did she do when she was in the States? That doesn't work with her either. She shrugs her shoulders matter-of-factly: "Oh, I've been going there so many years that I don't end up doing anything particularly new." But marriage had happened to her only in this year, must have made some difference? She smiles: "I did some domestic stuff. We're looking for a house in Florida. In fact, this trip I spent a lot of time house hunting. I've also been working out and exercising a lot because my husband's a health freak."

O! How nice, and what else? "I've been spending time with my nieces and nephews. My nephew is four and I really love him, he's my joy," exclaims the doting aunt. Her four-year-old nephew is the apple of her eye. "We were so dumb as kids. Today's kids are too sharp and too aware. Of course, films and television is the largest influence on them. They have independent minds and voice their opinions and choices. Every child from the age of two wants to be an actor or actress and they are actually such good performers." Gawd! That sounds like an epidemic!

From there we digress into schooling and right education systems for the right kind of upbringing and the pressures of performance and competition. If what Madhuri claims is right that every child wants to become an actor then it's time we acquainted those poor little things to more options. Sure, there's nothing wrong with acting, but we can't be a nation of only actors can we? "I had a wonderful childhood," Madhuri gushes. "We didn't grow up too fast. Today's kids, I feel, miss out on a large part of childhood. The simple pleasure of going down to play is fast disappearing. Children have almost no physical activity." So, she knows what to do when her kids are born. Send them to play.

Laughingly she recalls her nephew's birthday when she had taken him to the store to buy him a gift. She wanted to buy him a SEGA set. "At the store though, he was completely uninterested. He settled for a small dinky car, which I could have bought him anytime. I asked him: "But what about SEGA?" He was not interested. 'I only want this little car,' he said. Kids! Really!" she shook her beautiful head.

Was she hooked on to computer games too? "I do surf the net, I like to keep up with technology, though I feel that the net revolution has spoiled our kids for us." However she finds the net to be a tremendous source of information. "But every dot com is the same," the actress opines. 'Dot coms', please lend your ears. Here comes Mrs Nene.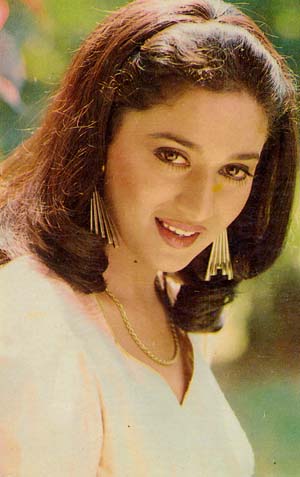 (Source : CINEBLITZ '95, Souvenir Special)

I love : My parents, brother, sisters, nieces and nephews.

I hate : Cockroaches!

Im afraid of : Cockroaches!

Im superstitious about : Walking under the ladder.

I get turned on by : Music - soft and sentimental.

My biggest fear : Of losing people I love

My strength : My family and friends.

My weakness : Animals (I hate to see anybody hurting them).

My sex-appeal : You tell me!!

My wildest fantasy : That Im tap-dancing with, Gene Kelly.

My hero : God!

My spice : Im cool man!!

My favourite bedroom line : "----------" (well, thats a line is it?)

My biggest assets : My eyes and smile.

My passion : Acting.

My greatest necessity : Clean bathrooms!

My favourite possession : Memories, and all my fan mail.

What tires me most : Interviews!!

What touches me most : My clothes (Ha,Ha!)



Fav. Hero (Indian) Balraj Sahani
Fav. Hero (Foreign) Gregory Peck
Fav. Heroine (Indian) Nargis
Fav. Heroine (Foreign) Ingrid Bergman
Fav. film of all time Roman Holiday

Five All-Time Favourite Western Film:
1.Roman Holiday
2.Gone With The Wind
3.All About Eve
4.Non Voyager
5.Amadeus


--------------------------------------------------------------------------------
Five All-Time Favourite Hindi Films:
1.Garam Hawa
2.Ganga Jamuna
3.Sholay
4.Padosan
5.Chalti Ka Naam Gaadi


--------------------------------------------------------------------------------
Madhuri's Favourite Dance Numbers:
1.'Ek do teen...' -- Tezaab
2.'Gori ki chaal...' -- Sailaab
3.'Dhak dhak karne laga...' -- Beta
4.'Choli ke peechay kya hain...' -- Khalnayak
5.'Ankhiya milaye kabhi ankhiya churaye...' -- Raja


--------------------------------------------------------------------------------
All Time Favourite Dance Numbers:
1.Vyajyantimala -- Jewel Theif -- 'Hothon pe aisi baat...'
2.Sandhya -- Jal Bin Machli Nritra Bin Bijli -- 'Kajara lagake...'
3.Waheeda Rehman -- Neel Kamal
4.Padmini -- All her films
5.Helen -- Inteqaam


--------------------------------------------------------------------------------
Additional Facts:

Wanted to become a pathologist.
Favourite dental cream `Colgate'.
`St. Aibes' is her favourite shampoo
`Lux' her favourite soap.
Loves`Nina Ricci' perfumes.
Loves to sketch and practise Kathak
Tennis is her favourite sport.
Is an introvert.
Loves monsoon.
Favourite books - Quiver Full of Arrows and Roots
She's also mentioned 'Thoughts' but I can't find it!
Loves reading comics.
Believes in God.
Loves to live simply.

Clothes
I prefer casual clothes--jeans, loose shirt or salwar khamiz. For fomals -- sometimes like a good ball gown.

Obsession
My films, my work

Food Habits
Favourites: Pohe and other Maharashtrian dishes/backed, cheesy stuff. A few years ago, she mentioned, "mum's green Masala Fish Curry".

Fussy about:
I hate oily stuff and pungent food

Do you diet?
My dancing does the dieting for me.

What scares you the most?
Cockroaches

Hate
Interviews, especially if there is a string of them.

Dream
Always pleasant dreams -- no nightmares.

Dream man
Sir Winston Churchill: Orator, warrior, PM and writer

Dream woman
Smt. Indira Gandhi: power, wit, dignity

Any one memory that doesn't leave you
My first film! Abodh

Your weakness
Chocolate--now it's my strengh as I've given up eating them.

The most outrageous pass made at you
No one would dare

You are possessive about
Many things of no value to others, but priceless to me: things picked up at fairs, photographs, knicks knacks.

Cologne
Specially blended for me by a French perfume house

Your favorite pastime
Music, all kinds, but music. Cassettes, CDs.

Anything you particularly recall about your struggling days
Almost everyone saying I'd never make it at any level. One of whom was Meenakshi Sheshadri

Music
What kind? Favourite number: Group: A lot of country western, Uriah Heep, Simon and Garfunkel. In Indian all from Kishori Amonkar to Bhimsen Joshi

You are sentimental about
My family

Do you play practical jokes
I love to. I have the most realistic replica of a snake. Nobody has escaped the fright when I fling it at them.

Family and family business
Ours is a family that for generations has been in the manufacture of electical thermal and later electronic machines--from ovens to control panels to con soles.

Favorite holiday resort
I'm still discovering exotic places.

You admire
Straight forwad people who do not have different tongues for different people.

Closest friend
I shall never reveal her name for then it will kill her privacy.

You believe in
Destiny

Best compliment
M. F. Hussain's decision on paint a series of me.

Any pets?
All animals, especially cats

Any colors you are crazy about
Orange and all the autumnal shades

You are booked in the industry till
Till the day I decide to quit.

The saddest moment in your life
When our family cat, Sona, died after being with us for 15 years.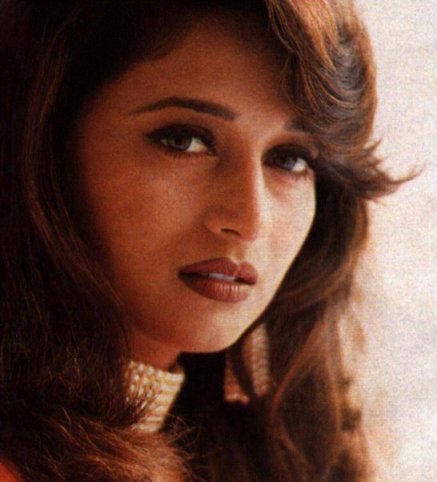 Interview
(Source : www.indiatimes.com)

Amidst peals of laughter, actress Madhuri Dixit discusses movies and marital bliss.

What is more exciting these days? Being an actress or a wife?
I dont know, I think both are really exciting. Because now I have a life. (laughs) And I also have a profession. Thats great.

Does the film industry look at you differently at Mrs Madhuri Dixit-Nene? Not really. I guess probably I wont get and I didnt for a long time get that kind of roles where you run around trees and behave like a teenage girl. I guess I wont get a film like Dil. I am past that. Also because I have evolved as an actress. I am looking for better roles, different things to do. But I guess I have to be more careful with the way I schedule my films. I have to divide time between US and here.

So how do you divide your time now?
Well, I am trying to be here and there as well. So for the past few months I have been in Mumbai, shooting for my films. In a few days time I will take off and go to the US. To be with my husband for a few months. Then I will come back again and start shooting. By the way, theres been too many things written about Devdas about how I didnt like one of the costumes. Well, nothing like that happened. Things are going smoothly with Devdas. The only reason why I am finishing Devdas before I go abroad is because by the time I come back, it will be monsoon and the rain will spoil the sets. So when I come back, only the indoor work will be left.

Hey, werent you and Ajay Jadeja supposed to do a film together? Yeah, but the whole thing got shelved.

And considering you were spotted at his wedding, whose side did you represent? The groom or the bride?
The grooms side, obviously. (laughs)

But has your marriage kind of limited the kind of roles being offered to you? Like you said, you cant do a Dil anymore.
Not really. Dil is not the only kind of role that there is in this world. There are many others. Like when I did Gaja Gamini, I thought it was an experimental film very different. Lets see what I do next. (laughs)

But people wonder whether one of these days you will take off permanently to the US and settle down with your hubby.
Of course, eventually thats going to happen. And everybody knows that. But when it will happen is something still to be decided...

In the near future?
No, not in the near future. (laughs)

Has Dr Nene seen any of your films?
To tell you the truth, none. I showed him the songs of Pukar. And hes seen a little bit of Gaja Gamini in its rough-cut stage. And how did he react? Gaja Gamini, of course, was a very abstract film. So he was like, What is this? Whos Shakuntala? With Pukar, it was a song routine, and he is not used to seeing songs in films out there. So for him, it was like, How can there be songs? So I had to remind him of the Hollywood musicals on TNT and tell him that we still make musicals. So watch it as you watch a musical. That put things in a perspective for him.

Was he shocked to see you do all those jhatkas?
Not shocked. But he found it amusing. (laughs) So he would say, I know you, I dont need to see all this.

But is it annoying when media attention is focused on your waistline and everybody wants to know whether you are pregnant or not?
I know I have been two months pregnant for the past seven months! (laughs) That shows how much sense people have. I think they should let things be. Things will happen when they have to happen. You cant make it happen. In a rush to print that Oh we were the first one to say, they are jumping the gun. Like one newspaper even got my divorce happening. I guess when you are married, they should leave you alone.

I remember you saying something once about how its exciting to cook for your husband
Its great fun. Because until now I have been only doing it in the movies. (laughs)

So did you learn cooking after marriage or you already were good at it? Oh, its all experimentation! (laughs)

And he copes with it, right?
Oh, yeah, he copes with it. (laughs uproariously) So far, at least! Hes training to be a heart surgeon. As for my knowledge, well, I have seen what they call harvesting. What they do is, when the donor dies, they receive his heart. So I have seen that whole operation. How they take the heart out and transplant it to a person who needs a heart. I have been with him on that...

Was that unnerving?
Initially, yes. Before I entered the operation theatre, I thought they will have another patient on hand. Because I thought I would look at it and faint. (laughs) But I guess because I am a science student myself, I found it very fascinating. It also gave me a perspective on what kind of life they lead. Its very stressful. Because when you go into an operation theatre, there is no take two. They cant say, Sorry, I cut the wrong thing, can we do it again? The patients life is in their hands. So I was like, My God, here I was thinking my life is too stressful...

Want a desi version of this movie!

We couldnt help reminding Madhuri that somebody should remake My Best Friends Wedding with her in the role played by Julia Roberts. Any takers?




MADHURI DIXIT
"I'm very lucky to have married Ram."
(Source : www.indya.com)

Madhuri Dixit looks even more gorgeous as Mrs Nene. Tight fitting jeans and flowing tresses, she has me transfixed at the door of her Iris Park apartment when I go to meet her for this interview. She's lost all those extra pounds, her million dollar face gleams with joy and her tinkling laughter reverberates through the house. "How do you expect me not to lose weight?" She flashes her famous smile. "On our honeymoon itself my husband Ram was teaching how to do abdominal crunches. He's a health freak.

Whenever Ram gets a holiday we spend it on some outdoor sports. We generally go cycling, trekking up in the mountains, or snorkeling. I've even attempted a skiing trip with him. The fact that I fell down umpteen times and made an utter fool of myself is another story. But it was great fun because I was not conscious of the fact ke mujhe koi dekh raha hai or that I'm Madhuri Dixit. I found it hard, initially to lose my inhibitions. I just couldn't get up and go for a walk with Ram. I was not used to any freedom of action back in India or even abroad. But once I overcame that, I had a ball."
What's a typical day in the life of Mrs Nene? That is, when you are with your husband in America, in your house.
Well, Mrs Nene gets up at five in the morning. Ram has to be at work by 6 o'clock, so my day begins early. I like to give him his morning cup of tea, not that he is a tea lover. In fact before we met, he never had tea but I'm very much a chai person. Ram still has only black tea.

Next, I make breakfast for him, a normal fare of eggs and toast. After which he goes to work and I promptly go back to sleep. By mid-morning I would have finished cleaning the house. I love to sweep, swab, do the dishes and hoover the place. Since I have the whole morning to myself, I go grocery shopping to the malls and try to have a meal ready for Ram when he gets back from work.

We have an early dinner as Ram is really hungry after a long day, then the rest of the evening is ours. We chat, since there is so much to know about one another. At other times Ram plays the guitar and he is really good at it so the evening is touched by sheer magic.

Have there been any major goof-ups vis-à-vis your cooking?
Oh yes! Major ones! See I'm no cook. I know that and I think Ram knows that by now too. Initially I managed it to the extent of making bed-tea and breakfast. That's easy. Even making dal chawal was not that difficult. But one day I got a bit carried away and tried my hand at prawn curry. I put the prawns in first and main unko bhunti rahi, during dinner when Ram put them in his mouth they were like chewing gum. The curry was horrible too. But Ram was a great sport and didn't mind it; he just laughed his guts out.

Since then, I've been relegated to a junior position in the kitchen. Ram, who is an exceptional cook, now teaches me the fine art of cooking. As for me I refrain from any more adventures with my culinary skills. Even when I'm alone, I make do with a sandwich. Waise bhi ek aadmi ke liye kaun baneyga.

Being a doctor, his working hours must be erratic?
When he is not on call, he is at home in the evenings. But there are times when he stays back at the hospital and doesn't come home in the night too. The first time it happened, I was very scared. I've never slept alone at night in my life. My mom or my dad have always been with me. This was the first time for me. So I kept my bedroom lights switched on for the whole night. Over and above that I snuggled Ram's two pet cats into my razai and only then I could sleep.

What about kids? Are you planning a family?
Not right now. It's not possible because of my commitments. It would be unfair on my part if any producer suffered on my account. In my entire career I've never let my producers down. I see no reason for it to happen now. I'll have to figure out a work plan before I decide to get pregnant.

Will that mean an end to your career and a farewell to the Film Industry?
That's a decision that Ram has left entirely to me. One of us will have to be home when we have kids so I guess it will have to be me since Ram is so busy himself. In any case I'd want to be with my children. Moreover it will have to be a very exceptional film or a role for me to even consider doing. Let's see what happens in the future.

What about your in-laws, are they OK about you continuing to work?
I'm very blessed you know to be married into a wonderful family. They are a small unit of four and now I'm the fifth. Ram's the only son. I have a sister-in-law, who is highly educated and a well-placed professional. Each person is into his own thing without interfering in the other's life.

There are no restrictions, no untoward expectations of me as the bahu of the house. I wear anything from a pair of shorts to a traditional saree. I love wearing a mangal sutra and sindhoor in my maang, in fact my mother-in-law was very surprised at it. They all have the right mix of Indian values and the western culture. They really have no idea about the Indian Film Industry or my so-called stardom.

They are simple people for whom I'm a professional actress. Period. In fact my father-in-law has started showing curiosity now. He surfs the net for any information on me and lets me know about it. My mother-in-law on the other hand told Ram very sweetly that I was a very good dancer and he should watch my movies. She strongly recommended my song Que sera sera from Pukar. Promptly a DVD was brought home and everyone watched it together. Ram of course got impatient halfway, because he fails to understand why we actors sing so many songs in our films. When I compare them to the old Hollywood musicals, he just laughs and is not convinced.

Do you think the differences in upbringing and background or even professions works well for your marriage?
I think the reason we are so perfectly matched is because of the different worlds we come from. In my work area there is always room for a second take but these guys are not allowed a take-two. It's a job full of responsibility and I respect Ram for that. In fact I've accompanied him for what is termed as a 'Harvest Run' in medical parlance. It's when someone dies and his body organs are transplanted into another needy person. The whole process has to be finished in a time span of four hours. The emergency signals start flashing and the choppers hover above you to airlift the team of doctors. Everyone starts getting ready shouting instructions at one another while they put on their coats and collect the equipment to get into the ambulance.

In the midst of all this, I was with Ram. I saw the whole thing, the patient, the beating heart-organ, which believe me doesn't look anything like the ones we draw or see in the comic books and strewn dead bodies and blood all over the place. I thought I'd faint, but I stuck on. It was the most humbling experience of my life.

I marvel at the precision with which the whole task was completed. I think most of Ram's personality stems from his professional ethics. He sees people as real, he respects and values life and thus is an emotionally responsible person. Believe me, I'm very lucky to have him. A perfect co-star if I may add. Couldn't have asked for more in my life.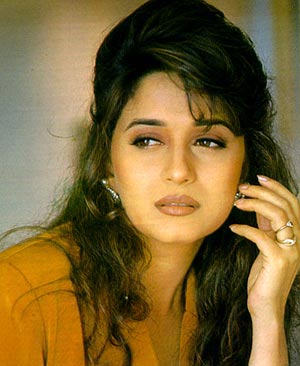 Interview
(Source : www.rediff.com)

'I didnt want to feel weak while doing a song with Prabhudeva
There is something about Madhuri Dixit-Nene. A girl who came from a middle-class Maharashtrian background, she would have probably ended up a microbiologist had the Rajshris not discovered her.

Abodh was just a teaser into the Madhuri mania that went on to envelop the nation. She fired the screen with her acting abilities and her excellent dancing skills.

Yet, it has been a long, arduous journey for the actress who joined the industry in 1984. A journey that resulted in her transformation from gawky youngster to successful star.

She learnt to deal with the trappings as well. Be it her link-ups or her marriage, she dealt with both in a dignified manner.

In this interview, she talks to Sukanya Verma about her husband, her soon-to-be-released film and her future.

Let's begin with Pukar. Can you tell us something about the movie?

The film is basically about two people, Anjali and Jaidev. Both have different backgrounds, as a result of which both look at life differently. Anjali is besotted with Jai -- that's Anil Kapoor. She's been in love with him ever since she was a child.

She has only one dream that, when she grows up, she is going to marry him. And now, she has grown up. But Anil falls in love with someone else. She is totally shattered. In her anger, she makes a mistake which puts Anil in a lot of trouble.

The film also sees the whole situation through Anil's point of view; through the character of the jawan who is played by Anil is in the film. Anjali's actions get him into a lot of trouble because of his military background. He also has to fight his own personal trauma because he is the kind of man who will fight for something he believes in over his own self; and one such thing is his country.

As for Anjali, she makes a mistake. But she redeems herself when she realises it and takes a stand and fights for her country. This is the part where they both come together.

Does this mean that your role has negative shades to it?

I dont know whether to call it negative because everybody has his or her weaknesses. If you call that weakness negative, then there is probably a negative shade. But I would rather call it a weakness. Everyone has their moment of weakness, when they do something that is wrong.

There is a thin line between right and wrong and that thin line is erased when you do something you will probably regret later. That is what happens with Anjali, that is what happens to her character in the film.

So Anjali is a rather grey character?

It is not even grey. I think it's human. It is, like, she does something that is a mistake, something that she should not have done. But she doesnt realise she is not supposed to do it.

What about the much talked about Que sera sera song? What was it like to match the flexible Prabhudeva, step for step?

It was great. It is one of the nicest experiences Ive had because he is such a good dancer. We had already shot the song twice, but we kept feeling we had not got it right; that there was something that was not working in this song.

The first time we shot, we felt it was the costumes that were not looking nice. And Boneyji is the kind of producer wholl go all out to make his film look good. So it is like, Okay, we will scrap that version and do it again.

We did it again. Then they realised it's not the costumes or anything, it is the song thats not working because this is the moment that introduces Anjali in the film. So it had to be a song which says what kind of person she is -- because, when she is introduced through a song, one is not going to be able to show what her character is like or how she interacts with Jai or what her relationship with Jai is. That is when they realised, Oh, that is the blunder that we are making with the song. So they decided to re-do it.

I think it takes a lot of guts for a producer to do that. I cant think of any other name or any other producer who would do that for his film. I think Boneyji was quite gutsy, he went ahead and recorded a new song with Rahman (A R Rahman) and we said, "Yes, this is the song which has to be shot."

Then the next question was, Who is going to do it to make it look different? I have worked with many choreographers, I have done a lot of songs, so this one had to be different; it had to grab peoples attention. It shouldnt be like, Awww, Madhuri has done that before. It had to look different.

I think Boneyji hit upon this idea of asking Prabhudeva to do it. It was very sweet of Prabhudeva to agree. He has choreographed the song and danced in it himself and he done a brilliant job in the film.

The first schedule we started, I fell sick (laughs). I was so worried about how I was going to match his steps. We had to cancel the schedule. A month passed by. I had caught viral fever and I didnt want to feel weak while doing a song with Prabhudeva. So I took rest and then we started shooting the song.

And its shaped out well?

Oh, I love it (smiles).

Do you prefer working with co-stars whom you have already worked with in the past?

Its nice to work with them because it makes you feel comfortable. You are not on tenterhooks about how you are going to manage. But that doesnt mean you dont want to work with newcomers. Because, sometimes, working with newcomers also gives you an insight to a new side of acting, a new style of acting, new reactions.

Working with Anilji has been a lovely experience from the very beginning. We have done Tezaab together, we did Beta and a lot of other films where we have done different kinds of roles. I can confidentially say Pukar will again bring out a different aspect of our acting and to the relationship you will see on the screen. The whole chemistry you will see is very different in Pukar. It is on a different level altogether.